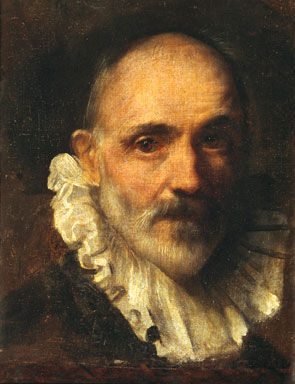 Federico Barocci, Self-Portrait, c.1595–1600; oil on paper mounted on canvas; 16 5/8 x 13 inches; Istituti museale della Soprintendenza Speciale per il Polo Museale Fiorentino; photo: Scala/Ministero per i Beni e le Attività culturali/Art Resource, NY.
SAINT LOUIS, MO.- This fall the Saint Louis Art Museum presents Federico Barocci: Renaissance Master. Opening October 21, 2012, this international exhibition showcases a trove of exceptionally beautiful paintings and studies, the majority of which have never before been seen in this country, gathered from more than 35 institutions worldwide.

Federico Barocci was one of the most innovative Italian artists of the second half of the 16th century and was highly sought after by both religious and secular patrons. A major influence on European masters such as Peter Paul Rubens, Barocci's art combines the beauty of the High Renaissance and the dynamism of the Baroque. In addition to his refined paintings, Barocci completed thousands of preparatory studies (over 1,500 survive), including pastel drawings and oil sketches— a technique he pioneered.

Curated in St. Louis by Judith W. Mann, curator of European art to 1800, and Babette Bohn, professor of art history at Texas Christian University in Fort Worth, Federico Barocci: Renaissance Master offers visitors a unique opportunity to study and understand a master's artistic process. The exhibition features a range of Barocci's best works from enchanting pastel and chalk studies to truly exceptional and breathtaking paintings.

An international symposium will be held January 10–12, 2013, featuring exhibition curators Judith W. Mann, Babette Bohn, and Carol Plazzotta of the National Gallery, London, as well as an international panel of scholars. A keynote address will be given by David Ekserdjian, Professor of the History of Art and Film at the University of Leicester.

Following its presentation at the Saint Louis Art Museum, Federico Barocci: Renaissance Master will travel to The National Gallery, where it will be on display from February 27 to May 19, 2013.

Federico Barocci: Renaissance Master has been organized by the Saint Louis Art Museum in association with the National Gallery, London, in collaboration with the Soprintendenza per il Patrimonio Storico, Artistico ed Etnoantropologico delle Marche – Urbino and the Polo Museale Fiorentino, Gabinetto Disegni e Stampe degli Uffizi, Florence, and with generous support of the Kupferstichkabinett, Staatliche Museen zu Berlin.

The presentation of Federico Barocci: Renaissance Master is supported by BMO Private Bank. The exhibition and symposium in St. Louis are supported in part by Sotheby's. Financial assistance has been provided by the Missouri Arts Council, a state agency. This exhibition is supported in part by an award from the National Endowment for the Arts. Additional support has been provided by Emerson.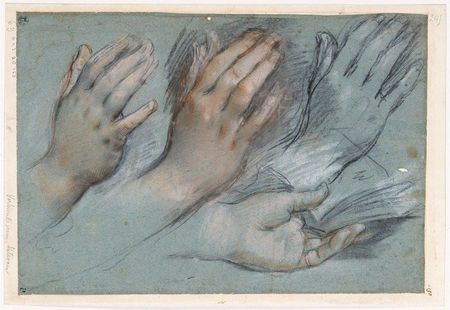 Federico Barocci, Italian, c.1533–1612; Studies for the Hands of the Virgin Mary for the Annunciation; charcoal and pastel, heightened with white on blue paper; 10 3/4 x 15 1/2 inches; Staatliche Museen zu Berlin, Kupferstichkabinett; photo: Volker - H. Schneider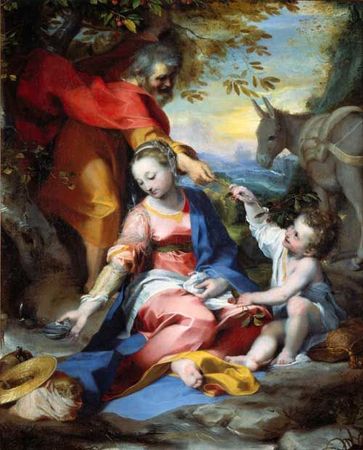 Federico Barocci, Italian, c.1533–1612; Rest on the Return from Egypt, 1570–73; oil on canvas; 52 3/8 x 43 1/4 inches; Vatican Museums, Vatican City; photo: Scala/Art Resource, NY