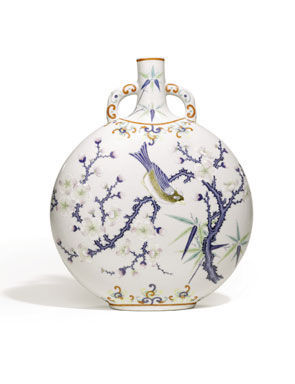 A rare underglaze blue polychrome enamelled 'magpie and prunus' moonflask Qianlong seal mark and period. Estimate: 300,000-500,000 GBP. Photo: Sotheby's.
LONDON.- Sotheby's London will present for sale an exceptional range of over 400 Fine Chinese Ceramics and Works of Art on Wednesday, 7th November 2012. The auction will include an exemplary selection of important Chinese ceramics, jades, metalwork, furniture and scholar's objects dating from the Han Dynasty (206 BC - 220 AD) to Republican China (began 1912) - displaying the wide variety of styles and media for which Chinese works of art are celebrated. Alongside this biannual auction, Sotheby's will offer two single owner sales - 'Treasures from the Qing Court, A Personal Perspective', a selection of 22 works all produced for the Imperial court during the Qing dynasty from the collection of Cameel Halim, and 'Chinese Ceramics from the Collection of Peter and Nancy Thompson'.

TREASURES OF THE QING COURT: A PERSONAL PERSPECTIVE FROM THE COLLECTION OF CAMEEL HALIM
SOLD TO BENEFIT THE HALIM TIME AND GLASS MUSEUM
A selection of 22 works, all produced for the Imperial court during the Qing dynasty, come to the market from the collection of Chicago-based collector Cameel Halim. Although the Halims were always fascinated by antiques, it was on buying their first clock – an 18th century musical striking clock – that their collecting became increasingly focused and scholarly. After falling in love with clocks, and with ornate Chinese timepieces, Cameel's love for wider Chinese art and culture prompted him to assemble a collection of Beijing glass, ceramics, cloisonné and enamel - a selection of which are being presented for auction at Sotheby's London.

When Rockford's Time Museum collection was put up for auction at Sotheby's in 2001, The Halim's purchased one third of this horological collection, in the hope that one day they would be able to continue its legacy, founding their own museum. Their dream has now come true – proceeds from this single-owner sale will benefit The Halim Time and Glass Museum which the family are opening in Chicago. The sale will both help augment the collection and support the museum during its early stages, and showcase a little of what the art world should expect when it opens its doors next year, in the summer of 2013.

A Rare Underglaze-Blue Polychrome-Enamelled 'Magpie and Prunus' Moonflask, Qianlong Seal Mark and Period, is estimated at £300,000-£500,000. Delicately painted in underglaze-blue and enamelled in shades of green, yellow, iron-red, pink and white, each face of this moonflask depicts a bird perching on a gnarled branch of prunus blossom, accompanied by bamboo. It is inscribed to the base with a six-character Qianlong seal mark in underglaze blue.

A Fine Silvered, Gilt-Brass and Blue Glass Quarter Striking Musical Automaton Table Clock by Francis Perigral was made in London circa 1790. Perigal, Master of the Clockmakers Company and clockmaker to the King, specialised in musical automaton clocks for the Chinese and Turkish markets. This magnificent clock, estimated at £300,000–£500,000, with performing figures, music and chiming bells, combines the creativity, opulence and novelty that characterises so many of the finest works of art destined for use by the Chinese emperors in the 18th century. Indeed, an example similar to this by Perigral is held in the Palace Collection, Beijing. The provenance of this clock, once held in the collection of Gustave Loup, is perhaps as interesting as the clock itself. Born in the later 19th century to a Swiss watchmaking family living in China, Loup was famed in horological circles for his expertise and for impressive Chinese market collection - reversing the trade of European watches and clocks to China, bringing these masterpieces back to the West.

A Rare Cloisonné Enamel Ice-Chest and Covers, Qing Dynasty, Qianlong Period is estimated at £100,000-£150,000. This piece, so impressive for its magnificent size and superb quality of enamelling and workmanship, would have been intended for use in the private residence of the emperor and his family. Ice-chests were an important part of palace furnishing. Both functional and decorative, they had two practical uses – for cooling food and drink, and also for releasing cool air into the surrounding rooms and hallways during the hot summer months. A related imperial ice-chest can be found at the Palace Museum Beijing.

A Elaborate Paste-Set and Gilt Silvered-Brass Quarter Chiming Table Clock with Alarm, estimated at £100,000-£150,000, was also destined for the Chinese market. Applied with the mount of King George III, it was made around the year 1785 by Robert Ward, a renowned maker of musical clocks, who worked on Abchurch Lane, London. Although no direct documentation exists, the presence of Royal insignia on the clock suggests that this clock was part of an extensive tribute made by King George III through the embassies (diplomatic missions) to China in the late 18th century. It is likely that this was part of the Macartney Embassy of 1793, the first official diplomatic mission of the English Crown to China, which was known to have presented clocks to the Emperor.

CHINESE CERAMICS FROM THE COLLECTION OF PETER AND NANCY THOMPSON
Peter and Nancy Thompson were scholarly, methodical collectors of Chinese Art. They selected their pieces with care and precision, developing a collection which showcased all different facets of Chinese porcelain – from different eras, categories, displaying diverse motifs and craftsmanship. Their extensive collection was formed in two parts - the first part comprising 17th century blue and white porcelain and wares of the Dehua kiln, traditionally known in Europe as 'Blanc de Chine', and the second part consisting of pottery and porcelain from the Tang to the Qing Dynasties, with a strong emphasis on the Imperial Qing wares of the Kangxi, Yonzheng and Qianlong periods. Always keen to share their collection and passion with others, these pieces have been on loan to Hull University since 1985.

A Fine and Rare Doucai 'Dragon and Phoenix' Box and Cover, Qing Dynasty, Yongzheng Period is estimated at £40,000–£60,000. The box is unique for its decoration which was inspired by the celebrated Southern Song painting Nine Dragons by Rong Chen (active c.1235 -60). The use of this specific scene on porcelain can be attributed to the creative genius of Tang Ying (1682-1756), Superintendent at the Imperial kilns in Jingdezhen. As a descendent of a bondservant, and belonging to one of the threee Banners directly under the control of the emperor, Tang Ying started his career at the Neiwufu (Imperial Household Department) at the age of 16. The palace presented him with the opportunity to study the imperial collection of paintings and decorative objects which provided an essential foundation from which he could produce classical yet innovative designs for ceramic pieces. The Qing craftsman's command over his materials is evident in the varying use of cobalt blue, from the fine and precise outlines of the composition to the vaporous clouds that naturalistically billow around the dragon and phoenix.

A Rare Celadon-Glazed Cuspidor, Qing Dynasty, Yongzheng/Qianlong Period, is estimated at £40,000-£60,000. The interest in antiquity permeated the arts of China from the Song dynasty and reached its peak in the 18th centuries. This rare piece, glazed in a pale sea-greeen, takes its form from spitoon vessels which appeared in China from the Tang dynasty for use in the court and produced in silver, ceramic and glass. The base of the work is inscribed with a four-character mark reading Jingwei Tang zhi (Made for the Hall of Veneration and respect) within a double-square. Jiangwei Tang was the studio name of Li Hu (alias Duanren, style name Zuncun) a native of Cixi, a city within Zhejiang province.

A Blue and White Pear-Shaped Vase, circa 1640-1660, is estimated at £20,000-£30,000. When the late-Ming court suspended its commissions of porcelain production in the mid-seventeeth century, the introduction of new patrons freed potters and painters to explore a wide range of styles beyond those previously prescribed by the court. This vase represents the experimental cermaics of ceramics during this time. The dramatically long waisted neck and proportionately small body, coupled with the two unrelated designs of birds amongst flowers and a landscape scene that are given equal importance, reflect the atypical porcelain of the period.

A Blue and White 'Seven Sages of the Bamboo Grove' Brushpot, Bitong, Qing Dynasty, Early Kangxi Period is estimated at £20,000-£30,000. The brushpot depicts the popular motif of the The Seven Sages of the Bamboo Grove, a group of eminent scholars of the Wei dynasty (250-265) who renounced their official status and career in protest against corruption. Advocates for the freedom of individual beliefs and inspired by Daoist philosophy, the Seven Sages came to represent scholars disenchanted with official policies and became symbols of an incorruptible scholar. This brushpot is notable for the confident style of brushwork which is reminiscent of Ming dynasty painting - indeed the treatment of the figures and rocks, with their clearly defined outlines and washes of colour can be compared to a fan painting by Qiu Ying.

FINE CHINESE CERAMICS AND WORKS OF ART
VARIOUS OWNER SALE
A Magnificent and Rare Blue and White 'Dragon and Phoenix' Jar, Yuan Dynasty, estimated at £400,000-£600,000, was acquired from Japan by a European diplomat prior to World War II. The stoutly potted jar, painted in bright inky shades of cobalt-blue, depicts two scaly dragons chasing flaming pearls beneath a frieze of flying phoenixes. Applied with a metal rim and cover, the jar is flanked by a pair of ornate animal mask handles. The neck is encircled by a band of undulating lotus scrolls and the foot with a lappet band.

A Monumental and Rare Khotan Green Jade Water Buffalo from the Qing Dynasty, Qianlong Jiaqing Period, is estimated at £300,000- £500,000. Carved from a massive boulder, this reclining buffalo, of rich green colour with some russet veining and opaque celadon mottling, measures 30.5cm long.

This various-owner sale also includes a selection of important Qing Monochromes from a Private European Collection - comprising bowls, saucers and cups glazed in rich blues, yellows, reds, turquoise and greens (Lots 250–274). Highlights include an extremely rare Clair-de-Lune Glazed Jardinière, Yongzheng seal, mark and period (est. £60,000– £80,000) and a fine and Rare Pale Turquoise-Glazed Cup, Yongzheng Mark and Period (est. £60,000- £80,000).

A Spinach-Green Jade 'Landscape' Brushpot, Qing Dynasty, Qianlong Period, dexterously carved to show an idyllic rural scene, is estimated at £100,000-£150,000. The brushpot was an essential item for the scholar's desk in the Imperial court, offering not only a utilitarian vessel, but also a means of escape from the regulated court life, a source of reflection and inspiration. This particularly impressive brushpot, depicting a rustic retreat away from the order of the Imperial court, has an otherworldly quality. The exterior of the brushpot has been deeply carved in relief; the undercutting of the rocky crags cast dramatic shadows, creating a sense of depth. The decoration follows in the tradition of Chinese painting with the surface of the jade treated as a horizontal handscroll. With each turn of the brushpot the scene is unravelled, inviting the viewer to enter and explore the landscape before them. Similar examples are held in the national Palace Museum, Taipei, and in the Victoria and Albert Museum, London.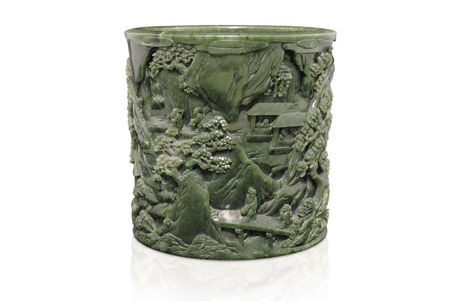 A spinach green jade 'landscape' brushpot Qing Dynasty period, 14.5cm., 5 3/4 in. Estimate: 100,000-150,000 GBP. Photo: Sotheby's.