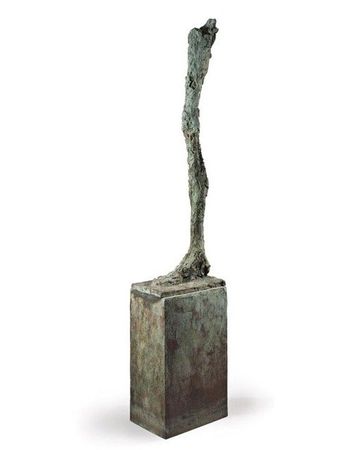 La Jambe, signed and numbered 'Alberto Giacometti 3/6' (on the top of the base); inscribed with foundry mark 'Susse Fondeur. Paris' (on the side of the base) bronze with brown and green patina. Height (including base): 85 13/16 in. (218 cm.). Conceived in 1947 and cast in 1958. Estimate: $10,000,000-15,000,000. Photo: Christie's Images Ltd 2012.
NEW YORK, NY.- Among the many captivating highlights of Christie's upcoming Evening Sale of Impressionist & Modern Art is Alberto Giacometti's La Jambe (The Leg), a seven foot tall depiction of a disembodied human leg. Modeled in the thin, elongated form for which the artist is best known, La Jambe is the artist's final statement in a series devoted to depictions of isolated body parts – a vision inspired by Giacometti's harrowing memories of wartime causalities and the lingering angst that permeated post-war Paris during the late 1940s. Estimated at $10-15 million, La Jambe is offered from a distinguished private European collection, and is among the top examples of modern sculpture to be featured in Christie's November 7 sale in New York.

Giacometti first conceived of the body parts series in 1947, the year in which he embarked on the first of the famously thin, attenuated figures of standing women and walking men that would become icons of the post-war zeitgeist. Zeroing in on individual anatomical features, Giacometti modeled the first three forms in the series: a hand (La Main), a nose (Le Nez), and a head on a rod (Tête sur tige; estimate: $6-8 million, also featured in the November 7 sale).

Giacometti had always envisioned a fourth sculpture – the leg – to complete the series, but it would be nearly ten more years before he finished the work and cast it in bronze in 1958. Art historians believe the severed look of the work was inspired by distressing events in Giacometti's past: in 1938, he was struck down by a speeding vehicle on a Paris street, leaving him with a crushed and broken foot and a slight limp for the rest of his life. Later, in 1940, the artist and his brother Diego were forced to flee Paris ahead of advancing German tanks. In the exodus, the two witnessed the gruesome aftermath of earlier attacks, and the images of human body parts strewn across the debris-filled streets never left his mind.

La Jambe is unique among Giacometti's works in that it is neither walking nor standing; it exists in an intermediate state between stillness and motion. Slightly bent at the knee and purposefully flexed, the leg appears ready to push off and set itself in motion, despite its oversized, firmly planted foot. In scale, La Jambe matches the legs of his enormous Grandes femmes debouts, the tallest figures he had ever created and which were originally intended for exhibition on the Chase Manhattan Plaza in lower Manhattan – a project left unfulfilled when the artist died in January 1966.

Upon its completion in 1958, La Jambe was featured in a solo exhibition of Giacometti's newest works at the Pierre Matisse Gallery, New York. Six signed and numbered bronzes were created, and the version to be offered at Christie's this fall was featured in the major 1965 retrospective at London's Tate Gallery. It has now been in the same private collection for over 35 years, since its acquisition by the present owner from Galerie Beyeler in 1976.

Prices for Giacometti's best works have soared in recent years, in keeping with increasing appreciation and interest among collectors for superb examples of modern sculpture. Within the global auction market, 19 works by the artist have sold above the $10 million mark, and all five of the artist's top prices at auction have been set within the last five years. In May 2010, Christie's New York sold a 1948 cast of La Main – the elongated arm with an outstretched hand from the artist's same series – fetching $25.8 million against a pre-sale estimate of $10-15 million.