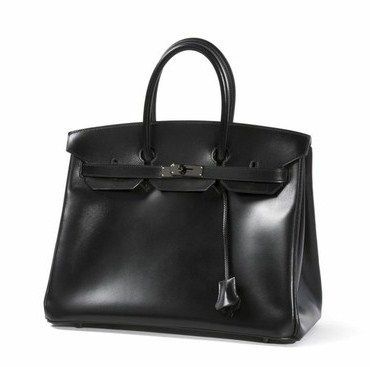 Hermès Paris made in france. Rarissime édition du sac «Birkin - So Black» 35 cm.
en box noir, garniture en métal plaqué noir, intérieur comprenant une poche zippée, une poche plaquée, poignée. Année: 2011. Etat neuf. Noire jusqu'au bout, la nouvelle collection «So Black» d'Hermès: le sac, le métal mais aussi la boîte et la poche protectrice, tout est dans la non couleur la plus aimée au monde. Dans sa boîte. Estimation : 12 000 / 14 000 €
Very rare black box calfskin leather «Birkin - So Black» bag, 35 cm, black metal hardware, 1 zipped pocket, 1 open pocket, handle. Year: 2011. Mint condition. Completely black, this bag belongs to Hermès «So Black» collection: bag, hardware and pouch bag are black, the most beloved colour all over the world. In its case.
Artcurial - Briest-Poulain-F.Tajan. Mardi 30 octobre 2012. www.artcurial.com