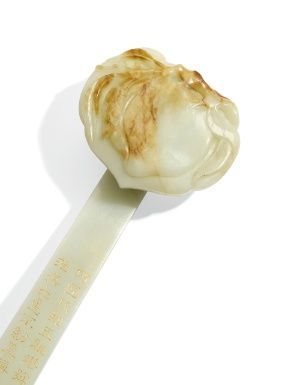 An Extremely Rare Imperially Inscribed White Jade Ruyi Sceptre. Qing Dynasty, Qianlong Period, Dated 1759 - Photo Sotheby's
the ruyi-shaped terminal carved in relief with a large peach borne on gnarled leafy branches, carved with a diaper band on the other end, the S-curved shaft inscribed in gilt with an imperial poem dated to jimao year (corresponding to 1759), followed by two seals reading Jixia yiqing (Clearing the mind after the myriad of state affairs) and De jiaqu (Obtaining refined enjoyment), the stone of an even white tone with russet markings; 43cm., 16 7/8 in. Estimation: 80,000 - 120,000 GBP
NOTE DE CATALOGUE: The poem inscribed is titled Yu Ruyi (Jade ruyi sceptre) and can be translated as follows:
A skilled artisan carved this precious piece of jade,
So elegant it's aptly named "Take You by the Hand."Such fine material, truly worldly transcendent,
Far, far surpasses anything common.
Flavour so rich it seems it could be poured out,
But of such subdued luster no thought is disturbed.
How it would have suited Prefect Wei,
Who might have used it to command all the armed forces!
Elegantly understated in decoration and form, the present sceptre is a stunning example of the ability of the craftsman to capture the essence of a peach in an unrelated material. The softness and colour gradation of the fruit is skilfully depicted in the sensitively rounded forms and russet inclusions on the head. Moreover, the elegance of the low relief carving and the plain surface of the shaft which terminates with a wan diaper capture an ethereal quality that compliments the peach's association with Xi Wang Mu, Queen Mother of the West, whose garden contained peaches bestowing immortality.
While peaches featured regularly on sceptres, they more commonly formed part of an overall design; for example see one also with a plain shaft and the head carved with a single peach surrounded by a leafy branch, sold at Christie's Hong Kong, 30th May 2006, lot 1598; and another decorated with two peaches and a bat holding a wan emblem, sold at Christie's New York, 24th March 2004, lot 53. Sceptres carved with the sanduo commonly depicted peaches on the head, finger citrons in the middle of the shaft and pomegranates at the end. A sceptre of similar form and also inscribed with an imperial poem on the shaft, but the head modelled with a dragon clutching a flaming pearl in highrelief and dated to the guisi year of Qianlong's reign (corresponding to 1773), was sold twice in our Hong Kong rooms, 25th November 1987, lot 370, and again, 7th October 2010, lot 2106.
The motif adorning this piece and the sceptre itself are rich in symbolism. The ruyi sceptre is a talisman presented to bestow good fortune that is thought to have developed from back-scratchers used by Buddhist monks and holy figures. Later it was adapted by Daoists who introduced the heart-shaped head rendered as a lingzhi fungus. The original function was lost and since the object had no practical purpose it could take any form deemed suitable to express well-wishing. During the Yongzheng reign the auspicious tradition of the ruyi (literally meaning 'as you wish') was revived. He commissioned sceptres to be made in various media and thus became an important imperial object that was presented to the Emperor or members of the imperial family and high officials as gifts on occasions such as birthdays and promotions.
Sotheby's. Treasures of the Qing Court, A Personal Perspective. London | 07 nov. 2012, www.sothebys.com