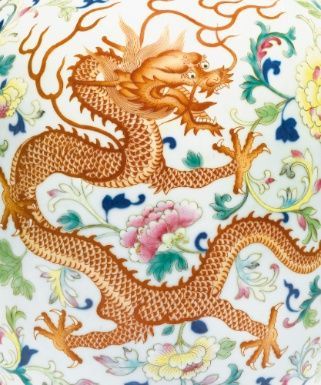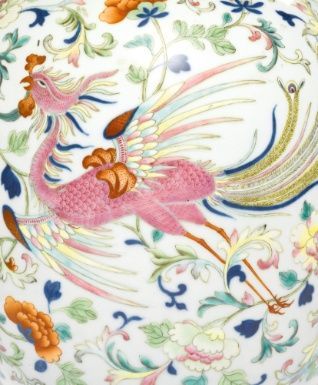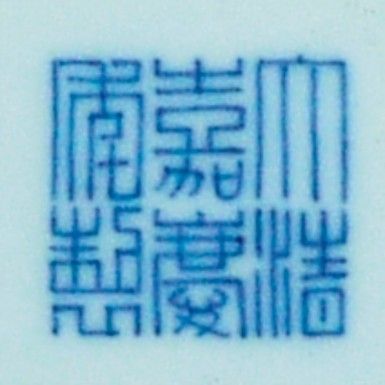 A 'Famille-Rose' 'Dragon and Phoenix' Vase and Cover, Jiaqing Seal Mark and Period - Photo Sotheby's
the ovoid body rising from a short foot to a straight neck, brightly painted with a dragon and phoenix amidst blossoming peonies borne on meandering leafy scrolls, framed by pendent ruyi heads above and a lappet band below, the foot with a keyfret band and the neck with stiff leaves, the domed cover similarly decorated, inscribed to the base with a six-character Jiaqing seal mark. Quantité: 2 - 27cm., 10 5/8 in. Estimation: 60,000 - 80,000 GBP

PROVENANCE: Sotheby's New York, 20th February 1975, lot 289.
Sotheby's Hong Kong, 13th November 1990, lot 308.
NOTE DE CATALOGUE: The present jar and cover is especially fine for its painted decoration of a single large five-clawed scaly dragon in ironred enamel, depicted in an especially lively and robust manner, that is in sharp contrast with the pink-bodied phoenix drawn with soft brushstrokes to highlight the bird's feminine quality. The overall composition is characteristic of the early Jiaqing period, when designs were often set amid meandering peony and hibiscus on a white body that served as the painter's 'canvas', and when the influence of Qianlong period painting style remained strong and evident. For example, see a large Qianlong mark and period famille-rose vase painted with bright enamels and iron-red with landscape panels on a ground of floral design, sold in our Hong Kong rooms, 22nd May 1984, lot 142, and again, 13th November 1990, lot 310; and another Qianlong vase, the body covered with floral decoration, included in the exhibition Ethereal Elegance, Art Museum, Institute of Chinese Studies, The Chinese University of Hong Kong, Hong Kong, 2007, cat. no. 126, together with a Qianlong wall vase, also painted in a related fashion with flower scrolls and upright petals around the base, cat. no. 130.
The 'dragon and phoenix' motif is full of auspicious connotation, and vessels decorated with two of the most important mythical animals in Chinese tradition are typically made as wedding gifts. The dragon is the symbol of the emperor and represents fertility, while the phoenix embodies the warmth of the sun and helps produce male offsping. The dragon, together with the phoenix which is also the leader of all winged creatures, symbolises the emperor and the empress, as well as representing marital bliss. When the two animals face each other, as seen on this jar when turned, they convey the message of a happy reunion and good omen.
A related jar and cover, but with a slightly varying ruyi band at the shoulder beneath a flower scroll neck and a stylised lappet band at the foot, was sold at Christie's New York, 15th September 2009, lot 462. Compare also a jar lacking its cover, painted with a similar design overall above a lappet band, sold at Christie's London, 5th June 1995, lot 170.
Sotheby's. Treasures of the Qing Court, A Personal Perspective. London | 07 nov. 2012, www.sothebys.com