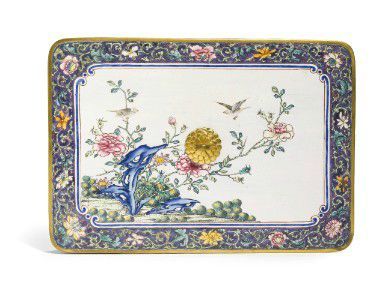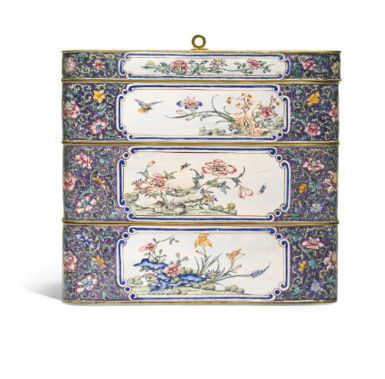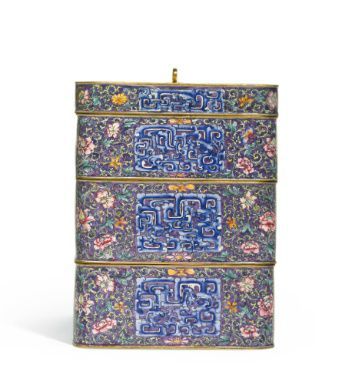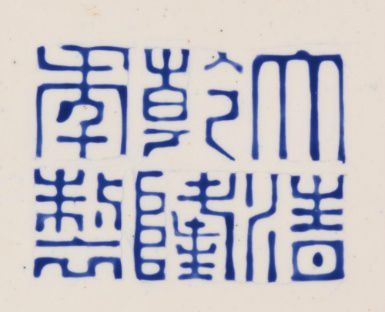 A Fine Painted Enamel Three-Tiered Box and Cover, Qianlong Seal Mark and Period - Photo Sotheby's
of rectangular form, the top brightly painted with a rectangular cartouche enclosing two birds amongst flowering peony branches issuing from pierced rocks, reserved on composite floral scrolls against a purple ground, the front and back of each tier similarly decorated, the sides enamelled with stylised kuidragon scrolls against a purple ground of floral scrolls, the interior enamelled turquoise, inscribed on the base of each tier with a six-character Qianlong seal mark; Quantité: 4. 21.8cm., 8 5/8 in. Estimation: 60,000 - 80,000 GBP
NOTE DE CATALOGUE: This finely painted three-tiered box represents the work of Guangzhou enamellers active during the 18th century andfamous for their high level of skills in this specialised field. By the reign of the Qianlong emperor, the technique of enamelling on copper, porcelain and glass reached its peak. The painterly decoration of flowers, birds, rocks and insects in panels on a richly decorated floral scroll ground reflects the emperor's penchant for colourful and ornate objects. The box is also striking for the use of deep cobalt blue enamel for the archaistic dragon motif on the sides, reminiscent of the blue tone seen on the famous octafoil box in the Shanghai Museum, illustrated in Shen Zhiyu (ed.), The Shanghai Museum of Art, New York, 1983, pls. 235 and 236. A similar colour scheme, with heavy use of blue in various shades, was employed on an eight-lobed covered box finely painted with a dense flower scroll motif and described as a representative example of painted enamel ware produced in Guangzhou, illustrated in Tributes from Guangdong to the Qing Court, Hong Kong, 1987, pl. 49.
The placing of archaistic dragons on a floral background, as seen on the sides of this piece, is also unusual and worth noting. Their presence is not only decorative but suggests the possibility of serving as handles for the box. The motif appears to be inspired by dragon plaques carved in precious stone; for example see an aventurine quartz dragon plaque included in the Exhibition of Ch'ing Dynasty Costume Accessories, National Palace Museum, Taipei, 1986, cat. no. 226; and a jade dragon plaque, in the British Museum, London, illustrated in Jessica Rawson, Chinese Jade from the Neolithic to the Qing, London, 1995, p. 326, fig. 6.
For further examples of related painted enamel boxes, see one decorated with landscapes in panels illustrated in Michael Gillingham, Chinese Painted Enamels, Oxford, 1978, pl. 53; and a plum-blossom shaped tiered box with a related decoration of various flower sprays in round panels and with blue archaistic dragons, together with two other boxes decorated with flower scrolls on a deep blue ground, published in The Complete Collection of Treasures of the Palace Museum. Metal-bodied Enamel Ware, Hong Kong, 2002, pls 210, 230 and 232 respectively.
Sotheby's. Treasures of the Qing Court, A Personal Perspective. London | 07 nov. 2012, www.sothebys.com