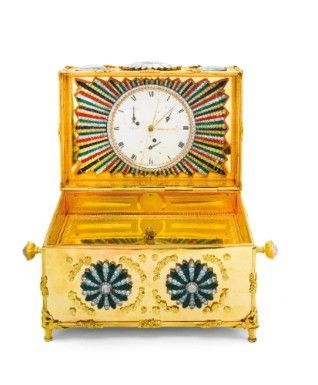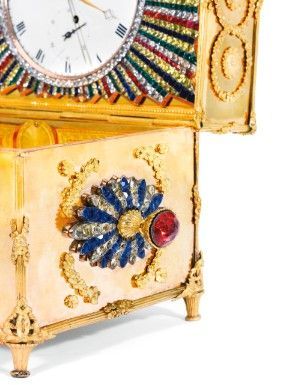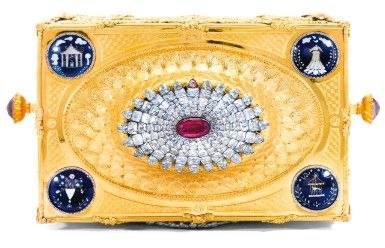 An Unusual Paste-Set Ormolu Casket Containing a Clock, English, Circa 1790 - Photo Sotheby's
the rectangular casket with bell-shaped top surmounted by a white and red paste florette, the corners with blue glass and pearl vignettes, the front and sides further applied with paste-set florettes and gilt flowers, the reeded borders tied with flowers, the interior with 4-inch enamel dial with centre seconds and subsidiary dials for strike/silent, regulation and lunar date, the movement with fusee and chain for the going train, verge escapement with pierced balance cock, standing barrel for the strike sounding the hours and quarters on a replaced bell, the bezel set with pastes as a polychrome sunburst, a removeable lid to the lower compartment; 29cm. 11½in. wide; 21cm. 8¼in. high. Estimation: 80,000 - 120,000 GBP
NOTE DE CATALOGUE: This casket with its colourful paste stars and ormolu flowers and mounts is similar to a number of clocks and necessaires made for export to China during the second half of the 18th Century. It bears a striking similarity to a clock made in England for the Qianlong emperor towards the end of his reign, which remains in the Imperial Collection in the Forbidden City. Both pieces make use of almost identical flower-garland mounts as well as very similar oval paste paterae with alternating colours, illustrated in van Wely, op. cit., no.14, pp162-167. This clock also incorporates a sweep seconds hand, typical of clocks designed for the Chinese market.
One of the best known of the English jewellers and goldsmiths working in London in the mid-eighteenth century wasJames Cox (1723-1800) who produced either in gold or gilt metal, watches, automaton and toys related to the present casket. A number of his pieces survive in various collections, including the British Royal Collection, The Metropolitan Museum of Art, New York, and in the Chinese Imperial Collection. Cox was first apprenticed for seven years to Humphrey Pugh who, although a goldsmith in Fleet Street, his trade card suggests that he was in business as a 'toyman'. The term is not used in the modern idiom, but describes a maker of small fanciful objects in gold, silver and ormolu set with gems or paste.
In 1773, Cox claimed in evidence to a Parliamentary Committee that he had 'for about Seven Years past... employed from Eight hundred to One thousand Workmen' indicating his extensive trade, not only for the English market, but also for the East India Company, primarily to India in the late 1760s and early 70s. His other major market was China for the sing song trade, as the market for musical automatons and clocks was described. The vast number of English automaton clocks and pieces of this sort which remain in the Chinese Imperial collection not only indicates the collecting taste of the Emperor and his court, but confirms Cox's estimation of the number of workman he employed to make these pieces to satisfy the export market.
Clare Le Corbeiller, 'James Cox: A Biographical Review', The Burlington Magazine, Vol. 112, No. 807 (June 1970), pp 31-358.
Roger Smith, 'James Cox (c. 1723-1800): A Revised Biography, The Burlington Magazine, Vol. 142, No. 1167 (June 2000), pp 353-361.
Bob van Wely et. al., Treasures from the Forbidden City, Utrecht, 2010, no. 14, pp 162-167.
Sotheby's. Treasures of the Qing Court, A Personal Perspective. London | 07 nov. 2012, www.sothebys.com