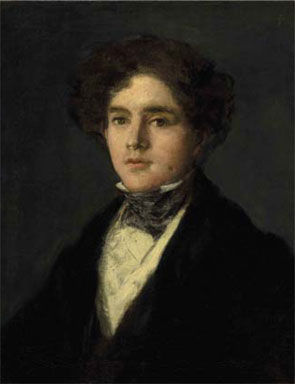 Francisco José de Goya y Lucientes, Portrait of Mariano Goya (est. $6/8 million) to be sold in New York on 31 January 2013. Photo: Sotheby's
NEW YORK, NY.- From 3 – 5 November 2012, Sotheby's New York is exhibiting highlights from the upcoming London and New York sales of Old Master Paintings and Drawings at its York Avenue headquarters. The exhibition includes works by many of the key artists in the field, spanning the 14th through 19th century including Raffaello Sanzio, called Raphael, Jan Steen, Francisco José de Goya y Lucientes, Joseph Mallord William Turner and Sir Peter Paul Rubens, among others. Select highlights will also travel to Chicago, Los Angeles, London and Hong Kong throughout the autumn season.

Evening Sale of Old Master & British Paintings Including Three Renaissance Masterworks from Chatsworth – 5 December 2012, London
The New York exhibition also features three Renaissance masterworks from the Devonshire Collection at Chatsworth - one of the greatest drawings by Raphael remaining in private hands, and two 15th-century illuminated manuscripts which rank among the finest examples of their kind ever to come to auction. Executed in black chalk, Raphael's Head of a Young Apostle, c.1519-20, (est. $16.25/24.38 million) is a highly important drawing within the artist's oeuvre: an extremely refined study for one of the key figures in the Transfiguration, one of the greatest of all Renaissance paintings, which now hangs in the Vatican Museum in Rome.

The two 15th-century illuminated manuscripts rank among the finest examples of their kind ever to come to auction. The manuscripts to be sold were made for two of the greatest libraries of the 15th century and are flawlessly preserved, with dazzling royal and ducal provenances. The first, the Mystère de la Vengeance (est. $6.5/9.75 million) was acquired by the 6th Duke of Devonshire at the celebrated Roxburghe sale of 1812, when it sold for £493.10s. - then the highest price ever paid for any illuminated manuscript. The second illuminated manuscript is an account of the fictional and swashbuckling Deeds of Sir Gillion de Trazegnies in the Middle East (est. $4.88/8.13 million) and was once among the most treasured works in the library of great Renaissance patron of the arts François I, King of France, 1515-47.

Jan Havicksz. Steen's The Prayer Before the Meal, (est. $8/11.2 million) is a remarkable work of an unusual subject within the artist's oeuvre. In a mood of quiet, unadorned piety a simple family say grace before the simple meal laid before them. In few other works did Steen achieve such understanding of texture and detail. It is the earliest surviving treatment of at least four, compositionally different variants of this unusual subject by Steen - indicative of how sought after it was among his patrons. Extensively exhibited at the Royal Academy, London; The National Gallery, Washington; the Rijksmuseum, Amsterdam - it comes from the collection at Sudeley Castle.

Rome, A View of the River Tiber at the Porto Della Legna Looking Towards Castel Sant'Angelo, with Saint Peter's Basilica in the Distance (est. $1.92/2.88 million) by Gaspar van Wittel, called Vanvitelli, will also be on exhibition in New York. One of six known variants of the view, this is – intriguingly - the only one to include the palazzo Borghese, suggesting perhaps that this may have been a Borghese commission. A 16th Century Florentine School Portrait of Giovanni Gaddi (1493-1542), Head and Shoulders, Wearing a Black Cap (est. $960,000/1.28 million) was most likely painted in Florence in the first years of the 16th century. Formerly attributed to Ridolfo Ghirlandaio, this exceptional portrait by a singular hand is remarkably – and tantalisingly - yet to find a plausible attribution. Such a portrait could not have been conceived without knowledge of contemporary portraits by Raphael; yet its marmoreal, three-dimensional smoothness and plasticity owes something to Michaelangelo's Doni Tondo – painted in Florence around the time of the portrait's likely date of execution, circa 1505-1508.

Important Old Master Paintings – 31 January 2013, New York
The highlights exhibition includes Francisco José de Goya y Lucientes's Portrait of Mariano Goya, one of the last –if not the very last – of the artist's portraits, painted during his final trip to Madrid between July and September 1827 (est. $6/8 million). Executed in the artist's signature manner, the portrait depicts Goya's beloved grandson and heir, Mariano, then aged twenty one. Following his dark and gruesome "Black Paintings," this portrait of a dear family member represents a return to a softer and more psychologically touching approach to figure painting. The present masterpiece has been in the current owners' collection since 1954 and has been out of the public eye for almost 60 years. This painting comes from the estate of Greek shipping magnate George Embiricos.

Heidelberg with a Rainbow (est. $4/6 million) was commissioned from Joseph Mallord William Turner in 1840 by the engraver Thomas Prior as a design for a print. Turner's impressive Heidelberg with a Rainbow quickly became known through the wide circulation of prints of the picture, and the watercolor itself belonged to several of the most important 19th century collectors of the artist's works, including Joseph Gillott and Sir Donald Currie. Heidelberg with a Rainbow stands out as one of the crowning achievements of the artist's mature style, combining his unique use of sweeping passages of hazy color and light with his acute draftsmanship in the rendering of figures and architecture.

The exhibition also includes Constantine Presenting the Labarum to his Troops (est. $700/900,000), an oil sketch by Sir Peter Paul Rubens, and Seated Nude Bathing by a Stove by Paulus Bor (est. $700/1 million). *Estimates do not include buyer's premium.
Joseph Mallord William Turner, Heidelberg with a Rainbow, 1840. Est. $4/6 million. Photo: Sotheby's.