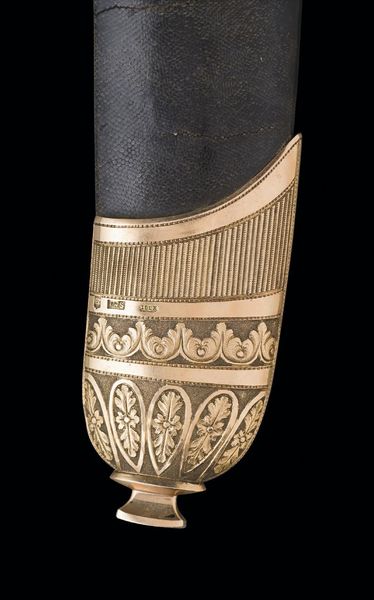 The Sword of His Serene Highness Ludwig Adolf Peter, Prince of Sayn-Wittgenstein (1769-1843): Imperial Russian Field Marshal and 'The Saviour of St. Petersburg' in 1812, mounted in three colours of gold, Vienna gold marks for 1803, Maker's mark of Josef Wolfgang Schmidt. Photo Thomas Del Mar Ltd
with curved blade double-edged towards the point, cut with a long shallow fuller on each face, etched and gilt with scrolls of foliage, a grenadier and a trophy on a blued panel on the respective faces (very small losses and areas of pitting), etched and gilt with a hatched pattern at the forte, finely chased hilt in three colours of gold, the principal areas against a punched recessed ground, comprising a pair shield-shaped langets each decorated with a large acanthus leaf, vertically recurved quillons decorated with laurel foliage, the rear stamped with marks and formed with a hemispherical finial and the forward joined to a robust knuckle chain joined at the top to the pommel by a scrolling bracket decorated en suite, tapering grip with a central panel of scale pattern bordered by beadwork panels and a running pattern of scrolls and diamond-shaped panels, the top portion surmounted by a pair of oak fruit and foliage festoons, finely fluted pommel, oval pommel cap chased with matching scrolls enclosing an expanded flowerhead, in original wooden scabbard entirely covered with polished fishskin, fitted with gold chape, locket and a pair of bands all finely chased en suite with the hilt (the wooden core swollen and now a poor fit, fishskin with very small losses and wear, the chape split along the seem), and in very fine condition throughout; 74cm; 29 1/8in blade. Estimate: 40000-60000 €
Provenance: Ludwig Adolf Peter Fürst zu Sayn-Wittgenstein, 1769-1843
Thence by descent

Peter Wittgenstein's father, Christian Ludwig Casimir, Graf zu Sayn-Wittgenstein-Berleburg-Ludwigsburg (1725-97) was a Russian lieutenant-general. Peter was born in Negine on 6th January 1769 and, while still a child, entered the household of Lieutenant-General (later Field Marshal Prince) Nicolai Ivanovich Saltykov (1736-1816) until joining the Imperial Corps of Pages, whence he was appointed sergeant in the Life-Guard Semënovskii Regiment.

In 1789 Wittgenstein was appointed to the Chevaliers-Gardes, the bodyguard of Empress Catherine II, and in 1790 promoted lieutenant. He first saw action during the Polish War, 1792, when he distinguished himself at the battle of Dubienka, and - promoted major - fought at the battles of Chelm and Praga during the Polish uprising, 1794. During the Persian War, 1796, he participated in the capture of Derbent, took its keys to St Petersburg and presented them to the Empress. In 1798 he was promoted colonel and married Antonia Cecilia Snarska (1778-1856), a lady-in-waiting to the Tsarina. In 1799 he was promoted major general and in 1801 appointed colonel of the Mariupolskii Hussars. In 1805 he fought at Austerlitz and in 1806 commanded part of the army in the Turkish campaign. In 1807 he was promoted lieutenant-general, appointed colonel of the Life-Guard Hussar Regiment and fought at Friedland.

In June 1812, when France invaded, Wittgenstein was commanding 1st Infantry Corps of 1st Western Army. His forces defended St Petersburg and fought well at the battles of Kliastitsy and Golovshchina in the summer of 1812. Wittgenstein was wounded at Golovshchina and became 'the Saviour of St Petersburg' after his army's defence of the city. In mid-August his army won a strategic victory at Polotsk and tied down French forces in the province of Pskov, where sickness and starvation winnowed the invaders' ranks. In October 1812 his forces re-captured Polotsk and were victorious at Chashniki. Late in November 1812 his army was part of Russian forces that chased the French across the Berezina, inflicting heavy loss, and his army captured a French division. In 1813, as Russian forces advanced west in pursuit of the Grande Armée, his army entered Prussia, where its fighting record and his personality and origins were instrumental in persuading the Prussians to change sides. On Kutuzov's death, in April 1813, the Tsar appointed Wittgenstein - his most successful general - commander-in-chief but defeats in quick succession at Lützen/Großgörschen and Bautzen in May led to his replacement by Barclay de Tolly. When the Austrian field marshal Karl Philip Fürst zu Schwarzenburg (1771-1820) was given command of the Allied 'Army of Bohemia', Wittgenstein's Russian army corps was incorporated within it: the field marshal may have given this sword, with its Vienna-made gold hilt, to Wittgenstein at that time - perhaps as a token of respect. Defeated at Dresden in August 1813, Schwarzenburg's army was victorious at Leipzig - the 'Battle of the Nations' - in October. Wittgenstein commanded his corps of Russians in Schwarzenburg's army in its advance to and across the Rhine and into France until being so severely wounded at Bar-sur-Aube on 14th January 1814 that he had to relinquish command and return to Russia.

In 1818 Wittgenstein was appointed a Counsellor of State and in 1826 promoted field marshal. In 1828 he commanded Russian forces at the beginning of the war with Turkey but was removed by the Tsar and retired from the Army to his estate at Kamenka in Podolia. In 1834, the King of Prussia conferred the title of Prince upon him, a title that was recognised by the Tsar. Prince Wittgenstein died in Lemburg, while travelling, on 11th June 1843.

Joseph Wolfgang Schmidt, a distinguished maker of highly decorated gold boxes, is recorded in Vienna 1769-1836. During the period 1801-11 he is recorded at Kohlmarkt 1218, and as a Galanteriearbeiter (swords and presentation boxes etc) 1802-36.
Thomas Del Mar Ltd. Antique Arms, Armour & Militaria Sale on Wednesday 5th December 2012 www.thomasdelmar.com