Cornelis Ketel, Design for the central section of The Mirror of Virtue, about 1594. Pen and brown ink, brown wash, heightened with white, 25.8 x 21.7 cm. The J. Paul Getty Museum, Los Angeles.
LOS ANGELES, CA.- The late Renaissance was marked by a new artistic style that featured contorted, elongated forms and complex, animated compositions. Fundamental to this style is the Italian concept of disegno, which embraces the physical act of drawing and creative design. Disegno: Drawing in Europe, 1520-1600, an exhibition on view November 13, 2012–February 3, 2013 at the Getty Center, features drawings and sculpture from the Getty's permanent collection, including major new acquisitions, works on loan from the Los Angeles County Museum of Art, and one loan and one gift from a local collector.

"The exhibition highlights the significant shifts in artistic approach and in courtly and popular taste during this seminal period in the history of art," explains Dr. Timothy Potts, Director of the J. Paul Getty Museum. "It is a rare privilege to be able to view together such a rich display of the Museum's extensive collection of late Renaissance drawings, and to be able to showcase some key new acquisitions in this area, alongside works from LACMA and a local collector who is a good friend to the Getty."

Initially centered in the city of Florence, this new style possessed an overriding concern for the depiction of grace and virtuosity in the human figure, with drawing placed at the center of the process of creating art. Mastery in rendering the anatomically accurate human form had only recently been achieved, and artists of the sixteenth century worked to create carefully drawn forms in theatrical poses that were full of vitality.

"Everyone knows the famous art of the High Renaissance, but this exhibition shows how the artists of the next generation pushed the boundaries of originality still further," explains Julian Brooks, curator of the exhibition and associate curator of drawings at the J. Paul Getty Museum.

"There was also a sense of divine influence. With some clever wordplay, artist Federico Zuccaro used disegno to express how all artistic inspiration came directly from God—it was, literally, a 'segno di dio' or 'sign of God.'"

The exhibition focuses on three regions that offered varying approaches to the concept of disegno, including works completed in Italy, the Netherlands, and France.

Italy: Florence and Beyond
Florentine artists such as Jacopo Pontormo, Rosso Fiorentino, and Giorgio Vasari were at the forefront of the new style that encapsulated disegno, combining energy and elegance while approaching traditional motifs with a novel playfulness. In Jacopo Zucchi's The Age of Gold, animals and humans peacefully coexist in a scene that represents the first of four ages of mythology (Gold, Silver, Bronze, and Iron). The scene shows elegant, attenuated figures, carefully posed as if elements of the landscape. Zucchi adds humor to the golden theme by including two infants urinating into the stream. In 1550, Giorgio Vasari wrote that disegno was the father of the three arts of painting, sculpture, and architecture. This idea is reinforced in Francesco Primaticcio's sculpture Double Head, which is displayed in the exhibition and features back-to-back elegant female heads that evoke a Roman style and are similar to the artist's figure drawings.

The Netherlands
Dutch artists of the late 1500s took the depiction of the naked body to elegant extremes, continuing a Renaissance tradition that favored mythological and allegorical scenes with erotic and risqué subject matter. Seemingly endless variations on the theme of interlocking nudes, intended to demonstrate the mastery of the human form, also involved a playful voyeurism through the use of curtains and canopies. An example of this kind of work is Hendrick Goltzius's Venus and Mars Surprised by Vulcan. The composition of figures arranged in complex and artificial poses depicts a scene from Homer's epic poem The Odyssey and is an emotionally charged image of writhing, nude bodies. Often surprising to viewers today are the allegorical narratives, such as Cornelis Ketel's Charity, Gratitude, and Ingratitude, which features the figure of Charity, as she is indulged by Gratitude, while being bitten on the arm and stabbed by the pernicious Ingratitude. A new acquisition by the Getty, this is one of only six known drawings by Ketel known to exist.

France: The School of Fontainebleau
The group of renowned artists assembled by King François I (1494–1547) at the Château de Fontainebleau, about 35 miles southeast of Paris, worked in a variety of media, including painting, sculpture, prints, decorative arts, and plasterwork. Within the rooms of the Château, they created ornamental ensembles with complex iconography of a dreamy mythological nature. Prints made at Fontainebleau were frequently experimental in technique, with greater inventiveness than commercial appeal. The second school of Fontainebleau, introduced by King Henry VI (1553–1610) included the artist Toussaint Dubreuil. His double-sided drawing—Nude Warrior Leaning on a Volute and Nude Child Playing a Viola—incorporates two distinctive styles. In Nude Warrior, a naked male figure bursting with energy is roughly sketched in black chalk and modeled with vigorous parallel- and cross-hatched pen-and-ink lines. These techniques echo those of contemporary printmakers in northern Europe. On the reverse, Dubreuil evokes the style of Italian artist Jacopo Pontormo, one of the great practitioners of disegno from an earlier generation.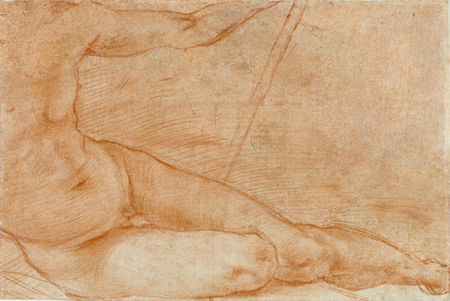 Pontormo (Jacopo Carucci) (Italian (Florentine), 1494 - 1557), Seated Figure (recto); Reclining Figure (verso), 1520. Red chalk with some stumping, 29.4 x 20 cm (11 9/16 x 7 7/8 in.). Accession No. 90.GB.34. The J. Paul Getty Museum, Los Angeles.