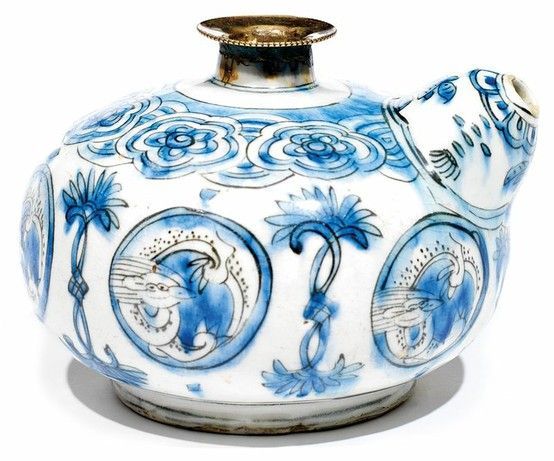 Kendi. Iran safavide, Kirman ou Meched, XVIIe siècle. Photo Tajan
Base de narguilé en céramique à décor bleu-blanc à la chinoise, ornée de dragons stylisés dans des médaillons alternant avec des motifs floraux.
Autour du col, une frise de médaillons polylobés floraux. Le haut du col fracturé est muni d'une monture en métal. Marque chinoise apocryphe sous la base. Restaurations au talon et partie supérieure du col manquante. HAUT. 12,5 cm (4,9 cm). Estimation : 700 / 900 €

A 17th century Safavid Iranian ceramic hookah base.

Référence : Voir Lane, Later Islamic Pottery, London, 1971, n° 79 pour un kendi de même forme et p. 116-117 pour les marques de potiers. Voir Yolande Crowe, Persia and China, La Borie, London, 2002, p. 98-101 pour un ensemble de kendi au Victoria and Albert Museum et n° 263 p. 161 pour un exemple similaire de médaillon au dragon.
Tajan. Mardi 20 novembre 2012. Espace Tajan - 37, rue des Mathurins - 75008 Paris www.tajan.com