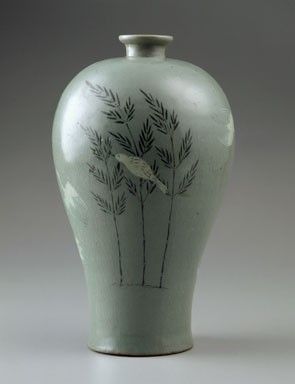 Maebyeong, early 13th century. Glazed stoneware with inlaid decoration. Bequest of Charles Bain Hoyt—Charles Bain Hoyt Collection. Photo: © Museum of Fine Arts, Boston.
BOSTON, MASS.- A new gallery showcasing a range of Korean works of art, from ancient to contemporary, and an exhibition of rare Korean Buddhist paintings debuted on November 16 at the Museum of Fine Arts, Boston. The Arts of Korea Gallery features a display of some 120 objects, including Buddhist paintings, celadons and other ceramics, inlaid lacquerware, gilt silver metal work, archeological artifacts, and jewelry, as well as contemporary pieces. These works of art are drawn from the Museum's collection of more than 1,000 Korean objects, one of the largest and finest holdings in the West. Complementing the new Arts of Korea Gallery is the exhibition Divine Depictions: Korean Buddhist Paintings featuring 10 rare Buddhist paintings, and one contemporary work, on view November 16, 2012, through June 23, 2013, in the adjacent Asian Paintings Gallery.
"We are delighted to present our great Korean collection in a newly renovated gallery, with the support of the Korea Foundation, where our treasures from Korea can be enjoyed by visitors from around the world. We also hope that many of the Korean residents in Boston, particularly students studying at the colleges and universities in the area, will come and visit it often," said Malcolm Rogers, Ann and Graham Gund Director of the Museum.
Arts of Korea Gallery
The MFA's new Arts of Korea Gallery presents highlights of the Museum's Korean collection, which began to be assembled at the MFA in 1892. It spans the Bronze Age (1000–300 BC) to the present day, with a concentration of objects made in the Goryeo (918-1392) and Joseon (1392-1910) dynasties. On view are artifacts from the Bronze Age, including bronze and slate daggers found in tombs and slate and stone arrowheads, which are among the oldest objects in the gallery. Also featured are works from early Korea (57 BC through AD 918), when the country's peninsula was divided into three kingdoms: Goryeo in the north, Baekje in the southwest, and Silla in the southeast. During this Three Kingdoms period (57 BC–AD 668), artists and craftsmen made iron armor for men and horses and high-fired stoneware vessels for shamanistic burials. In addition, they created adornments such as gold and silver crowns and jewelry, examples of which are on view in the gallery, including earrings, necklaces, and belts with pendants.
The importance of Buddhism in the cultural history of Korea also is explored in the gallery. Buddhism reached a high-point in the country from the 7th to the 14th centuries and was central to life during the Goryeo Dynasty (918–1392), when temples and monasteries were constructed and works of art produced for the glorification of the religion. The subsequent Joseon Dynasty (1392–1910) largely replaced Buddhism with an austere form of Confucianism that emphasized family lineage through the male line. It lasted some 500 years, throughout which many people, including the royal family, continued to believe in Buddhism and support temples financially. Among the five paintings displayed in the Arts of Korea gallery is one that documents the high quality of Buddhist art produced during this nominally Confucian period, Medicine Buddha triad with Twelve Guardians (Joseon dynasty, late 16th century). It depicts the healing Buddha sitting upright on a lotus-shaped throne, flanked by two attendants and The Twelve Guardians, symbolizing the Buddha's 12 vows to cure all sufferings. Because of the fragility of the paintings, they will be rotated periodically.
Medicine Buddha Triad with Twelve Guardians, Korean, Joseon dynasty, late 16th century. Accession number 19.265. Photo: © Museum of Fine Arts, Boston.
In addition to these works, the gallery showcases other strengths of the Museum's Korean holdings, such as 11th–13th century celadons—green-glazed, high-fired stonewares. The technique of making celadons (their light green "celadon" color coming from traces of iron oxide in the glaze) was brought from China to Korea by the 10th century, their production centered primarily in southwest Korea. Of particular note is Plum blossom vase (maebyeong) with painted decoration (Goryeo dynasty, 12th century), a type of vessel originally made for wine, later used to hold a flowering plum branch. It incorporates the typical Goryeo maebyeong shape, with a bulbous shoulder and thin belly curving outward toward the bottom. The unique decoration features large flowers painted in white slip under the glaze. Another beautiful example is Bamboo-shoot-shaped ewer (Goryeo dynasty, 12th century), used for serving wine, which evokes fruit and vegetable motifs often used in Korean ceramic pieces. Many of the MFA's Korean celadons were acquired in Paris by collector Charles Bain Hoyt, who gave his holdings to the MFA in 1950. Other ceramics on view are of the Buncheong ("powder green" or "grayish green") variety—coarse stoneware developed from Goryeo celadons in the 15th to 16th centuries—such as Flask (Joseon dynasty, late 15th century). Fine white porcelain also became popular beginning around the 15th century, as seen in examples from the late 18th century (Joseon dynasty), Moon Jar and Jar with phoenix design.
To enhance the appreciation of Korean ceramics on view in the gallery, a touchscreen features four videos depicting traditional Korean ceramics production and decoration techniques, including preparing clay, throwing and shaping porcelain, carving inlaid designs, and firing blue and white porcelain in a dragon kiln. The touchscreen is made possible with generous support from Song Hye-kyo and Seo Kyoung-duk.
Among the other works in the gallery are laquerware and metal work, such as Sutra box (Goryeo dynasty, 13th century), a lacquered wood box inlaid with mother-of-pearl, originally made to house Buddhist scriptures. It is one of a group of just eight such boxes remaining in the world; in all, there are only about 15 Goryeo inlaid lacquer objects in existence. Also of note are exquisite works in metal, such as the elaborately designed gilt silver Ewer and basin (Goreyo dynasty, 12th century), which would have been used by the Goryeo royal court, its lotus-flower basin filled with hot water to keep wine in the ewer warm. The ewer's body is fashioned in the shape of 24 bundled bamboo stalks, while the handle and the spout are made to resemble bamboo shoots, and the lid is decorated with two lotus flowers in high relief, topped by a phoenix. Another gilt silver work is Buddhist reliquary (Goryeo dynasty, 14th century), which is shaped like a stupa (mound-like structure to house relics) and contains small beads of glass and bronze—symbolic remains of 14th-century monks. The stupa rests on a base decorated with upturned petals of a lotus, a Buddhist symbol of purity.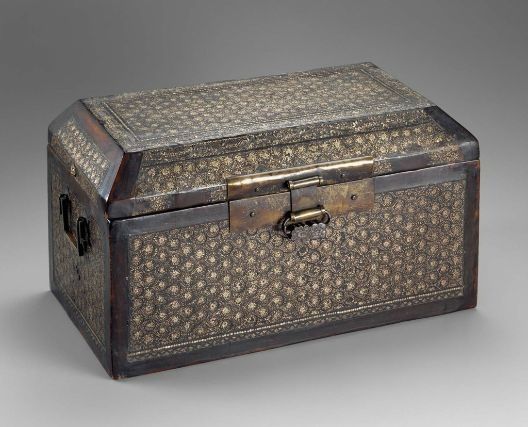 Sutra box. Korean, Goryeo dynasty, 13th century. Accession number 11.10556. Photo: © Museum of Fine Arts, Boston.
Another highlight of the Arts of Korea Gallery is a superb 18th-century Joseon dynasty trompe l'oeil Bookshelf screen, on loan from a private collection. This eight-panel silk screen is a rare example of a decorative painting genre called chaekgeori, "books and things," featuring scholarly items that indicate one's learning and sophistication. Made for a gentleman's study—possibly for royalty—it is displayed in a room-like setting in the gallery accompanied by writing tools placed on a low table. Also on view are newly acquired contemporary ceramics and paintings, both Buddhist and secular, which will be shown on a rotating basis. The ceramics are juxtaposed with some of the earliest works in the gallery to illustrate how the contemporary responds to the traditional. Included among these newly made pieces is Translated Vase (2011) by Yee Sookyung, featuring celadon fragments joined together with epoxy and gilding—a remaking of the old into the new. Prior to its inclusion in the Arts of Korea Gallery, it was displayed in the Jeanne and Stokley Towles Gallery in the MFA's Linde Family Wing for Contemporary Art.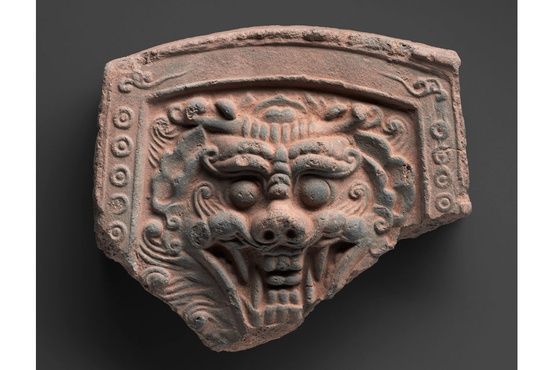 Roof tile with a demon face, 8th–9th century A.D. Earthenware with impressed decoration. Gift of Colonel John R. Fox. Photo: © Museum of Fine Arts, Boston.