Francis Bacon, Portrait of Michel Leiris, 1976. Oil on canvas, 35.5 x 30.5. Louise and Michel Leiris Collection. Pompidou Centre, Paris. ©The Estate of Francis Bacon, DACS/Licensed by Viscopy.
SYDNEY.- Surveying Francis Bacon's life and work, this is the first major exhibition in Australia of rare works by the master of post-war British art.
With over 50 paintings as well as archival material from his studio, films and photographs, the exhibition covers every decade of his career, from the pensive and shocking works of the 1940s to the exuberantly coloured and visceral large paintings of the 1970s and 80s.
Organised by the Art Gallery of NSW, the exhibition has been four years in the making, with works drawn from private collections and Australian and international institutions such as the Museum of Modern Art and Metropolitan Museum of Art in New York, Tate Britain in London, the Pompidou Centre in Paris, and the Francis Bacon Estate.
Michael Brand, director, Art Gallery of NSW: 'Francis Bacon: five decades presents a dazzling picture of a complex and conflicted artist whose work retains its visceral impact 20 years after his death. It's an exhibition not to be missed.'

Francis Bacon's aim was to make a viewer come face to face with the process of looking at and interpreting art.
What he wanted – and what he makes possible – is for each individual to experience a personal, and usually very physical, response to the painting, where their own feelings override any attempt to interpret what Bacon himself was thinking or feeling.
Bacon didn't intend his painting to be narrative or illustrative or psychoanalytical or autobiographical. He was about sensation. That was the reason he gave for fragmenting and distorting the body in the way that he did.

The figures in Bacon's paintings aren't characters in a story; they are the body as a material fact. Yet there is a strong connection between the imagery in Bacon's work and the circumstances of his life, including the influence of his close friends and five long-term lovers.
From 1929 until 1949 Bacon had a relationship with Eric Hall, a collector, businessman and great supporter of Bacon. In 1952 he began a tumultuous and sometimes violent affair with Peter Lacy, an ex-Royal Air Force pilot with whom he often travelled to Tangier in Morocco. George Dyer was possibly Bacon's most important lover and appears frequently in his paintings. They met in 1963 and shared a turbulent life until Dyer's death in 1971 on the eve of a major exhibition of Bacon's work at the Grand Palais in Paris. In 1976 Bacon met John Edwards with whom he had a paternal relationship that lasted until the end of his life. Although Edwards had a long-term lover outside the relationship and Bacon had a final passionate affair with José Capello, a young Spanish businessman, it was Edwards who inherited the artist's estate in 1992.

Bacon collected massive amounts of visual information – photographs of friends, pages from magazines, art journals, newspapers and film posters – with which he surrounded himself in his small studio at 7 Reece Mews in South Kensington, London. The floor and tables were piled high with scraps of photographs, pages torn from books and journals, empty boxes often glued together by splattered paint, old paint rollers, coagulated brushes, spray cans, pieces of fabric coated in paint, rubber gloves, and discarded plates once used as palettes.
Bacon spoke about his need for chaos. In one interview he said, 'The mess here around us is rather like my mind; it may be a good image of what goes on inside me, that's what it's like, my life is like that.' In another: 'I work much better in chaos…chaos for me breeds images.'
He absorbed all this visual information and it erupted in his art. He used the images as objects – holding, bending and folding them, splattering them with paint, pinning them and gluing them down. Although not a literal history or pictorially illustrative, his work captured the events of his lifetime and conveyed their pain.
Much has been said about the violent nature of his imagery but very few of his works depict scenes of violence, although his paint is often violently applied so that the viewer experiences the raw sensation of the subject 'directly on their nervous system'.
Bacon experimented obsessively with the sense of motion caused by the different ways that paint leaves the brush or the piece of cloth he often used in place of a brush. Large areas are left unpainted so that the raw linen acts as both colour and texture. Different kinds of paint are used in the same composition, such as oils, acrylics and spray paint, as well as found materials. Sometimes these have a direct relevance to the subject – for example, applying dust or fluff to the paint to describe the fabric of a coat. These vital details are not readily visible in reproduction, hence the importance of this exhibition.
An inveterate gambler, Bacon prized an element of chance and often risked everything on an outside bet at the casino, as well as in his art. He once said, '...moving – even unconsciously moving – the brush one way rather than the other will completely alter the implications of the image…'
Bacon's method was always presented as an unconscious, almost drunken, leap into the dark, but there was a prodigious intellect driving his work. Afterall, a good drunk, like a cat, knows exactly how to land.
Adapted from the exhibition catalogue, Francis Bacon: five decades, edited by Anthony Bond.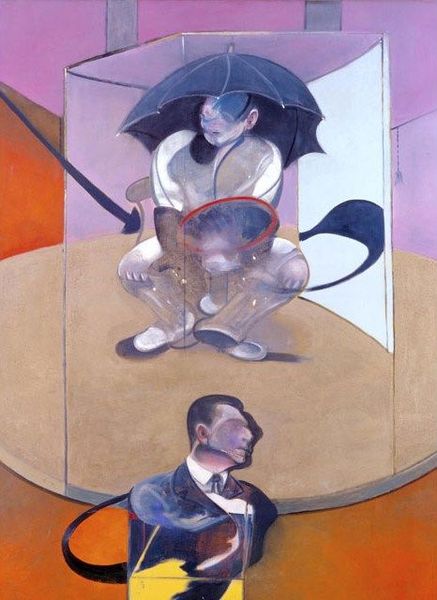 Francis Bacon, Seated Figure, 1978. Oil on canvas, 198 x 147.5 cm. Private Collection. Courtesy Richard Nagy Ltd., London. ©The Estate of Francis Bacon, DACS/Licensed by Viscopy.