30 novembre 2012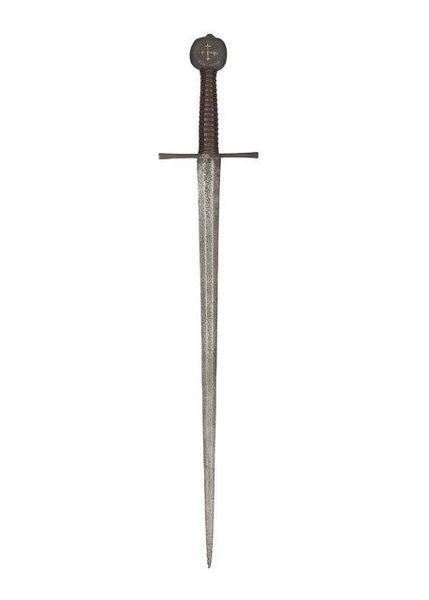 The medieval Crusader Italian-made sword was given as a gift to the Mamluk rulers of Alexandria by the Christian ruler of Cyprus and Jerusalem, King Peter I as part of a gift sealing a treaty. Photo: Bonhams
LONDON.- A rare medieval sword taken from the Mamluk Arsenal at Alexandria was the top item in Bonhams sale of Antique Arms and Armour on November 28th in London. The sword, estimated to sell for £40,000 to £60,000, was eventually bought for £163,250 after stiff competition in a sale that made a total of £1m with 90% sold.
The medieval Crusader Italian-made sword was given as a gift to the Mamluk rulers of Alexandria by the Christian ruler of Cyprus and Jerusalem,King Peter I as part of a gift sealing a treaty.
King Peter I, the King of Cyprus and Jerusalem, launched the last Crusade in 1362 against the Muslim Mamluk Empire in the region. A fleet set out from Cyprus and proved victorious, taking the city of Alexandria with immense amounts of plunder returned to Cyprus, including this sword. Such was the treasure and weapons taken from the captured city that many of the overloaded ships had to jettison cargo.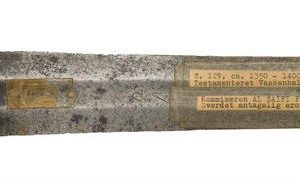 David Williams, Head of Bonhams Antique Arms and Armour Department, says: "The fascination of this sword is that it has survived some six centuries having been gifted by a Christian King to a Muslim ruler and kept in the famed Alexandrian armoury and then taken by force by Crusaders and returned to Europe. It is a remarkable survivor of the Crusader period."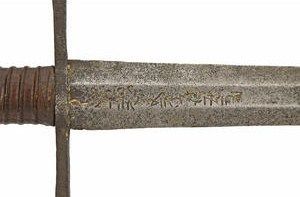 The sword has a flat tapering double-edged blade 92.5 cm. long and overall with the hilt 115.7cm. The weapon bears an inscription that reads: 'Hubs Khazain al-Silah bi thughri al-Iskandariyya ayyam al-Sayfi Faris al [...d.]', 'Donation to the armoury in the frontier city of Alexandria in the days of al-Sayfi Faris al- [Muhammadi]. Amir Faris was an inspector in 840H, corresponding to 1436-7 AD. Only three other swords appear to be recorded inscribed in the name of the Amir Faris. One in a private charitable foundation, another in Leeds Castle, Kent and the other in the Military Museum at Istanbul.
A stunning array of death-dealing swords from the Medieval period and earlier, including Viking weapons, formed the main thrust of Bonhams sale of Antique Arms and Armour on November 28th in Knightsbridge.
David Williams, Director of Arms and Armour at Bonhams, comments: "Many of these rare and remarkable weapons would have been used in battle. The scarring and damage goes some way to confirm this, though the years have also taken their toll."
Among the collection of swords in the sale from the distinguished Danish collector the late E.A. Christensen, there were some seven Viking swords dating from the 9th and tenth centuries when the Vikings were invading the British Isles on a regular basis.

Lot 55, A Rare Viking Sword Of Petersen Type C And Wheeler Type II. Photo Bonhams
in excavated condition, with broad fullered single-edged blade, hilt comprising thick ovoidal cross-piece, flat tapering tang, and pommel of tea-cosy form, 68 cm. blade, 83.8 cm. overall, similar to one found in Ireland and estimated at £4,000 to £5,000, sold for a whopping £30,000.
Provenance: Acquired from the Paus Collection in 1944

Literature: Hoffmeyer, cat. no. 32, pp. 35, 68 and 71, figs. 7 and 14

For similar examples including one found at Kilmainham, Dublin, and now in the National Museum of Ireland, see Ian Peirce, Swords Of The Viking Age, 2002, pp. 39, 40 and 41, illustrated

See also Jan Petersen, Die Norske Vikingesverd, 1919, p. 79, fig. 75
A Rare Viking Sword Of Petersen Type D. Photo Bonhams
In excavated condition, with double-edged blade with wide shallow fuller over nearly its entire length along both sides to the point, hilt comprising thick ovoidal cross-piece incised with scrolled decoration and pierced on either side with a dome-headed rivet on copper-alloy washers, flat tapering tang retaining the original ovoidal copper-alloy grip mounts above and below and with notched borders, and two-piece trilobate pommel with copper-alloy mounts en suite including small circles on each side forming eyes; 73 cm. blade, 88.7 cm. overall, estimated to sell for £6,000 to £8,000, made £27,500.
Provenance: Found in 1887 in the mouth of the River Thieles, a tributary of the Neuenburgersee, Switzerland
Boissonas Collection
Galerie Fischer, Lucerne, 25 November 1959, lot 118

Literature: Jean Boissonas, Alte Waffen Aus Der Schweiz, Sammlung Charles Boissonas, 1910, p. 18, no. 107, pl. XXV
Hoffmeyer, cat. no. 29, pp. 47, 68 and 70, figs. 9 and 13

A related sword is preserved in the Bayerishes National Museum, Munich

Lot 54, A Rare Sword Of Viking Type With Ulfberht Inscription. Photo Bonhams
In excavated condition, with tapering double-edged blade with shallow central fuller over most of its length on both sides, the forte on both sides cut with the inscription '+ULFBERH+T' (more legible on one side than on the other), hilt comprising flat slightly arched quillons tapering towards the tips, flat tapering tang, and pommel of tea-cosy form; 81.5 cm. blade, 96.5 cm. overall, estimated to sell for £3,500 to £4,500 made £10,625.
Provenance: Found in the River Meuse in Belgium or France
Acquired from Robert-Jean Charles, Paris, July 1949

Literature: Ada Bruhn Hoffmeyer, Middelalderens tveæggede Sværd, 1954, vol. I, pp. 34, 111 and 186, and vol. II, pp. 7 and 93, pl. 4e
Hoffmeyer, cat. no. 33, pp. 35, 68 and 71, figs. 7 and 14

Petersen's type X. For a related sword see Ian Peirce, Swords Of The Vikings Age, 2002, pp. 124-125

Viking swords with Ulfberht inscriptions have been found across Europe, Scandinavia, Britain and Russia. It is thought that the name is either that of a long-lived family manufactory or a group of closely associated workshops, the possible origin being Frankland, in the area of modern Solingen. One hundred and twenty-two examples were identified by Alfred Geibig in his highly detailed survey published in 1991

For a synopsis of Geibig's work and a further analytical study of the subject see Michael R. Gorman, 'Ulfbreht: Innovation and Imitation in Early Medieval Swords', The sixteenth Park Lane Arms Fair Guide, February 1999, pp. 7-12
The Viking Age spanned the late 8th to 11th centuries.
The Viking destruction of Lindisfarne was reported by a Northumbrian scholar who wrote: "Never before has such an atrocity been seen". More than any other single event, the attack on Lindisfarne cast a shadow on the perception of the Vikings for the next twelve centuries.
Commentaires sur Crusader sword captured from Mamluk Arsena in Alexandria gives £163,250 edge to Bonhams sale