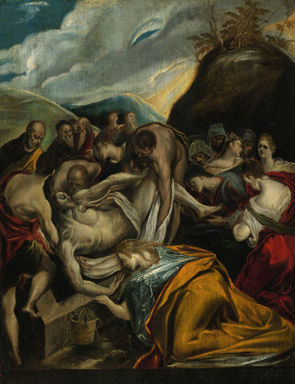 El Greco, The Entombment of Christ, est. $1/1.5 million. Photo: Sotheby's.
NEW YORK, NY.- Sotheby's announced the sale of Property from the Estate of Giancarlo Baroni, renowned Old Master connoisseur, collector and dealer, in a series of auctions to be held early next year in New York beginning with a dedicated evening and day sale on 29 and 30 January, respectively. The collection is being consigned by his children. Highlights of the prominent collection range from 15th century gold ground paintings to works by artists including El Greco, Gian Paolo Panini, Giambattista Tiepolo, Bernardo Bellotto, Edgar Degas, Eva Gonzalès and Giovanni Boldini, among others. The series of auctions will comprise Old Master paintings and drawings, Impressionist & Modern art, antique frames and decorative arts. Select works will be exhibited in London from 1 – 6 December 2012 and in Paris from 10 – 12 December 2012, and the entire offering will be on view in New York beginning 25 January 2013.

Christopher Apostle, Senior Vice President, Old Master Paintings, notes: "The amazing thing about the collection is its breath of scope and what it tells about the man who put it together. Inquisitive, intelligent and scholarly, he could see aesthetic connections that were not obvious to others, finding the beauty in a gold ground Florentine Madonna and a 20th Century work of art alike. I have to say that with this collection, I have walked away learning a lot about connoisseurship and about the virtues of not limiting oneself in collecting, but to rather follow one's own passions."
Cristiana Romalli, Senior Specialist, Old Master Drawings, commented: "Giancarlo Baroni was an exceptional connoisseur who appreciated equally paintings and drawings, which is not always typical of collectors or dealers. Certainly driven by passion but also by a great curiosity and determination, he had an inquisitive mind and a very gentle manner which made one always feel at ease. His knowledge of drawings gave him a much deeper understanding of the painted oeuvre of the many artists he loved."
Giancarlo Baroni (1926 – 2007).
Giancarlo Baroni's passion for art was legendary. His roles as dealer and collector were interchangeable, the common factor always being a love of objects. He bought with the passion of a collector, and as dealer often sold reluctantly. There were works he could not bear to part with, including a view of the Roman Forum by Gian Paolo Panini, two devotional paintings by Tiepolo and a collection of watercolors by Boldini, all of which will be included in the January single-owner sale. Baroni's career as a dealer had auspicious beginnings: born in Florence in 1926, he moved to Paris in 1947 to join his father-in-law's art business. Following his father-in-law's death just four years later, the young Baroni was faced with a decision – find the money to continue on as a dealer or take advantage of a friend's offer to join the Banco di Roma in Paris. According to family legend, just days before he was due to make his final decision, he discovered three paintings by Canaletto, which he sold for a profit significant enough to buy out his wife's family and take over the family gallery on his own.
Baroni quickly became an international source of Italian works, building equally important relationships with key dealers of the day, as well as the red-collared porters of the Drouot saleroom, who eventually called him "Monsieur Tiepolo," following Baroni's acquisition of a series of grisailles paintings by Giambattista Tiepolo from the Fauchier-Magnan collection in the Drouot saleroom. A connoisseur from the very beginning, Baroni was one of the first dealers to assemble a significant art historical library, adding volumes from notable collections, including that of Joseph Duveen, over his entire career. A passion for knowledge was something that Baroni also passed on to future generations when three of his children joined him in the business, often filling quiet afternoons in the gallery with tests of attribution and authenticity.
Renowned for his unerring eye and quest for quality, Baroni made a number of important discoveries throughout his career, most notably an early painting of Saint John the Baptist by Goya, found at a Paris gallery in the 1980s. Over the years Baroni refused to sell the work, convinced of its attribution, and finally, he was able to confirm that the work shared the same provenance as the artist's famed portrait of the Duchess of Alba in the Cloisters in New York.
The picture was subsequently sold to the Spanish government in 2004, and the painting now hangs in the Museo del Prado in Madrid.

Property from the Estate of Giancarlo Baroni Evening Sale – 29 January 2013
The highlight of the evening sale is a rare and early panel by El Greco, The Entombment of Christ (est. $1/1.5 million), which has remained largely hidden from view until now. The work dates from the mid-1570s, a time when El Greco was turning to contemporary Italian art for inspiration. The impact of Titian and his Venetian contemporaries is evident in his work during the 1570s in his use of color, as well as in the general structure of the composition. El Greco even included a portrait of Titian in the background of the painting as one of the observers. An additional highlight is Venice, a view of the Molo, looking West, with the Palazzo Ducale and South Side of the Piazzetta ($800/1.2 million) by Bernardo Bellotto.
The Madonna and Child seated before a sculpted parapet, an apple resting beside her (est. $400/600,000), attributed to the School of Pietro Perugino, once hung at Prince Anatole Demidoff's residence, the Villa San Donato, Florence. The elaborate carved and gilt wood frame with the painting was almost certainly made to Demidoff's order in Florence. A boy being bitten by a freshwater crayfish (est. $300/400,000) by the Pensionante del Saraceni is arguably the most accomplished of all the known versions of the fascinating composition. This painting was acquired in France before 1967. A rare drawing from Gian Paolo Panini's mature period, An idealised view of the Roman forum, with the restoration of the temple of Castor and Pollux, and the Colosseum and the arch of Titus in the background (est. $250/350,000) will also be offered. The magnificent, large, colored drawing shows an animated multitude of elegant figures conversing, while observing the restoration of the Temple of Castor and Pollux, which took place in 1760.
Baroni was a passionate connoisseur of Venetian art from the 15th to 18th centuries. Both the evening and day sales contain a number of works by key 18th century artists including Canaletto, Guardi and Tiepolo, including two small-scale, rare and early examples of Tiepolo's private devotional images: The Madonna facing front and wearing a blue cloak (est. $120/160,000) and Mary Magdalene in three quarter view, veiled in a white cloth (est. $120/160,000). These singlefigure depictions of the two Mary's – the Virgin and Mary Magdalene – straddle the line between purely religious iconography and Tiepolo's rarefied foray into portraiture. Both are paradigms of Venetian 18th Century beauty and could be viewed as contemporary Venetian portraits were it not for their distinguishing religious dress.
Two works by Guardi included in the Evening Sale are An Architectural Capriccio with Figures by a ruined arch (est. $100/150,000) executed during his mature period and An Architectural Capriccio with Figures amongst classical ruins, a temple beyond (est. $100/150,000), unique in his body of work as an homage to Gian Paolo Panini.
Also included in the sale is La demoiselle d'honneur (est. $400/600,000) by Eva Gonzalès from 1879, previously owned by Henri Guérard, Jeanne Guérard-Gonzalès and Adolphe Stein. Édouard Manet moved to a village just west of Paris during the summer of 1880 as his health was deteriorating. During this time he composed illustrated letters to his closest friends, one of which being Eva Guérard-Gonzalès, the only artist he took on as a pupil on a formal basis. A very fine illustrated letter from Manet to his pupil and muse Eva Gonzalès (est. $100/150,000) includes witty portraits of Gonzalès and her husband, graphic artist Henri Guérard. Two striking drawings in pastel by Edgar Degas, Le repos de la danseuse (est. $150/200,000) and Plage à marée basse (est. $150/250,000), are also included in the sale, as well as a fine watercolour by Berthe Morisot (est. $30/50,000) inside two volumes by Alphonse Daudet. Five drawings by Rodin ranging in value from $5,000 to $15,000 will also be offered.
A painting of Lady in a Yellow Hat with her Dog (est. $200/300,000, left), as well as seven seven watercolors by the 19th Century Italian artist Giovanni Boldini are up for offer, highlighted by A Bust of Leopoldo de' Medici in the Artist's Studio (est. $40/60,000), L'arbre (est. $40/50,000) and Horse and Carriage (est. $30/40,000). Baroni had a deep appreciation for Boldini and cherished some of these works for 30 years. Perhaps Baroni felt a sort of kinship with the artist as they were both Italian immigrants in France during difficult post-war times. Another highlight is Boldini on the art of hanging exhibitions (est. $10/15,000), an archive comprising 22 autograph letters signed by Boldini to Eugène Raguet, Secrétaire Générale of the Société Nationale des Beaux Arts, Paris, spanning 20 years and concerning Boldini's ideas on how his painting should be hung in various Paris Salons.
Property from the Estate of Giancarlo Baroni Drawings Session – 30 January 2013
The drawings included in Baroni's collection span from early Italian drawings from the Umbrian school of the late 15th Century to 18th Century Venetian, which were a particular passion for the collector. Baroni understood both disciplines of paintings and drawings, and he had universal taste. Among the highlights of the session is a rare drawing by Bernardo Strozzi, The Penitent Magdalene Holding a Crucifix Resting on a Scull (est. $150/200,000) from the famous, old Venetian collection of the Sagredo family. This study is an extraordinary and unique sheet among the surviving drawings by Strozzi, created during the artist's late Genoese period. The Massacre of the Innocents (est. $150/200,000) from the Umbrian School is a late 15th Century drawing, whose artist, although unknown, was highly influenced by the style of Perugino and early Raphael. This is a rare example of a sheet datable to the late 1400s, and it is a compositional study most surely preparatory for a predella panel.
Study of the Tomb of the Humanist Niccolò Perotti (est. $100/150,000) from the Ferrarese School circa 1480 is a rare example of a modello executed to be shown to a patron. Below the figure and before the date of Perotti's death, written in Roman numerals (1480), several capital letters can be read which correspond to the first line of Perotti's Rudimenta Grammatices, printed in 1473. This famous text, the first Latin school grammar, was sold all over Europe by the end of the century and was reprinted 117 times.

Another highlight is a double-sided work by Giambattista Tiepolo, Recto: Reclining Satyr; Verso: Allegory of Prudence (est. $60/80,000). The handsome and strong image of the recto can be associated to a large group of satyrs and satyresses executed in pen, ink and wash and generally associated with the ceiling decoration of Palazzo Clerici.
A Capriccio with a View of a Venetian Palace Through an Archway (est. $60/80,000) by Francesco Guardi, thought to be executed after 1780. It is a type of drawing which was very popular with Venetian collectors and foreign visitors and continued to be for centuries carrying forward an illustrious tradition, whose evocative images of familiar places and subjects, had made the Venetian 18th Century one of the most enticing periods in Italian art. Also up for auction is Canaletto's A Sheet with Venetian Views: the Arsenal, San Francesco della Vigna, a Man in a Boat, and a Study of a Man Seen from Behind (est. $25/35,000) was executed with vigorous pen and ink lines, reinforced by an equally strong and loosely hatched pen and ink shadows. The drawing has not been to auction in almost 30 years.
* Pre-sale estimates do not include buyer's premium.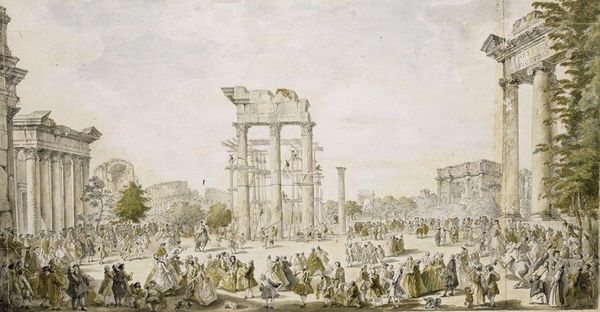 Gian Paolo Panini, An idealised view of the Roman forum, with the restoration of the temple of Castor and Pollux, and the Colosseum and the arch of Titus in the background, est. $250/350,000. Photo: Sotheby's