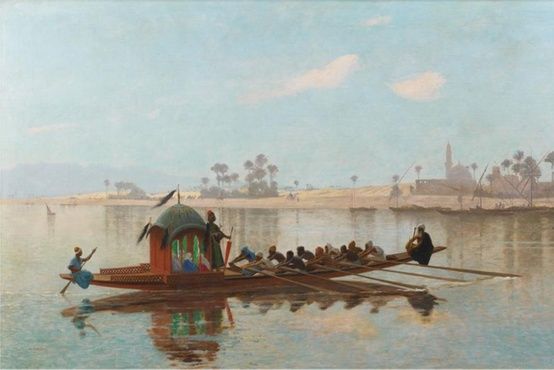 Jean-Léon Gérôme(1824 - 1904), Promenade du Harem. Oil on canvas Signed "J.L.GEROME." on the lower left, 86 x 150,50 cm.
PARIS.- The Orientalist Painting department at Artcurial Briest Poulain F.Tajan, lead by Olivier Berman, shows once again its world-leading position, in putting on sale a remarkable painting by Jean-Léon Gérôme. The descendants of Madeleine Gerôme, the daughter, kept the totally unheard-of piece in the artist's family until this day. With an estimate price of € 800,000 / 1,200,000 the painting has every chance to attract collectors and institutions. Indeed, its magical subject, incredible quality, undeniable provenance and important size, make some of the fabulous aspects of this painting. The sale will be divided into six major themes including 55 paintings from European private collections. The total estimate is €2,3 – 3,2 million.
As shown in the past exhibition at the Musée d'Orsay "Jean-Léon Gérôme, L'histoire en spectacle" and at the Getty Museum in 2011, Gérôme was imaginating images, a prodigious painter, and talented story-teller. For numerous students and painters from all over the world, he was a reference as a teacher and a great master.
The incredible discovery of this never-seen before painting (separate press release) is a great opportunity for ARTCURIAL to dedicate a major part of the sale to those who were inspired by the representative of "La Grande Peinture" in Europe and in the US since 1850.
Jean-Léon Gérôme, his students and influence
Georges Brétegnier (1860-1892), who was a student of Gérôme and Meissonier at the Beaux Arts de Paris, finds his inspiration during his travels in Morrocco, before dying at only 32 years old, in his studio of rue d'Assas in Paris.
Jacques Majorelle and his contemporaries
Usually, Artcurial Briest Poulain F.Tajan, presents numerous works by Jacques Majorelle and his contemporaries. During this sale, we will discover an emblematic painting by Bernard Boutet de Monvel and a special mention will be attributed to the exquisite Jacques Majorelle painting, estimated €15.000, symbolic of his Egyptian journey.
Bernard Boutet de Monvel was considered the « jet set » painter during the 1920's, in Paris, as well as in New York. He was the most famous portrayer of the Café Society and the most wanted.
The presented painting comes from the Paul Manship collection, who was sculptor during the 1930's. He is mostly famous for his Promotheus sculpture, which ornates the Rockefeller Center fountain in New York.
As soon as 1908, the fashion designer Paul Poiret had noticed the incredible talent of Boutet de Monvel and his "straight line style". Even though he was often criticized, he was one of the pioneers of the Art Déco painting.
He had been a highly honored aviator during the First World War and was later sent to Morocco, where he decided to paint again, after having stopped since the war declaration. From his terrace, he paints Fez at every hour of the day. He depicts perfectly the walls of the city, with raw paint applied with a palette knife and reduces them to harsh rectangles and lines. Bernard Boutet de Monvel leaves a particular but powerful vision of Morocco, far from other orientalist clichés. His modern and geometrical vision of the architecture will deeply inspire his friend Jacques Majorelle.