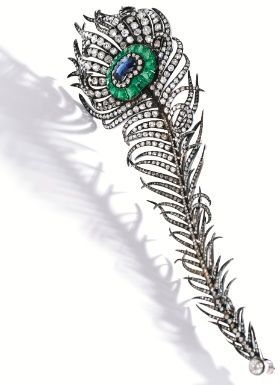 Silver-Topped-Gold, Sapphire, Emerald and Diamond 'Peacock Feather' Brooch, Circa 1860 - Photo Sotheby's
Designed as a fanciful peacock feather, the eye centered by a fancy-cut sapphire, bordered by 15 calibré-cut emeralds, the intertwined and curled plumes set with numerous old mine, old European and rose-cut diamonds weighing approximately 17.50 carats, length 5¾ inches, with French import marks. Estimation: 60,000 - 80,000 USD
PROVENANCE: Parke-Bernet Galleries, Inc., New York, October 12, 1965, Precious Stone Jewels from the Unique Collection of the Late Helena Rubinstein, lot 83.
NOTE DE CATALOGUE: Peacock feathers have always fascinated us. Besides their decorative beauty and the immediate appeal of their vibrant colors, they are deeply symbolic, the meaning changing according to the specific culture in which they appear.
To the ancient Greeks, the peacock was the favorite of the goddess Hera who is said to have placed "one hundred eyes" in its tail feathers to render herself all-seeing and wise. In Hindu mythology, peacocks were associated with the god Lakshmi, symbolizing kindness and good fortune. In more modern times, peacocks have come to symbolize pride and, by extension, glory and nobility. It is not surprising that these exotic birds with their resplendent plumage are favorites in royal gardens and parks throughout the world.
In the last quarter of the 19th century, fascination for the unusual and exotic resulted in a renewed interest in the peacock image, both as a bird with a fan of tail feathers or as a single plume. Jewelry was not exempt from this trend.
Peacock feathers set completely in diamonds soon gave way to larger and more realistically modeled plumes, such as the one offered here, set with emerald and sapphire "eyes" that closely imitated the real thing. The highly influential Parisian jeweler Massin is known to have produced several of these magnificent plumes made possible by new jewelry-making techniques combined with a keen observation of nature.
The peacock feather is a favorite motif of Mrs. Wrightsman. Her residence in St. James's Place in London included a Louis XV giltwood chair upholstered in a striking peacock-patterned fabric, a pair of peacock feather fans, and a dramatic bouquet of approximately 500 peacock plumes. See the catalogue Property from the Collection of Mrs. Charles Wrightsman: The London Residence, Sotheby's, New York, April 28, 2010, lots 132, 34 and 35.
Sotheby's. Magnificent Jewels from the Collection of Mrs. Charles Wrightsman. New York | 05 déc. 2012 www.sothebys.com