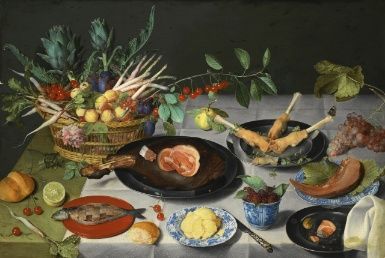 Jacob Van Hulsdonck (Antwerp 1582 – 1647), A Still Life With Artichokes, Radishes, Asparagus, Plums, Cherries And Peaches In A Basket, Together With A Ham And Pig's Trotters On Pewter Plates, A Herring, A Tongue And Some Butter On Blue-And-White Dishes, Mulberries In A Blue-And-White Bowl, A Knife, Bread, Cherries, Grapes And A Lemon With A Broken Berkemeyer Glass, All On A Table Partly Draped By A White Cloth. Photo Sotheby's
signed lower left: VAN HULSDONCK . FE and monogrammed lower right on the plate: IVH; oil on oak panel, the reverse prepared with gesso; 71.5 by 104 cm.; 28 by 41 in. Estimation: 500,000 - 700,000 GBP - Lot. Vendu 847,650 GBP
PROVENANCE: In the possession of the grandmother of the present owner in the Middle-Rhine region of Germany, and believed to have passed to her by inheritance from her great-grandmother in Düsseldorf;Inherited by the present owner in 1964.
NOTE DE CATALOGUE: Hulsdonck's still lifes are characterized by very precise handling and extreme clarity of detail. He delights in the variety of colours and surface textures in the foodstuffs and objects that he presents his viewer, who is reminded of the diverse delicious tastes and textures that await the diner.
This is an exceptionally lavish composition by Hulsdonck, incorporating many of the elements found in smaller, simpler pictures by him. The high viewpoint suggests that it may pre-date most of them, but very few of his paintings are dated, so a coherent chronology would be hard to establish.
A remarkably similar composition on a panel of almost identical size, differing only in minor details, also monogramed on the plate lower right, was with Colnaghi in London, and exhibited in Vienna in 2002 (see fig. 1).1 In the present painting there is a pentimento in the bread roll in the lower left, which Hulsdonck has moved closer to the edge of the composition, allowing room for the broken glass to its right. In the other version the artist painted the bread roll in the same position as here, without any evident pentimento, which suggests that the present picture pre-dates it and is therefore the prime version. No further examples of the complete composition are known, and very few pictures of this scale by Hulsdonck have survived.
The Colnaghi picture was dated circa 1615 in the Vienna exhibition catalogue.2 A tree-ring analysis of the panels in the present panel conducted by Ian Tyers of Dendrochronological Consultancy Ltd in October 2012 concludes that the most recent of the three planks of Baltic oak of which is composed was still growing in 1605, and that a felling date between circa 1611 and circa 1627 is likely.3 A dating of this painting circa 1615 is thus plausible, but it is unlikely to have been painted much earlier than that.
1. See S. Brakensiek, in Das Flämische Stilleben 1550-1680, exhibition catalogue, Lingen 2002, pp. 236-7, no. 78, reproduced p. 237, and in detail p. 223, as datable circa 1615.
2. Idem.
3. A copy of the report is available upon request, and will be supplied to the buyer.
Sotheby's. Old Master & British Paintings Evening Sale Including Three Renaissance Masterworks from Chatsworth. London | 05 déc. 2012 www.sothebys.com