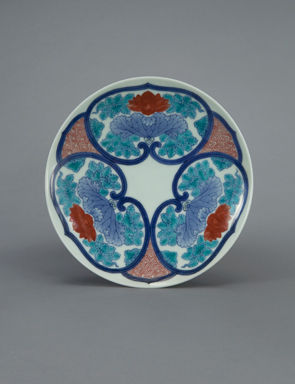 Porcelain Dish with Mallow Design, Hizen ware, Nabeshima type: porcelain with underglaze blue, iron red and colored enamels. Kambun era, early 1660s. Height 1⅞ in. (4.8 cm); diameter 7⅝ in. (19.4 cm). Courtesy Sebastian Izzard LLC Asian Art.
NEW YORK, NY.- Masterworks of traditional Japanese art will be the subject of JADA 2013: An Exhibition by the Japanese Art Dealers Association from March 15 to March 20, 2013 during New York's sprawling Asia Week events.

The collaborative exhibition by members of the Japanese Art Dealers Association will bring together over 100 fine and important screens, hanging scrolls, sculptures, prints, ceramics and other works of art, from archaic pots to 20th century paintings and lacquers.
"JADA's members are pleased once again to present a full range of the dynamic and vibrant visual arts of Japan," said Sebastian Izzard, president of the non-profit organization. "In addition to our collaborative exhibition at the Ukrainian Institute of America, several of JADA's members and JADA affiliated galleries from Europe, Japan, and the United States will host exhibitions in their galleries to reveal the great breadth of Japanese art across the centuries."
New York's Asia Week events include nearly 50 gallery exhibitions as well as lectures, auctions, and museum exhibitions throughout the city and bring to town curators, art historians, dealers, and collectors from three continents. Asia Week runs from approximately March 15 to March 23, 2013.
Highlights of JADA 2013 will also include a mini-exhibition of works of art from Japan's glorious Momoyama period (1568 – 1600), the country's great gilded Renaissance era known for its artistic brilliance, opulent castles lavishly decorated with gold leaf screens and sliding gold doors, and powerful lords. Among the works will be a breathtaking suit of armor once owned by Ishida Mitsunari – the Robert E. Lee of Japan's civil wars, who was decapitated six days after his defeat in the decisive battle of Sekigahara in 1600, which may have been the greatest battle fought in Japanese history. The armor's helmet is decorated with soaring gilded finials called tensuki, or "heaven piercings," and flowing hair that symbolizes the pure, untamed warrior.
Also from the Momoyama period – one famed for its exquisite textiles – will be a pair of unusually fine screens of empty robes draped over garment racks and set against a gold leaf ground. Known as Tagesode, or "whose sleeves", screens, the atmospheric works raise the intriguing question of who the robes belonged to.
From the early Edo period will be truly spectacular and unique solid gold sword mountings – handle and hilt – and a lacquer sheath with applied gold foil that housed the famous Rai Kuimitsu sword. The mountings were one of the prized possessions of the Tokugawa clan, whose members ruled Japan or influenced its affairs strongly from the late 16th through late 19th centuries. Meant to be worn in the court, it was presented by shogun Tokugawa Iemitsu (1604-1651) to Arima Tadayori (1603-1655) in commemoration of Tadayori's success in putting down the Christian uprising known as the Shimabara Rebellion (1637-1638), an event that grew out of heavy taxation and led to widespread persecution of Christians and a tightening of Japan's isolationist policies.
JADA members who will be holding or hosting Asia Week exhibitions in their galleries, as well as showing at JADA 2013, include Erik Thomsen Gallery, Koichi Yanagi Oriental Fine Arts, Mika Gallery, and Sebastian Izzard LLC Asian Art. Leighton R. Longhi, Inc. Oriental Fine Art will be exhibiting solely at JADA 2013.
Also holding gallery exhibitions in New York during Asia Week will be seven galleries affiliated with JADA that specialize in both pre-Modern and Modern Japanese art: Bachmann Eckenstein Japanese Art, of Basel, Switzerland; Carole Davenport, of New York, NY; Egenolf Gallery, of Burbank, CA; Hiroshi Yanagi Oriental Art, of Kyoto, Japan; London Gallery, Ltd., of Tokyo, Japan; Scholten Japanese Art, of New York, NY; and The Art of Japan, of Medina, Washington. Information about the locations, dates, and hours of the exhibitions will be posted on JADA's website in advance of Asia Week.
About JADA: Founded in 2002, the Japanese Art Dealers Association is a not-for-profit group whose members include leading New York galleries and private dealers. JADA's members are dedicated to the traditional fine arts of Japan and hold individual gallery exhibitions, joint exhibitions, and sponsor lectures and symposia at institutions in the United States. JADA's members are based in New York and are Sebastian Izzard LLC Asian Art, Leighton R. Longhi, Inc. Oriental Fine Art, Mika Gallery, Erik Thomsen Gallery, and Koichi Yanagi Oriental Fine Arts.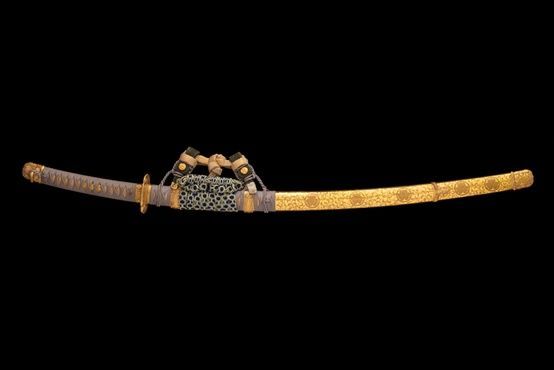 Solid gold sword fittings and scabbard with gold foil, early Edo period, first half of the 17th century. Courtesy Leighton R. Longhi, Inc. Asian Art.