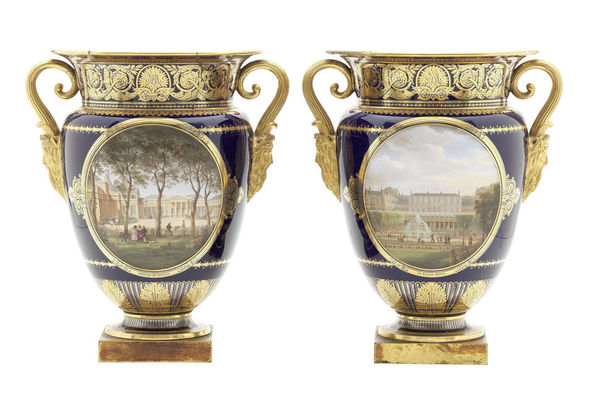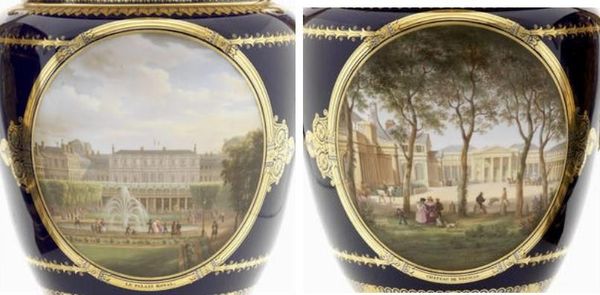 A pair of documentary Sèvres blue-ground topographical ice pails (glacières "Vase B") from the Service des petites vues de France ordered by King Louis Philippe, dated 1830. Photo: Bonhams.
A pair of stunning ice pails (d.1830) is one of the highlights of the upcoming Fine European Ceramics and Glass sale at Bonhams on 12th December at New Bond Street, London.
The pails depict scenes from the Palais Royal and the Château de Neuilly and were part of the 'Service pittoresque' ordered by King Louis Philippe of France (1773–1850) and given to his daughter, Queen Louise of Belgium, in 1832. Though Philippe fled France as a young man and spent over 20 years in exile he was proclaimed King in 1830. Philippe was the last King of France and after he abdicated in 1848 he lived out the rest of his life in exile in Surrey, England.
Painted by Jean-Baptiste Gabriel Langlacé, with circular landscape panels depicting views of 'Château de Neuilly' and 'Le Palais Royal' reserved on a blue ground with formal gilt and platinum scrollwork borders, the reverse with neo-classical cornucopia of fruits and vegetables surrounded by a stiff oakleaf wreath, the scroll handles with an allegorical head of Nereus at the terminal, both vases mounded on contemporary square ormolu plinths, 32.5cm high, the icepail with a view of Château de Neuilly with printed fleur de lys, 'Sevres' and date mark (18)30, AB. in gold, the pail with a view of the Palais Royale apparently unmarked, (restoration to one handle and both rims) (2). Estimate: £8,000 - 12,000 / €10,000 - 15,000 / US$ 13,000 - 19,000
For a comprehensive list of this service see 'Les Grands Services de Sèvres', Musée National de Ceramique, Sèvres, exhibition catalogue, 25 May to 29 July 1951, no. 30, pp. 51f. Here is listed the "Service des petites vues de France pour le palais des Tuileries, Pate dure avec un Fond bleu agate, Frise de palmettes en or bruni à plat. Paysages peints en couleurs". The ice pails are the only two created for this dessert service ordered by Louis Philippe for use at the Tuileries Palace. Several deliveries were made during his reign, the first on 9 May 1833 (including 133 pieces at a total value of 18.160 francs) including "2 Glacières forme AB" at a cost of 1.100 francs, by far the most expensive pieces in the service. The larger part of the service was painted by Langlacé, the remaining items were painted by Lebel and Develly. The gilding of the trophies and ornaments on the rim and reverse were executed by Boullemier aîné, Moyez and Vaubertrand. They are listed in the Sèvres archives under Vbb8 fo 95 vo.

Jean-Baptiste Gabriel Langlacé (Paris, 1786-Versailles, 1864) was one of the main painters at the Sèvres factory from 1807-1844. He also had a career as an art painter, and took part in the Paris Salons between 1817-1845. He was involved in the decoration of a large gift of a Chinoiserie cabinet by Napoleon III to the King of Sweden.

The Tuileries Palace became the Royal residence during the Bourbon Restoration from 1814-1830. King Louis Philippe I took up residence in the Palace in 1848. The Palace was destroyed in 1871 during the Paris Commune, and now serves as a public park just behind the Musée du Louvre.
These ice pails were believed to be lost until they recently surfaced at Bonhams and have now come to auction for the first time. The scenes on the pails are exceptionally well painted and detailed, and the service originally included 100 plates.
Nette Megens, Specialist in the European Ceramics department commented: 'These ice pails represent an important rediscovery of the largest pieces from the service given by Louis Philippe to his daughter. The sale on 12th December is a fabulous opportunity to purchase ceramics made for French aristocrats in the first half of the 19th Century.'

Other notable lots include a rare Nymphenburg white chinoiserie figure (estimate £25,000-£35,000) and a Sèvres plate from the 'Service Marly rouge' made for Napoleon I (estimate £10,000-£15,000).