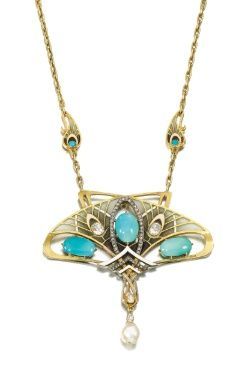 Turquoise, natural pearl, enamel and diamond pendant necklace, Gautrait, Circa 1900 - Photo Sotheby's
Of abstract design, set with cabochon turquoise, a natural pearl drop, cushion-shaped and rose diamonds, highlighted with plique-à-jour, opaque and pearlescent enamel, suspended from a chain set at intervals with similar motifs,length approximately 620mm, pendant detachable, signed L.Gautrait, French assay marks. Estimation: 12,000 - 15,000 GBP - Lot. Vendu 51,650 GBP
LITTERATURE: Cf: Michael Koch 'The Belle Epoque of French Jewellery 1850-1910' Thomas Heneage & Co 1990, pages 283-291 for examples of jewels by Gautrait.
NOTE DE CATALOGUE: Accompanied by The Gem & Pearl and Laboratory report no. 06280, stating that the pearl was found to be natural, saltwater.
Lucien Gautrait, a predominant Parisian jeweller noted for his use of enamel and peacock feather motifs. Little is known about him, even the records dispute if he was called Lucien or Leopold, although he did work as a modeller and chaser for Leon Gariod a firm established in 1859 by Gaucher and Tonnelier forming a partnership with Gariod in 1875. Many of Gautrait known pieces show a strong similarity to the jewels of Lalique in the use of enamel and precious stones as discreet accents.
Sotheby's. The Jewellery Collection of the Late Michael Wellby: An Eclectic Eye - Jewels Spanning Four Centuries. London | 11 déc. 2012 www.sothebys.com