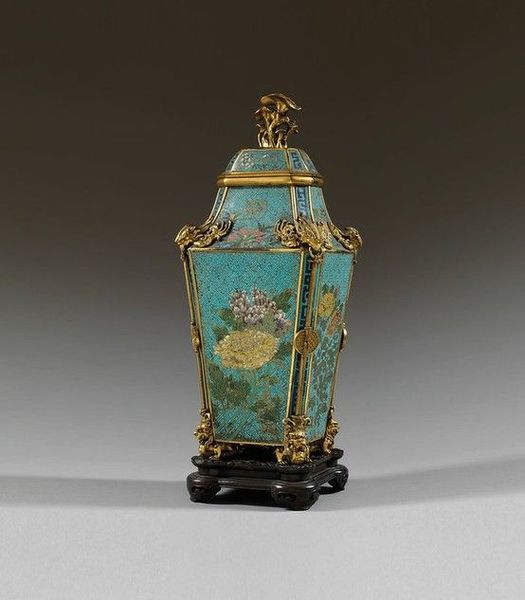 Important vase couvert en bronze doré et émaux cloisonnés polychromes sur fond bleu, Chine, dynastie Qing, période Qianlong (1736-1795). Photo Tajan
la panse octogonale, à haute épaule marquée et large col court évasé à l'ouverture, le couvercle à pans sommé d'un buisson de champignons lingzhi, à décor, sur fond d'une myriade de svastikas, de rameaux de pivoine et chrysanthème, les petits côtés ornés de frises de leiwen bleu nuit sur fond bleu clair uni, l'ensemble rehaussé d'une riche ornementation de bronze doré : pieds en forme de chimères, réunis au moyen de cordelettes ornées de sapèques décorées de motifs de ""grains qui germent"", à des têtes de dragons accostées de phénix. Beau socle en bois mouluré et sculpté de nuées. Haut. 60 cm / H. 23 5/8 in. Estimation : 20 000 / 40 000 €

A gilt-bronze and cloisonné enamel vase and cover, China, Qing dynasty, Qianlong period.

Œuvres en rapport : Notre vase couvert peut être rapproché de celui conservé au British Museum de Londres sous le numéro d'inventaire n° 1992,0704.1 et acquis par lui auprès d'Alistair Simpson en 1992 et d'un autre exemplaire, présenté en vente par Christie's, New York, sous le numéro 116, le 20 septembre 2005.
Tajan. Lundi 17 décembre 2012. Espace Tajan - 37, rue des Mathurins - 75008 Paris www.tajan.com