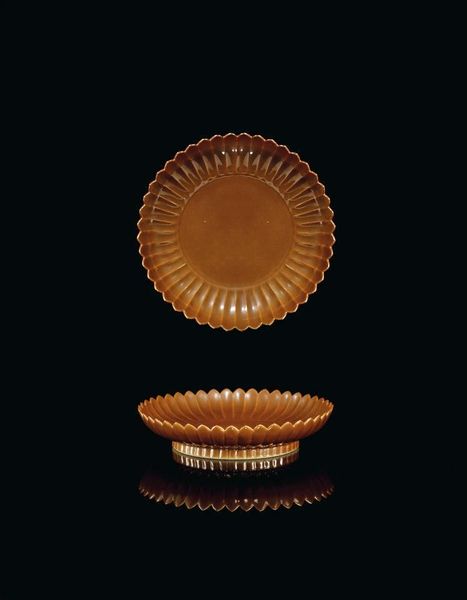 A café-au-lait glazed chrysanthemum dish, China, Qing dynasty, Yongzheng mark and period (1723-1735). Photo: Christie's Images Ltd 2012.
En forme de chrysanthème, la coupe repose sur un petit pied. Des pétales sont moulés à l'intérieur et à l'extérieur de la coupe. Elle est recouverte d'une belle glaçure café-au-lait. La base blanche non glaçurée porte une marque à six caractères de l'Empereur Yongzheng en bleu sous couverte. Diametre: 17,5 cm. (6 7/8 in.). Estimate €20,000 - €30,000. Price Realized €205,000
Provenance: Property of the late Baroness Marie-Louise von Callenberg (1901-1982), Switzerland
Notes: Chrysanthemum-shaped dishes from the Yongzheng period were made in a series of twelve colours, a complete set in the collection of the Palace Museum, Beijing is illustrated in The Complete Collection of Treasures of the Palace Museum - Monochrome Porcelain, Hong Kong, 1999, pp. 282-283, no. 257. Six are illustrated by Feng Xianming, Wenwu, 1984, p. 37, no. 10, where the author notes that a decree was issued in the 11th year of Yongzheng (corresponding to 1733) instructing Nian Xiyao, Minister of the Imperial Household, to send 'the twelve colours of chrysanthemum dishes, one of each colour, for the inspection of the permanent guardian of the treasury and chief eunuch Samuha'. The decree further mentions 'forty pieces to be fired of every type according to the samples'.
Other similar Yongzheng café-au-lait-glazed dishes are published, one in the Capital Museum, Beijing, illustrated by Xiong Liao, Beauty of Ceramics: Gems of the Official Kilns, Taipei, 1993, pl. 153; one included in the Min Chiu Society exhibition, Monochrome Ceramics of Ming and Ch'ing Dynasties, Hong Kong Museum of Art, 1977, illustrated in the Catalogue, no. 95; and one with a pale café-au-lait enamel in the Percival David Foundation, illustrated in the Catalogue, Section 6, no. B597.
See also similar brown-glazed chrysanthemum dishes sold by Christie's New York: one previously in the H. M. Knight and the Hall Family Collections, exhibited at the Ashmolean Museum, Oxford,Iron in the Fire, 1988, The Oriental Ceramic Society, Catalogue, no. 90 and sold the 21st September 2004, lot 305; the other sold by Christie's Hong Kong the 1st June 2011, lot 2863.
Christie's. Art d'Asie, 19 December 2012, Paris.