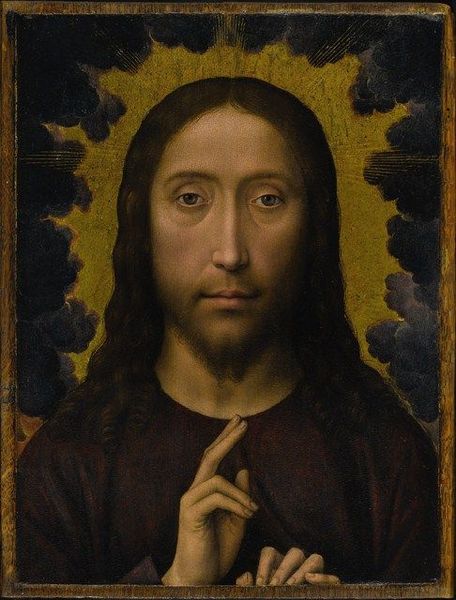 Previously unknown panel by Hans Memling, Christ Blessing, has been in the same American collection for more than 150 years. Photo: Sotheby's.
NEW YORK, NY.- Sotheby's New York announced the sale of an unrecorded, recently-discovered Hans Memling devotional panel, Christ Blessing, in our upcoming Important Old Master Paintings & Sculpture sale on 31 January 2013 as part of Old Masters Week (est. $1/1.5 million). The panel, which has been in the same New England collection for over 150 years, was completely unknown to scholars and collectors alike before it was discovered earlier this year. Through extensive research, Sotheby's and leading Memling experts have confirmed the panel to be by the Flemish master. Memling was one of the most influential and important artists working in Flanders in the late 15th century and was a leading painter of the Northern Renaissance. The panel, thought to have been executed between 1480 and 1485, will be on view in New York beginning 25 January.
The process of reuniting this remarkable work of art with its creator and history began this autumn when Sotheby's Specialist François De Poortere first saw the panel in a New England Collection. Although the work was extremely dirty and owners were unaware of its importance and value, Mr. De Poortere immediately recognized the quality of its execution and suggested that he bring it back to Sotheby's for further research. Discussions with leading scholars, including Til-Holger Borchert, Chief Curator at Musea Brugge in Belgium, Peter van den Brink, Director at Suermondt-Ludwig-Museum Aachen in Germany, Professor Dr. Maximiliaan Martens, Chair of the department of art history at the University of Ghent, Belgium, and Dr. Maryan W. Ainsworth, Curator of European Paintings at The Metropolitan Museum of Art ensued, all of whom have now endorsed the attribution of the present work to Hans Memling.
The recent discovery of Christ Blessing adds to scholars' understanding of Memling and his working methods. The panel depicts an image of Christ, shown in bust length with his right hand raised in blessing and his left resting on an unseen ledge. Memling created the planes of Christ's face with minute strokes, blending them almost invisibly into each other. He sets the figure against a gilded background ringed with clouds, thus moving him from a mundane setting to a celestial one.
When the painting was examined by X-radiography, it was discovered that the original background was blue, gradually changing to nearly white below, creating the appearance of a brightly lit sky. At some point while painting the picture, Memling covered the sky over with gold leaf and added the surrounding clouds. Further infrared reflexology showing the underdrawing (above) bears witness to Memling's remarkable range as an artist – from the intricate detail and care taken in drafting Christ's features and beard, to the freedom employed for the drapery and hand.
In additon to connoisseurship, infrared reflexology and X-radiography, Sotheby's experts also used a dendrochronological examination of the panel itself to narrow the date of execution. According to the analysis, the tree would have been felled between 1458 and 1471. Although it is difficult to be certain how long the wood was stored before it was shaped into a panel and used by Memling, that range is consistent with a dating of circa 1480 to 1485.
The first recording of Christ Blessing was in the sale of the collection of Conte Lorenzo Castellani Varzi in Paris in 1859. Castellani was the nephew of the Comte d'Arache and inherited the picture upon his death in 1854. At the auction, the picture was attributed by "Hemling J.," an old name for Memling, and purchased by Marshall Woods. It was then given to his son-in-law, S.A.B. Abbott, a director of the American Academy in Rome. It remained in the same family for over 150 years until it came to light just recently.