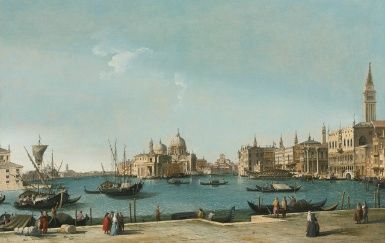 Bernardo Canal (Venice 1674 - 1744), Venice, A view of the entrance to the Grand Canal with the Bacino di San Marco. Photo Sotheby's
oil on canvas; 27 7/8 by 43 1/2 in.; 70.8 by 110.5 cm. Estimation: 100,000 - 150,000 USD
NOTE DE CATALOGUE A beautiful example of Venetian view painting, this unpublished canvas has been identified by Bozena Anna Kowalczyk as the work of Bernardo Canal, father of the famed vedute painter Giovanni Antonio Canal, called Canaletto. Bernardo Canal was a celebrated painter of theatrical scenery and opera sets, working with his brother, Cristoforo.1 It was through practicing alongside his father that the young Canaletto was trained in the rudiments of painting and through set design that he learned the inquadratura (frame setting) that would serve him in perspective draftsmanship. Kowalczyk dates this painting from the second half of the 1730s, by which time Canaletto was an acclaimed vedute painter, and his father Bernardo was in his sixties. It is one of two known versions of the Bacino di San Marco by the older artist, both ultimately derived from a drawing by his son Canaletto which was commissioned by the artist's English patron, Consul Joseph Smith, in whose collection it remained until 1762. The drawing was acquired from Smith's collection by King George III and remains in the Royal Collection to this day.2
The second version (State Hermitage Museum, St. Petersburg) was only recently attributed to Bernardo Canal and was presented as such in the 2008 exhibition, Canaletto: Venezia e i suoi Splendori, in Treviso.3 The St. Petersburg version differs from the drawing in the proportions of the architecture and the depiction of the vessels on the water, where the barges and gondolas vary in size and positioning. In contrast, the present painting corresponds moreclosely with that in the original drawing: the position of the larger sailing boats on the left, with their masts reflecting the spires and bell towers to the right; the precise perspective of the Fondamenta in the foreground; and the form and poses of the exquisitely rendered figures promenading and working on the waterfront, all remain largely faithful to the original.
We are grateful to Bozena Anna Kowalczyk for proposing the attribution to Bernardo Canal upon first hand inspection of the painting.
1. P.A. Orlandi, Abecedario pittorico [with additions by Guarienti], Venice 1753, p. 75.
2. See K.T. Parker, The Drawings of Antonio Canaletto in the Collection of His Majesty the King at Windsor Castle, Oxford & London 1948, p. 33, no. 24, reproduced plate 33.
3. I. Artemieva, in eds. G. Pavanello and A. Craievich, Canaletto. Venezia e i suoi splendori, exhibition catalogue, Treviso, Ca' dei Carraresi, 2008, pp. 277 - 278, cat. no. 58, reproduced p. 181.
Sotheby's. Property from the Estate of Giancarlo Baroni. New York | 29 janv. 2013 www.sothebys.com