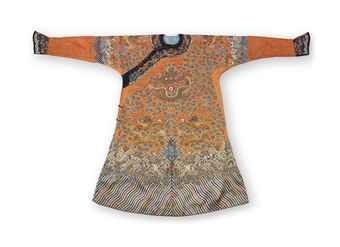 Robe formelle de cour en soie orange brodée, jifu, Chine, Dynastie Qing, milieu du XIXème siècle. Photo Christie's Image Ltd 2012
De couleur orange, le devant et le dos sont brodés en fils d'or, d'argent et polychromes, d'un grand dragon à cinq griffes. Le corps noueux de l'animal est enroulé autour de la perle sacrée. Deux autres dragons féroces sont placés sur les épaules et deux autres répartis de part et d'autre d'un rocher émergeant des flots. Le fond est rehaussé de chauves-souris, nuages, svastikas et objets précieux ; taches et usures. Hauteur: 140 cm. (55 1/8 in.). Estimate €10,000 - €12,000. Price Realized €12,500
AN EMBROIDERED ORANGE SILK DRAGON FORMAL COURT ROBE, JIFU. CHINA, QING DYNASTY, MID-19TH CENTURY
Notes; At the beginning of each dynasty the colors and ornaments of court attire were adjusted in accordance with the wuxing, or Five Phases. Wuxing was associated with the ancient yin-yangphilosophy. The five elements of the universe - wood, metal, water, fire and earth - had a direct correspondence to seasons, directions, musical scales, and colors. Such actions of the imperial court acknowledged the natural order of change throughout the universe and the legitimacy of the new dynasty to be the agent for those changes. The Ming dynasty (1368-1644) was identified by the element fire; its official color was red. Earth was the next element in the cycle. When the Manchu declared the Qing dynasty, they elevated yellow to the status of official color and coordinated the court wardrobe to it.
Sumptuary legislation regulated court attire. Issued as edicts from the emperor, most of these laws attempted to control abuse of entitlements to restricted colors, fabrics and decorations for specific classes or grades of courtiers. The earliest Qing edicts, dating to 1652, reservedminghuang, or bright yellow, for the emperor and his consort. The heir apparent and his consort used xinghuang, or 'apricot yellow', usually orange in tone. The emperor's other sons and their wives wore jinhuang, or golden yellow, a color that often had an orange tone that is difficult to discern from the xinghuang of the imperial heirs. Other members of the imperial clan usedqiuxiangse, or tawny yellow, which actually ranged from brown to plum-colored tones. Manchu nobles to the rank of third-degree prince used blue. All others used black.
See a comparable embroidered 'apricot-yellow' robe although untailored sold by Christie's New York, The Imperial Wardrobe: Fine Chinese Costumes and Textiles, 19 March 2008, lot 42.
Christie's. Art d'Asie, 19 December 2012, Paris