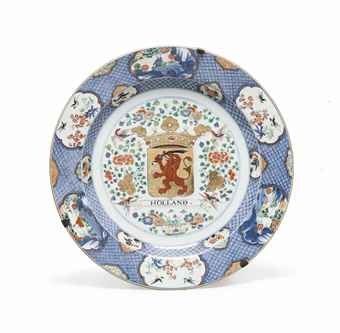 A large Chinese Export famille verte 'Provinces' dish, circa 1720. Photo Christie's Image Ltd 2012
A large coat-of-arms inscribed HOLLAND in the center on a field finely enameled with peony stems and birds, mounted on a metal hanger; 18½ in. (47 cm.) diameter. Estimate $15,000 - $25,000
Notes: This seems to be the largest example known of this magnificent pattern, the most elaborate of the four 'Provinces' patterns made around 1720. Twenty-three different arms constitute the full series, comprising arms of the principle towns and provinces of present-day Belgium and the Netherlands plus of England and France. Documentary evidence of these orders has yet to come to light, but C. Le Corbeiller has pointed out that the spellings suggest a Dutch clientele, and that the grouping suggests the borders of this region after the 1713 Treaty of Utrecht which ended the War of the Spanish Succession. In 1717 a Triple Alliance marked the new rapport of England, France and the Netherlands, and Le Corbeiller posits that the dishes may have commemorated this development (China Trade Porcelain, pp. 37-39). C J A Jorg notes that it is unclear why certain arms appear again and again, while other quite major centers like Haarlem and Leiden are not represented at all.
A 17 1/2 inch charger in this pattern with the famille rose ladies ("Zutphen") in the collection of The Peabody Essex Museum is illustrated by W.R. Sargent, Treasures of Chinese Export Ceramics; the Benjamin F. Edwards III Collection included nine, sold Christie's New York, 22 January 2002, lots 35, 37 and 38; 22 January 2003, lots 44, 45 and 46; and 20 January 2004, lots 180, 181 and 182.
Christie's. English Pottery and Chinese Export Art, 28 January 2013, New York, Rockefeller Plaza.