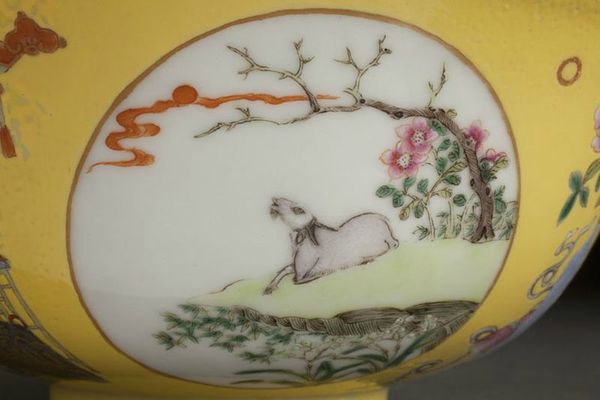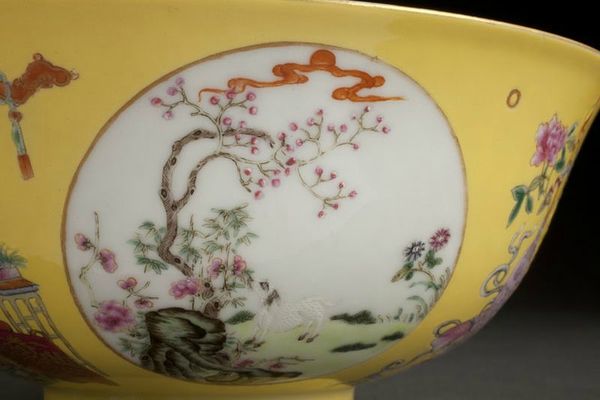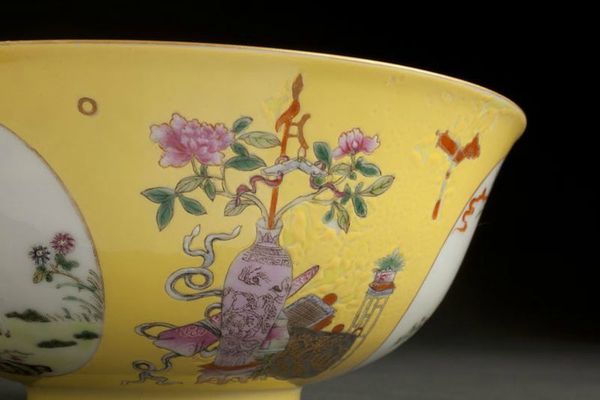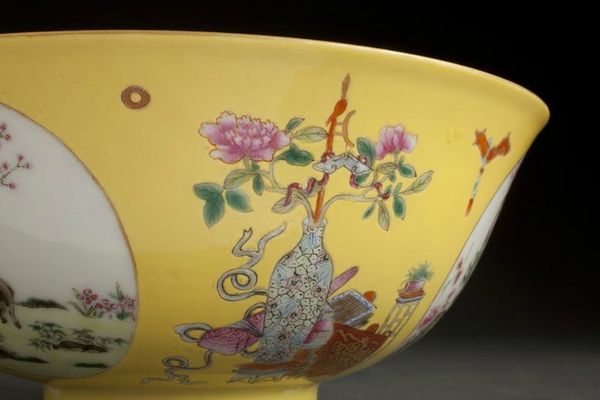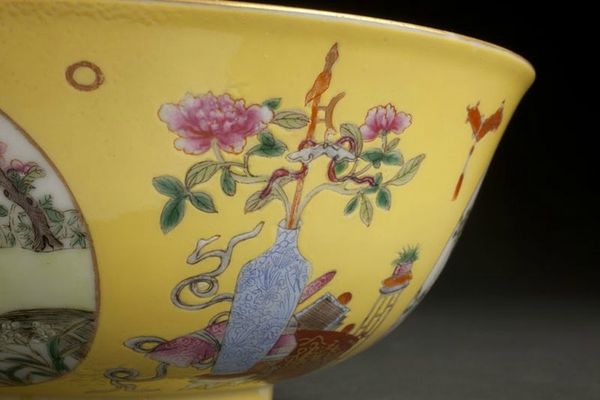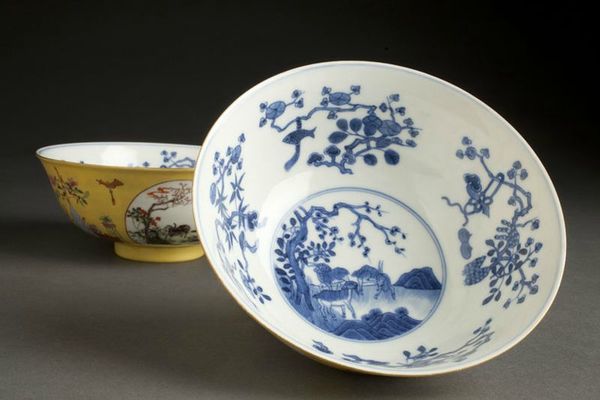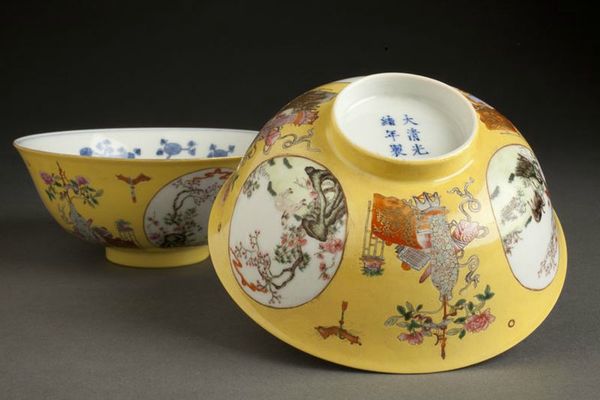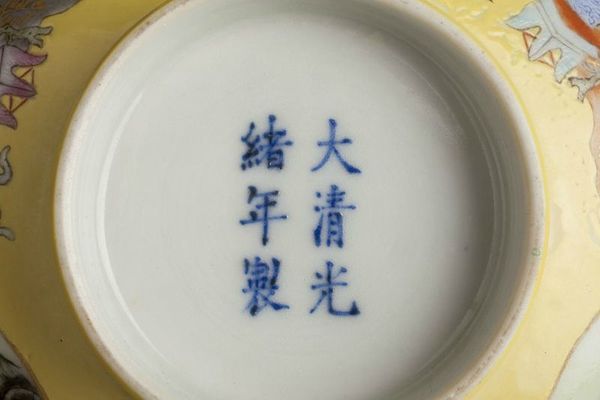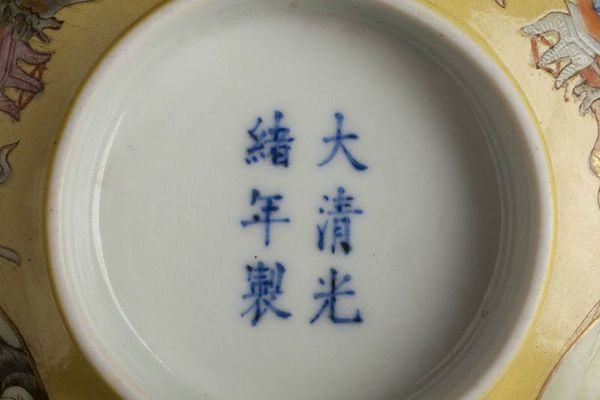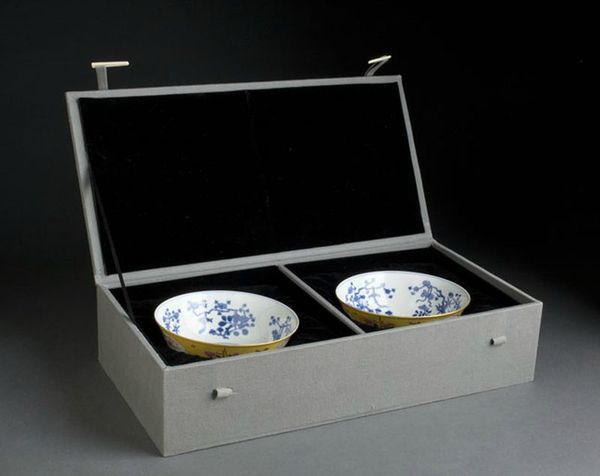 Paire de bols à fond jaune aux médaillons en porcelaine de la famille rose, Chine, marque et époque Guangxu (1875-1908). Photo Iegor
De forme évasée, reposant sur des pieds annulaires, ornés à l'extérieur de trois médaillons circulaires, chaque inscrit d'une chèvre sise sous un arbre qu'entourent fleurs et rochers, alternant avec des vases fleuris ornés d'objets de bon augure, tous réservés sur un fond jaune-citron, l'intérieur peint en bleu cobalt sous couverte d'un médaillon central aux trois chèvres et aux bourgeons de prunus qu'entourent des poussent de bambous et de prunus aux objets de bon augure. Marque impériale Guangxu à six caractères en kaishu en bleu cobalt aux dessous.
Il est fort probable - comme semble l'indiquer la présence de trois chèvres - que cette paire de bols doive être considérée comme un voeu de fortune et de prospérité pour le nouvel an : « les trois chèvres accueillant le Printemps », « sanyang qitai » et « sanyang kaitai ».
Pour un bol seul, semblable et de même époque, se référer au lot numéro 8138 de la vente Bonham's San Francisco du 11 décembre 2011.
Pour une paire de bols semblable mais datée de l'époque Daoguang (1821-1850), voir le lot numéro 264 de la vente Christie's Londres du 11 mai 2010.
H : 7cm - 2.75''. D : 15cm - 6''. Estimation : 12 000 / 15 000 $
A FINE PAIR OF IMPERIAL FAMILLE ROSE YELLOW-GROUND "MEDALLION" BOWLS. CHINA, GUANGXU MARK AND PERIOD (1875-1908)
Each bowl with gently rounded walls and slightly flared rims, the exterior with three medallions, each enclosing a ram beneath a gnarled tree and standing by rockwork, interspersed by an ensemble of a vase bearing auspicious objects, all reserved on a bright lemon yellow ground, the interior painted in underglaze blue with a central roundel enclosing three rams and surrounded by blossoming plum trees and bamboos bearing auspicious symbols.

These bowls can likely be interpreted as wishes of good fortune and prosperity for the New Year. This theme is suggested by the presence of three goats: "three goats welcoming spring" ("sanyang qitai" and "sanyang kaitai").

For a bowl of relative size and iconography and of the same period, please see lot number 8138, Bonham's San Francisco, December 11, 2011. For a similar pair of bowls but of the Daoguang period (1821-1850), please see lot 264, Christie's London, May 11, 2010.
Iegor. Samedi 26 janvier 2013. Nouvel Hôtel des Encans - 872 rue du Couvent - Angle Saint-Antoine Ouest - Montréal, Canada. www.iegor.net