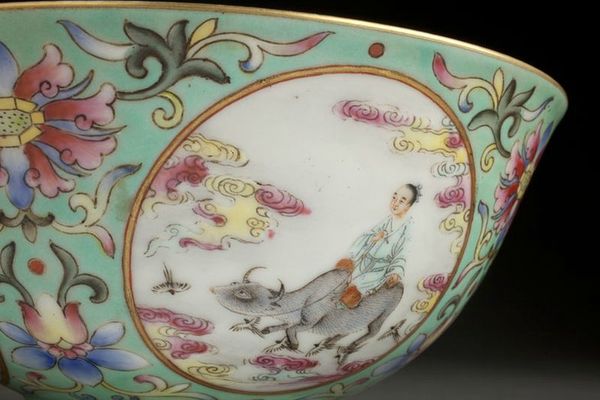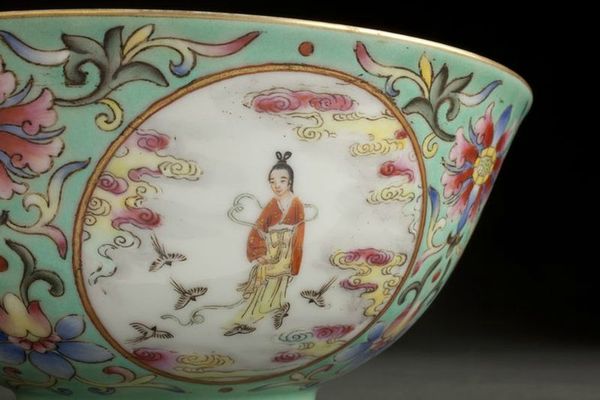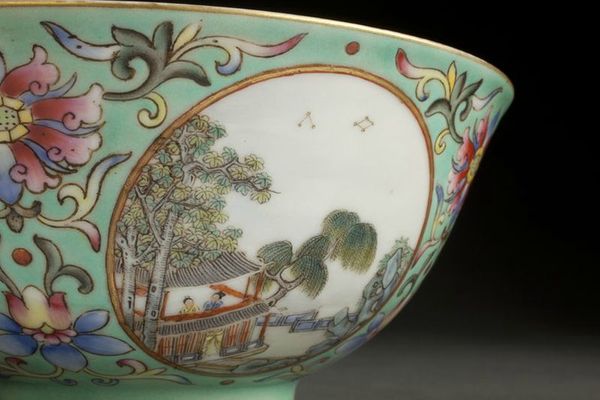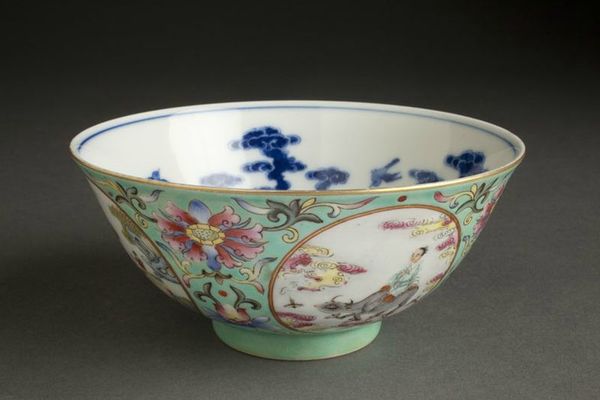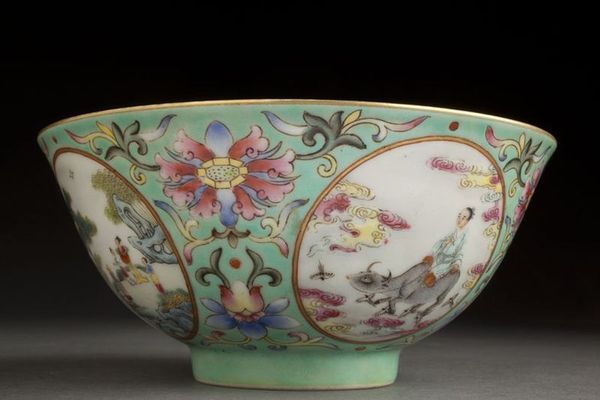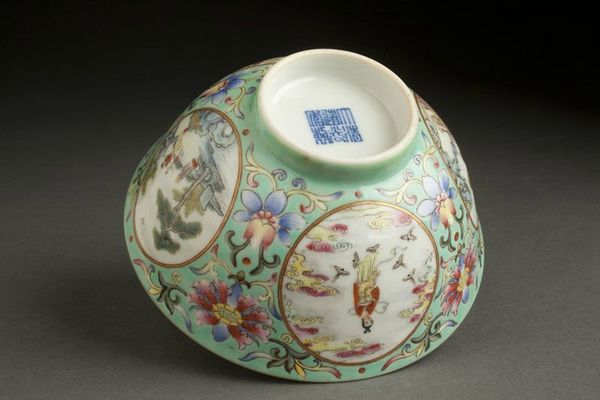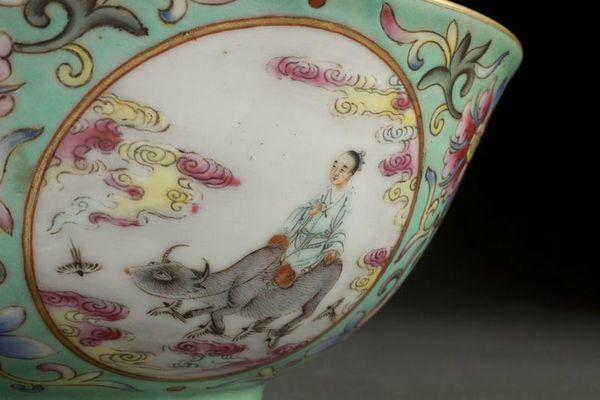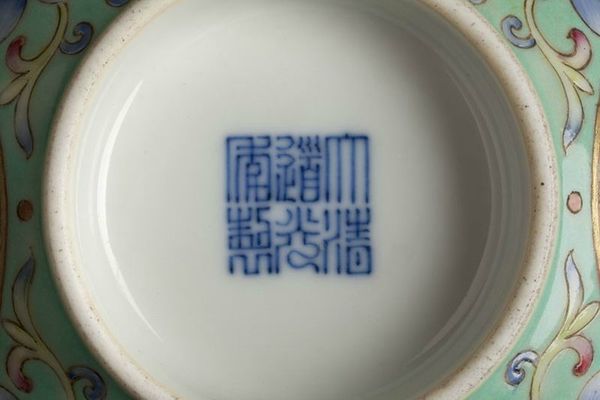 Bol à fond bleu ciel aux médaillons en porcelaine de la famille rose, Chine, marque Daoguang. Photo Iegor
De forme évasée, reposant sur un pied annulaire, orné à l'extérieur de trois médaillons circulaires, chaque inscrit d'une saynète - un homme chevauchant un buffle d'eau volant parmi les nuages ; deux personnages observant les astres depuis un pavillon ; une femme dans les cieux qu'entourent des pies ; trois personnages faisant face à un autel au bord de l'eau - se détachant sur un fond bleu clair rehaussé de rinceaux feuillagés et fleuris de lotus, l'intérieur orné en bleu cobalt sous couverte d'un médaillon central où se rencontrent deux personnages, tous deux surmontés d'une constellation, de pies et de nuages façons lingzhi sur le pourtour.
Toutes ces scènes sont extraites d'un des contes populaires Chinois les plus fameux, « Le garçon bouvier et la tisseuse », qui raconte les amours impossibles de ces deux personnages, l'un simple humain, l'autre fée. Du fait de l'immensité lactée qui les sépare, ils ne peuvent se rencontrer que la septième nuit du septième mois lorsque les pies se réunissent pour former un pont.
Pour un exemplaire similaire et d'époque Daoguang, se référer à l'ouvrage d'AVITABILE, Gunhild, "Vom Schatz der Drachen", Bamboo Publishing : London, 1987, pp. 42-43. Voir également le lot numéro 2063 de la vente Sotheby's Hong Kong du 5 Octobre 2011.
H : 7.5cm - 3''. D : 14.5cm - 5.75''. Estimation : 10 000 / 12 000 $
A FINE FAMILLE ROSE PORCELAIN LIGHT-BLUE GROUND MEDALLION BOWL. CHINA, DAOGUANG MARK
With gently rounded wall and slightly flared rim, the exterior with three circular medallions, each enclosing a scene - a man riding a water buffalo flying amidst clouds; two characters looking at stars from a pavilion; a
woman in the sky encircled by magpies; three characters on a riverbank - on a bright-blue ground enriched with lotus scrolls, the interior decorated in underglaze cobalt blue with a central medallion enclosing two characters
and two stars amidst magpies and clouds.

All these scenes are extracted from one of the famous Chinese fairytale, i.e. "The Cowherd and the Dairy Weaver", where two lovers are separated by the Milky Way and can only meet on the seventh night of the seventh month when the magpies form a bridge between them.

For a similar bowl of the same period, please see the book by AVITABILE, Gunhild, "Vom Schatz der Drachen", Bamboo Publishing : London, 1987, pp. 42-43. Please also see lot 2063 of the Sotheby's Hong Kong Sale held October 5, 2011.
Iegor. Samedi 26 janvier 2013. Nouvel Hôtel des Encans - 872 rue du Couvent - Angle Saint-Antoine Ouest - Montréal, Canada. www.iegor.net