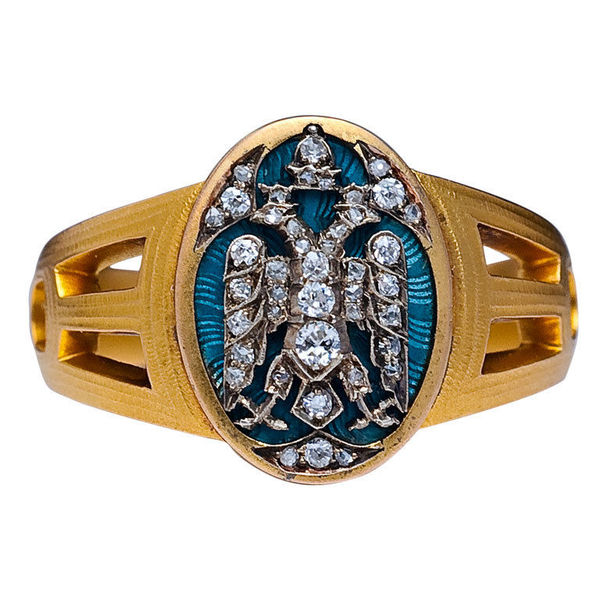 Imperial Presentation Men's Ring, St. Petersburg, Russia, 1915. Fabergé, workmaster Vladimir Solovyov. Photo by Romanov Russia
A unique Russian Imperial Award men's ring by Faberge, given by the Empress Maria Feodorovna (mother of Tsar Nicholas II) in 1915. The ring comes with a copy of its original award certificate. The certificate is signed by the head of the Cabinet Chamberlain of His Majesty's Court with an ink seal of the Cabinet of Empress Maria Feodorovna - "... gold ring with the State Arms embellished with diamonds".

56 zolotniks (14K) gold with matte finish, bluish gray guilloche enamel, brilliant and rose diamonds. Weight 12 g. diameter: 22,5 mm (55.88 cm). Price on request
The ring is designed in Russian MODERN style of the 1910s with a medieval Byzantine double headed eagle.

After the fall of the Byzantine empire in the 15th century, Russia adopted the Byzantine double headed eagle as its state emblem. Over the following centuries, the state eagle was modified several times, but in the 1910s, the original Byzantine eagle was revived in decorative arts.

The ring was made in St. Petersburg by Faberge's workmaster Vladimir Solovyov.
Romanov Russia. PO Box 14085. Chicago, IL, 60614 - Phone: 312.335.3937 - E-Mail: romanovrussia@aol.com