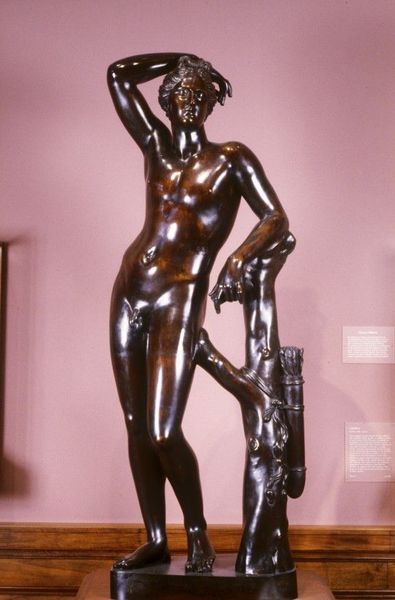 Apollino, Italian, 18th century, bronze. H: 59 1/2 in. (151.2 cm). 54.1691. The Walters Art Museum
Provenance: Jacques Seligmann [date and mode of acquisition unknown]; Henry Walters, Baltimore, 1904, by purchase [Emil Rey as agent]; Walters Art Museum, 1931, by bequest.
The original ancient marble statue, depicting the Greco-Roman sun god, is called the Apollino (little Apollo) or Medici Apollo, and is now in the Uffizi Museum in Florence. Probably an adaptation of a work by the famed Greek sculptor Praxiteles, it was first recorded as being in the Villa Medici in Rome in 1704 and was taken to Florence in 1769. Due to its fame, this statue was frequently copied throughout the 18th century, especially in bronze. It was known as one of the prime examples depicting the perfect proportions of the human body.