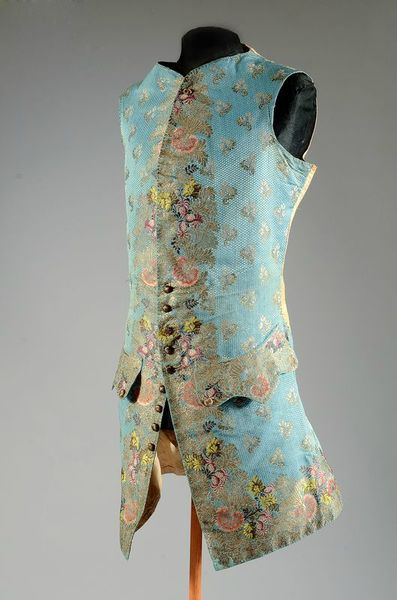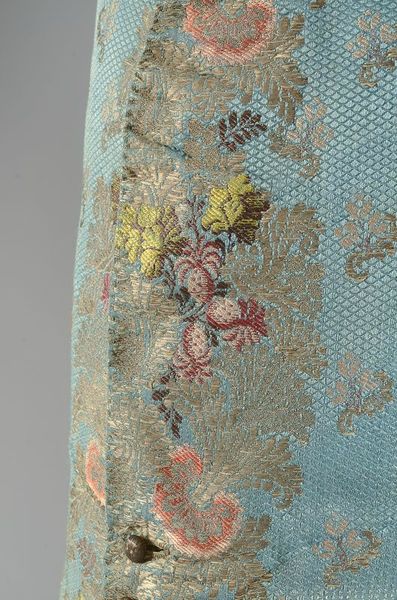 Devant de veste d'habit, Spitafields, vers 1747-1748. Photo Coutau-Begarie
brocart naturaliste tissé à disposition, fond façonné en croisillons broché soie polychrome, filé et frisé argent ; fleurettes sur le plein, le pourtour et les rabats des poches décorés de fleurs et fruits dans une vive polychromie. Dessin proche de celui d'Anna Maria Garthwaite pour un habit conservé au Métropolitan Museum et de ceux des deux autres pièces comparables conservées dans les collections du Musée Galliera et du Museo di Palazzo Mocenigo de Venise.
(bel état, quelques usures, remonté). Estimation : 3 000 / 5 000 €

-Museo di Palazzo Mocenigo, Venise, (C.I. XXIV, n. 251).
-Musee Galliera, Paris : veste d'habit provenant de la Garde-robes des Princes de Ligne. Coutau-Bagarie-X. Petitcol, Drouot, 14 janvier 2004, n°74.

Bilb. : Nathalie Rothstein, L'étoffe de l'élégance, Thames&Hudson 1990, no 238-239.
Jean L. Druesedow, In Style, celebrating fifty Years of the Costume Institute, The Metropolitan Museum of Art, Bulletin 1987 P.16.
Coutau-Begarie. Mercredi 16 janvier 2013. Drouot Richelieu - Salle 1 - 9, rue Drouot - 75009 Paris http://www.coutaubegarie.com/