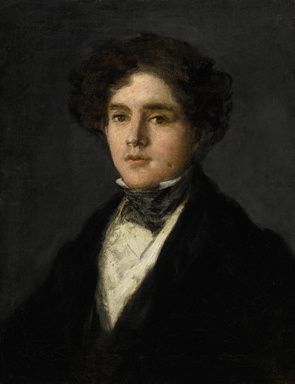 Francisco de Goya y Lucientes, Portrait of Mariano Goya. Half length, wearing a black coat and black stock. Oil on canvas. Painted in 1827, 52 x 41.2 cm. Est. USD 6/8 million. Photo: Sotheby's.
NEW YORK, NY.- Sotheby's annual Old Masters Week auctions in New York will be held from 29 January to 2 February 2013, offering a wide range of works spanning the 14th to 19th centuries and featuring masters of the category including Goya, El Greco, Rubens, Turner, Tiepolo, Memling and Guardi, among others. The exhibition will be on view in our York Avenue headquarters beginning 25 January 2013. Our Important Old Master Paintings and Sculpture sale on 31 January and 1 February 2013 will be highlighted by Susanna and the Elders (est. $6/9 million), a major work by Pompeo Girolamo Batoni from 1751, which was commissioned by Count Ernst Guido von Harrach of Vienna, one of the most important collectors of the day known for acquiring works by the best modern masters working in Rome. Separate release available. Also included is an unrecorded, recently-discovered Hans Memling devotional panel, Christ Blessing (est. $1/1.5 million). The panel, which has been in the same New England collection for over 150 years, was completely unknown to scholars and collectors alike before it was discovered earlier this year. Through extensive research, Sotheby's and leading Memling experts have confirmed the panel to be by the Flemish master. Memling was one of the most influential and important artists working in Flanders in the late 15th century and was a leading painter of the Northern Renaissance.

Francisco José de Goya y Lucientes' Portrait of Mariano Goya, The Artist's Grandson (est. $6/8 million), was one of the last – if not the very last – of the artist's portraits, painted during his final trip to Madrid between July and September 1827. The present masterpiece has been in the current owners' collection since 1954 and has been out of the public eye for almost 60 years. This painting comes from the estate of Greek shipping magnate George Embiricos. Heidelberg with a Rainbow (est. $4/6 million) was commissioned from Joseph Mallord William Turner in 1840, and the impressive canvas belonged to several of the most important 19th century collectors of the artist's works, including Joseph Gillott and Sir Donald Currie. Heidelberg with a Rainbow stands out as one of the crowning achievements of the artist's mature style, combining his unique use of sweeping passages of hazy color and light with his acute draftsmanship in the rendering of figures and architecture.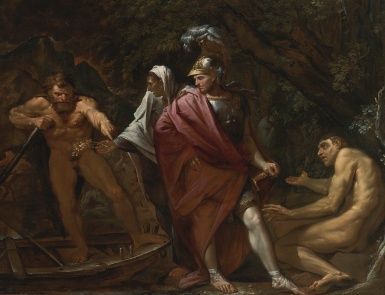 Pietro Testa (Lucca 1612 - 1650 Rome), Aeneas on the Bank of the River Styx, oil on canvas, 62 1/4 by 81 1/8 in.; 158.2 by 206.1 cm. Est: 3,000,000 - 5,000,000 USD. Photo Sotheby's
A strong group of Italian Baroque paintings from a Distinguished Private Collection include one of Pietro Testa's last works, Aeneas on the Bank of the River Styx (est. $3/5 million), which is drawn from Virgil's great epic, Aeneid. This large-scale painting highlights one of the central issues in our understanding of the artist – to what degree he was a classicist following closely in the tradition of Poussin or a wild-eyed genius pursuing his own path. The picture is inexplicably linked to his own tumultuous life and tragic suicide in March 1650, when he drowned himself in the Tiber.
Giovanni Francesco Barbieri, called Guercino (Cento 1591 - 1666 Bologna), Portrait of Fra Bonaventura Bisi, oil on canvas; 30 1/4 by 37 in.; 76.5 by 94 cm. Est. 1,000,000 - 1,500,000 USD. Photo Sotheby's
From the same collection is Portrait of Fra Bonaventura Bisi (est. $1/1.5 million) by Guercino, which dates from the late 17th century and depicts Bisi, a Franciscan friar from the monestary of San Francesco, Bologna, who was a good friend of the artist.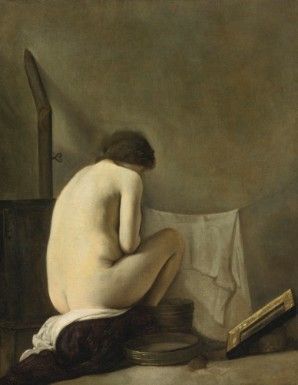 Paulus Bor (Amersfoort circa 1601-1669), Seated Nude Bathing by a Stove, oil on canvas; 27 1/4 by 21 5/8 in.; 69.2 by 55 cm. Est. 700,000 - 1,000,000 USD. Photo Sotheby's
The striking, modern, stark depiction of a nude woman seated by a stove is a rare work by the Dutch artist Paulus Bor. Seated Nude Bathing by a Stove (est. $700/1,000,000) is a combination of compositional simplicity with stunning realism and intensity. It demonstrates the artist's ability to fuse elements of Haarlem classicism and Utrecht Caravaggism.
The sale also includes a wide range of property from major American museums, including sixteen paintings consigned by The Metropolitan Museum of Art sold for the Acquisitions Fund. In addition, there will be two dedicated auctions of Property from the Estate of Giancarlo Baroni on 29 and 30 January 2013, which will feature a wide range of outstanding paintings & drawings from the 15th through 19th centuries, highlighted by a major El Greco, The Entombment of Christ (est. $1/1.5 million), as well as a selection of fine frames.

The Old Master Drawings sale on 30 January 2013 offers works from the 16th to 18th centuries by French, Italian and Dutch artists. A major highlight of the auction is an important, early drawing by Rubens, Anatomical Studies of Three Male Figures (est. $700/900,000), perhaps the most powerful and dramatic of a group of fourteen anatomical drawings, which the artist is thought to have made with the intention of having them engraved as illustrations to an anatomy book. This significant and powerful drawing is an écorché study of figures in tortured poses for an anatomical study.

The Gambols of Ghosts According with their Affections Previous to the Final Judgment (est. $400/600,000) is one of nineteen watercolors by William Blake that were rediscovered in 2001 in a small bookshop in Glasgow and subsequently appeared at auction at Sotheby's in 2006. The designs, which were preserved in a leather portfolio, were linked to a commission that Blake received in 1805 from Robert Cromek, to provide illustrations for a new edition of Robert Blair's poem "The Grave," an epic poem that was immensely popular during the 19th century. This powerful, eerie image illustrates an early passage of the poem in which Blair evokes images of the graveyard with the damned and the saved souls processing in two moving circles.

An additional highlight is the rare and elaborate watercolor, Roses and Other Flowers in an Open-Weave Basket (est. $120/180,000) by Jan Van Huysum. Although there are relatively few drawings by Van Huysum extant, none of the other leading painters from the great age of Dutch still-life seem to have drawn as much as he did, and this perfectly preserved watercolor stands as a rare monument to the distinctive aspect of a quintessentially Dutch art form, the flower-piece. Only one comparable sheet has been sold at auction in the past 20 years. Allegory of the Elevation of Cardinal Deacon Oddone Colonna to the Papal Chair as Pope Martin V (est. $100/150,000) is a rare finished study by Luti for his ceiling painting, installed by the end of August 1700 in the Audience Chamber in Palazzo Colonna, Rome. The subject is the elevation to the Papacy of Cardinal Oddone Colonna (1346 – 1431), who was elected Pope Martin V in 1417.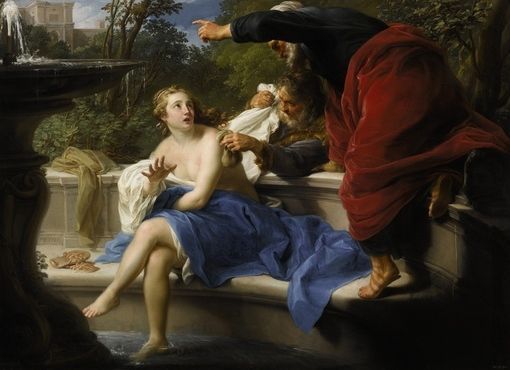 Pompeo Girolamo Batoni, Susanna and the Elders. Signed lower left on wall P.B. 1751. Oil on canvas. Est. USD6/9 million. Photo: Sotheby's.