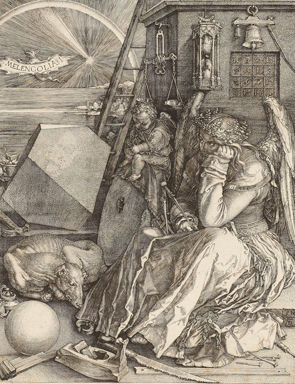 Albrecht Dürer, Melencolia I (B. 74; M., Holl. 75; S.M.S. 71). Engraving, 1514, without watermark, a very fine, rich Meder IIa impression, printing very darkly in the shadows, on a large sheet with wide margins, with inky plate edges in places, with a horizontal central crease, mostly visible in the margins and verso, some pale scattered foxing in the margins, in excellent condition. S. 13 3/8 x 10 5/8 in. Estimate $400,000 - 600,000. Photo: Christie's Images Ltd 2013.
NEW YORK, NY.- Christie's presents the sale of Albrecht Dürer Masterpieces from a Private Collection as part of Old Masters Week. The sale, which will take place 29 January, features 62 exceptional impressions by Albrecht Dürer, and constitutes one of the most important collections of his prints ever offered at auction. Encompassing a wide range of subject matter, both religious and secular, and mediums - engravings, woodcuts and etchings - the collection was amassed with the objective of adding only the very best examples. The sale is expected to realize in excess of $4.6 million.
Melencolia I (estimate: $400,000-600,000), engraved in 1514, is one the most enigmatic images in the history of western art. The subject is probably an allegory of melancholy, but the details of its iconography have intrigued and inspired countless art historians and scholars. It contains symbols seen elsewhere in Dürer's oeuvre, such as the sphere as a symbol of chance or fate from Nemesis (lot 26), the scales from Sol Iustitiae (lot 1), and the skull and the hour-glass, which appear as memento mori on the other two of the so-called 'Master Prints': Knight, Death and the Devil and Saint Jerome in his Study (lots 44 and 45).
In the 16th century, the melancholic temperament was associated with genius and the pursuit of knowledge. If Saint Jerome and Melencolia I are indeed companion pieces, and Saint Jerome represents the knowledge of texts, then Melencolia I stands for a different, new kind of knowledge - that of empirical, applied science. The ruler, the scale and the pair of compasses are all measuring devices, instruments for the examination of nature. For Dürer, the observation and comprehension of the natural world was the basis of art. Considering that the artists of the Renaissance, with Leonardo and Dürer as prime examples, saw themselves as artists as well as scientists, then Melencolia I might be described as a secret self-portrait.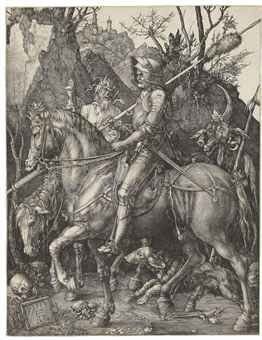 Albrecht Dürer, Knight, Death and the Devil (B. 98; M., Holl. 74; S.M.S. 69). Engraving, 1513, without watermark, a superb Meder a-b impression, printing with exceptional clarity and great contrasts, with thread margins, the platemark accentuated with some touches of pen and ink, generally in very good condition. S. 9¾ in. x 7½ in. (247 x 190 mm.). Est. $500,000 - $700,000. Photo: Christie's Images Ltd 2013.
Knight, Death and the Devil (estimate: $500,000-700,000), 1513, depicts a knight in armor on his magnificent charger making his way through a rocky gorge. Two figures stand by the wayside, as if emerging from the rocks; King Death with snakes winding through his crown, astride an old mare, holding an hourglass; and a monstrous devil standing on his hoofs, holding a pike. Countless attempts have been made to identify the central figure, which Dürer simply referred to as der Reuther ('the rider'). Suggestions have included emperor, pope, heretic, Germanic hero and local patrician. None of the potential candidates, either historical or mythological, have been substantiated. The knight as robber baron - a genuine threat in the days of Dürer - is lacking visual evidence. Whatever his true identity, Dürer's rider is clearly cast in the heroic mold, a model of courage and moral strength, the Christian Knight, who does not fear Death or the Devil.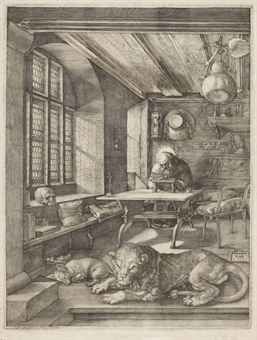 Albrecht Dürer, Saint Jerome in his Study (B. 60; M., Holl. 59; S.M.S. 70) engraving, 1514, without watermark, a very fine, bright Meder a impression, printing with remarkable clarity, with margins, in excellent condition. S. 10 3/8 x 7 7/8 in. (264 x 200 mm.). Est. $300,000 - $500,000. Photo: Christie's Images Ltd 2013.
Dated 1514, Saint Jerome in his Study (estimate: $300,000-500,000) was engraved one year after Knight, Death and the Devil (lot 44), and like the earlier print it is full of reminders of death: the human skull on the window ledge, the crucifix on the desk, the candle and the hour glass, while the fly whisk can be read as a reference to the devil. Together with Melencolia I (lot 42) these three engravings have long been known as the 'Master Prints'. The term is appropriate as with these prints Dürer undoubtedly reached the height of his capacities as an engraver. Aside from their technical excellence, the prints are also connected by their near-identical format and their concentration on a single figure in a highly complex, richly symbolic environment. If, as has been suggested, they represent the three different modes of virtuous living, Saint Jerome depicts the lonely, quiet life of the man of letters.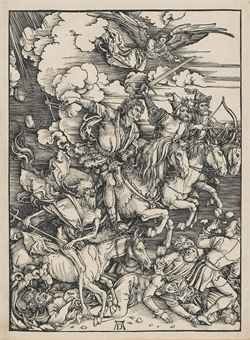 Albrecht Dürer, The Four Horsemen of the Apocalypse, from: The Apocalypse (B. 64; M., Holl. 167; S.M.S. 115), woodcut, circa 1497-98, watermark Imperial Orb (M. 53), a brilliant Meder b proof impression before the German and Latin text editions of 1498, printing with great contrasts and clarity, much relief showing verso, with 10-27 mm. margins, with the usual horizontal drying crease mostly visible verso, a small wormhole in the lower cloud at right, otherwise in excellent condition. S. 16 7/8 x 12 in. (428 x 305 mm.). Est. $120,000-180,000. Photo: Christie's Images Ltd 2013
The Four Horsemen of the Apocalypse (estimate: $120,000-180,000), is arguably the most dramatic and dynamic of all of Dürer's compositions. Standing before this work, the viewer witnesses the four horsemen as they burst out of heaven, one after the other, and thunder over the earth. The mouth of hell opens up below, devouring a 'lord of the earth' - perhaps a bishop or king. Everything conveys a sense of violence and rupture. Erwin Panofsky observed that the three horses in the air are shown at different intervals of their galloping movement, thereby creating the impression of time and continuity, not unlike Eadweard Muybridge's photographic recordings of bodies in motion almost five hundred years later.
The Rhinoceros (estimate: $100,000-150,000) was cut in 1515, the year that the first rhinoceros was seen in Europe since Antiquity. Having never seen a rhinoceros, Dürer learned of it from a sketch and description sent by Valentin Ferdinand, a Moravian printer who had settled in Lisbon, to a friend in Nuremberg. Dürer's depiction, which might pass for a terrible war machine, had tremendous impact. The woodblock was printed in no fewer than eight editions, seven of which were posthumous. Around 1620 it was printed in Amsterdam together with a tone block, producing a chiaroscuro woodcut like the portrait of Ulrich Varnbüler (lot 61). The Rhinoceros served as the model for illustrations of the species as late as the end of the eighteenth century. Although presumably printed in fairly large numbers very few survive to this day, and impressions from the first edition are exceptionally rare.

Albrecht Dürer, The Rhinoceros (B. 136; M., Holl. 241; S.M.S. 241). Woodcut with letterpress text, 1515, watermark Anchor in Circle (M. 171), a very good impression of this rare and important woodcut, first edition (of eight), with the complete letterpress text above, with thread margins or trimmed to the borderline at left and right, trimmed just inside the borderline below and to the text above, a small abrasion in the monogram, otherwise in good condition. S. 9¼ x 11¾ in. (235 x 298 mm.). Estimate $100,000 - $150,000. Photo: Christie's Images Ltd 2013.