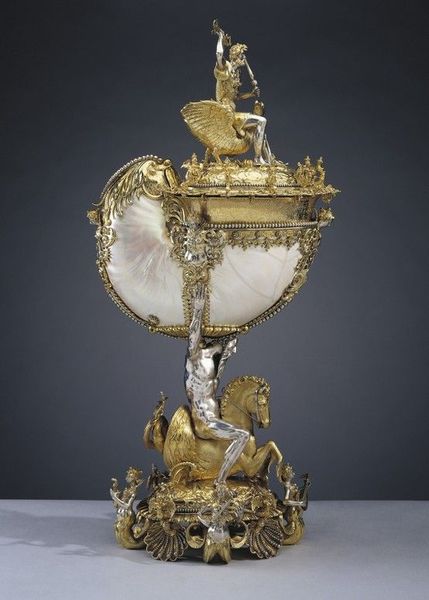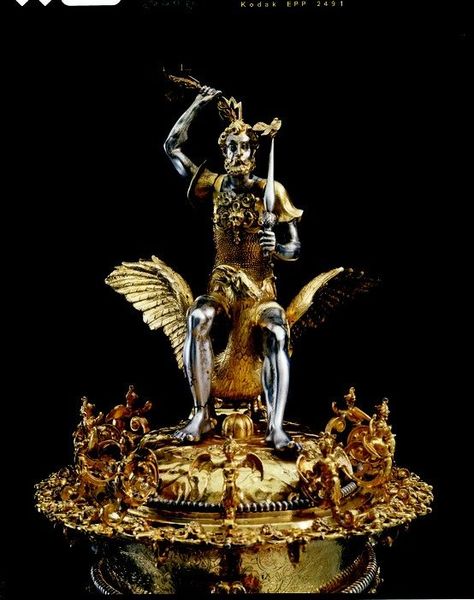 Nautilus cup. Nikolaus Schmidt (c. 1550/55-1609) (goldsmith), c. 1600. Nautilus shell with parcel-gilt silver mounts; 52.5 x 24.5 x 16.0 cm. RCIN 50603. George IV, King of the United Kingdom(1762-1830). The Royal Collection. © Her Majesty Queen Elizabeth II
Provenance:

Possibly a member of the Peller family, Nuremberg, c.1610; William Pole-Tylney-Long-Wellesley, fourth Earl of Mornington, second Baron Maryborough, probably acquired post 1812; by who sold G.Robins, Warwick House, Regent St., London, June 1822 (lot 331); purchased by Rundell, Bridge and Rundell (£120); by whom sold to George IV in 1823 (250 guineas).
This spectacular Kunstkammer object is one of the finest examples of antiquarian plate acquired by George IV. On its arrival in 1823, it joined a growing collection of virtuoso sideboard cups of varying dates and nationalities. Although once considered to be the work of Benvenuto Cellini, it bears the mark of Nikolaus Schmidt (master 1582), a Nuremberg goldsmith trained in the workshop of Wenzel Jamnitzer (1508-85). This is one of Schmidt's most celebrated pieces, although other important works by him survive in the treasuries in Vienna and Dresden. His work is notable for its superb quality, fine sculptural elements and frequent incorporation of natural rarities. From the sixteenth century, nautilus shells from the western Pacific were highly prized by collectors and in consequence they were often very richly mounted. The outer layer of this shell has been stripped away to reveal the nacreous surface below and the heel has been elaborately carved. The marine origins of the nautilus are echoed in the supporting figures of Neptune, mermaids and hippocamps (seahorses). An anonymous drawing in Nuremberg (Germanisches National Museum) depicts the cup shortly after it was made. An inscription on the back, dated 1610, implies that the cup was a recent gift, presented to the writer by a relation, for his new house. It has been suggested that the cup may have belonged to the wealthy Peller family, whose Nuremberg house, built in 1610, had a gable decorated, like this cup, with a figure of Jupiter.
Nothing more is known of the history of the cup until it appeared in the celebrated 32-day sale at Wanstead House, Essex, in 1822. Wanstead's heiress Catherine Tylney Long (d. 1825) had married the Duke of Wellington's disreputable nephew William Pole Wellesley (1788-1857) in 1812. Within ten years his reckless extravagance had reduced the estate to ruin; Wanstead's fabulous treasures were sold and the house demolished.
Nuremberg townmark and maker's mark of Nikolaus Schmidt.