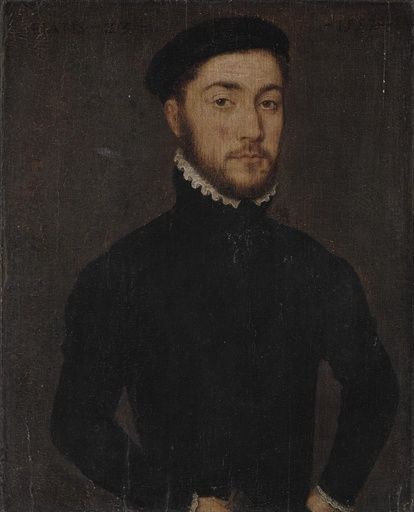 Corneille de la Haye, called Corneille de Lyon, Portrait of a gentleman, aged 23, half-length. Photo Christie's Image Ltd 2013
with date '1557' (upper right) and inscription 'ÆTATIS 23' (upper left); oil on panel; 11¼ x 9 in. (28.5 x 22.8 cm.). Estimate $30,000 - $50,000
Provenance: Mr. José Pedro Argul, and by descent to the present owner.
Notes: After the Clouets, Corneille de Lyon was the leading portraitist in mid-16th century France. The gentleman in this previously unpublished portrait wears a stylish velvet cap and fine black coat, and sports a smartly-trimmed beard. He holds his gloves in his left hand, which is cropped by the lower edge of the panel: a compositional device frequently employed by the artist, as in hisPortrait of Jacques Bertaut of circa 1540-1545 (Louvre, Paris, inv. 3269) and the portrait of an unidentified gentleman in the Kunsthistorisches Museum, Vienna (inv. 912), which is dated 1555, just two years earlier than the date seen here (see A. Dubois de Groër, Corneille de La Haye dit Corneille de Lyon (1500/10-1575), Paris, 1996, pp. 186-187, no. 87, fig. 87). A master at capturing the personalities of his sitters, Corneille here depicts the young man - aged 23 according on an old inscription - with a confident expression. Of particular note is the sensitive handling of the light, which cascades from the upper left and leaves a wry glint in the sitter's eye.

José Pedro Argul, the distinguished art connoisseur who discovered the present portrait, served as a member of the jury of the third Paris Biennial in 1963. He was awarded a gold medal by the Federal President of the Austrian Republic in 1959, and given the title of Académico Correspondiente by the Realo Academia de Bellas Artes de la Purisima Concepción, de Valladolid in 1960. In 1964, he was named an Officier de l'Ordre des Arts et des Lettres by the French ministère de la Culture, and in 1968, given the honoric title of Ufficiale by the President of the Repubblica e Capo dell'Ordine in Italy.
Christie's. Renaissance, 30 January 2013. New York, Rockefeller Plaza.