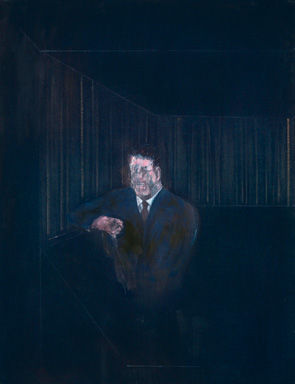 Francis Bacon, Man in Blue VI. Oil on canvas, 60⅛ x 46in. Painted in 1954. Estimate: £4,000,000-6,000,000 / US$6,100,000-9,000,000 / €4,500,000-6,700,000. Photo: Christie's Images Ltd 2013.
LONDON.- On the evening of 13 February, Christie's London will offer at auction a group of important works created by some of the most celebrated British masters of the 20th century: Francis Bacon (b.1902-1992), Allen Jones (b.1937), David Hockney (b.1937), Peter Doig (b.1959) and Damien Hirst (b.1965). The featured works are representative of the genius of four different generations within the field of Contemporary Art, and each artist's style is instantly recognisable.
Francis Outred, Christie's Head of Post-War & Contemporary Art, Europe: "This February we have assembled a unique group of very special works by the most emblematic artists of British 20th century art. David Hockney's Great Pyramid at Giza with Broken Head from Thebes, is a classic image by the artist commemorating his first trip to Egypt in 1963 at the age of twenty-six, inspired by the poetry of Alexandrian-Greek poet Constantine P. Cavafy and the Pergamon Museum, Berlin.The painting helped pave the artist's way to California, representing a pivotal moment in his career. Peter Doig's The Architect's Home in the Ravine is an enchanting masterpiece which celebrates the artist's astounding technical virtuosity. Man in Blue VI by Francis Bacon belongs to one of the artist's seminal and most enduring series, providing an intense existential portrait of the post-War era. In this series Bacon encaged the businessman in dark isolation in the same way as he had the Popes the year before. Together these series paint a famous portrait of the devolution of power in the post-War period. Damien Hirst's Away from the Flock (Divided), an important early formaldehyde from his celebrated Natural History series, picks up the mantle of Bacon, considering the atomisation of society and alienation in the contemporary world. Allen Jones rounds off this outstanding group with Table, Chair, Hatstand - a British Pop icon, perfectly capturing the zeitgeist of the Swinging Sixties. Together these artists have defined four generations of British art making and their impact on the post-War art scene can be felt everywhere".
FRANCIS BACON (1909-1992). The penultimate painting in Francis Bacon's seminal suite of Man in Blue paintings (1954), Man in Blue VI is a stirring and profoundly perceptive portrait of existential, post-War Europe, executed between March and June 1954 – the same year the artist represented Britain at the 27th Venice Biennale (estimate: £4,000,000-6,000,000 / US$6,100,000-9,000,000 / €4,500,000-6,700,000). Three paintings from this landmark series are now housed in museums including Man in Blue I, Museum Boijmans Van Beuningen, Rotterdam; Man in Blue IV, Museum Moderner Kunst Stiftung Ludwig, Vienna and Man in Blue V, Kunstsammlung Nordrhein Westfalen, Dusseldorf. One of the most feverish of the suite, Man in Blue VI is, according to Ronald Alley, one of very few paintings undertaken from life, painted at the Imperial Hotel in Henley-on-Thames, where Bacon was hauled up close to his caustic lover Peter Lacy. Man in Blue VI was acquired by the present owner in 1971 and has been in their possession ever since.
DAVID HOCKNEY (b. 1937) Great Pyramid at Giza with Broken Head from Thebes is a unique, landmark painting, which stands as the only canvas to commemorate David Hockney's first trip to Egypt at the age of 26 (estimate: £2,500,000-3,500,000 / US$3,800,000-5,300,000 / €2,900,000-3,900,000). Egypt had long been a source of fascination for Hockney, first appearing as a theme in his work as early as 1961. The fascination developed through his encounter with ancient Egyptian art at the Pergamon Museum, Berlin, as well as his admiration for Greek-Alexandrian poet Constantine P. Cavafy. It was only in 1963 however, at the age of twenty-six that Hockney was eventually to travel to the country. Forming part of an important British collection for more than forty years, this is the first time that this painting has ever been seen at auction Click here for a full press release. David Hockney is further highlighted in the sale with Green Pool with Diving Board and Shadow (1978), This tactile work forms part of his largely innovative Pulped Paper Pools series, many of which are now held in the permanent collection of the National Gallery of Australia (estimate: £500,000-700,000 / US$760,000-1,100,000 / €570,000-790,000).
ALLEN JONES (b. 1937) Executed in 1969, Allen Jones's Table, Chair, Hatstand is a gleefully subversive ménage of sculptures carried out at the height of the British artist's career: they are quite simply icons of Pop (estimate: £1,500,000-2,000,000 / US$2,300,000-3,100,000 / €1,200,000-2,300,000). Capturing the zeitgeist of a generation, these seminal works are as sensational today as they have ever been, courting controversy and delight in equal measure. Jones grew out of the wave of Pop art that was growing across Britain and the United States during the 'Swinging Sixties'. Schooled by Richard Hamilton at the Royal College of Art, he was one of a new generation of British artists including David Hockney challenging conventions and embracing their sexuality.
PETER DOIG (B. 1959) Formerly in the Saatchi collection, an epic masterpiece by Peter Doig, The Architect's Home in the Ravine (1991) dates from a pivotal moment in the artist's career (estimate: £4,000,000-6,000,000 / $6,100,000-9,000,000 / €4,500,000-6,700,000). Closely covered with snow-laden trees, it recreates Canadian architect, Eberhard Zeidler's modernist home in Rosedale at the heart of the Toronto ravine. Doig returned to Canada with this scene in mind, fascinated by its inaccessibility; dense nature hiding away the house, allowing only glimpses of life through the trees. The work was painted shortly after Doig's graduation from the Chelsea College of Art and Design when he was awarded the prestigious Whitechapel Artist Prize culminating in a solo exhibition at the Whitechapel Art Gallery in 1991. The pantheon of great paintings that Doig realised during the early 1990s is now widely considered the best of his career. Many of the works from this period are now housed within international museum collections including: The House that Jacques Built (1992), Tel Aviv Museum of Art, Boiler House (1994), promised to the San Francisco Museum of Modern Art and Ski Jacket (1994), Tate Modern, London.
DAMIEN HIRST (B. 1965) A single sheep, suspended serenely within two perfectly proportioned Minimalist tanks, Away from the Flock (Divided) is an early masterpiece from Damien Hirst's celebrated Natural History series (estimate: £1,800,000 / US$2,800,000-3,800,000 / €2,100,000-2,800,000 illustrated right). Created in 1995, the same year Damien Hirst was awarded the Turner Prize, this work follows in a sequence of important bisected Natural History works. Romantically entitled, a solitary sheep separated from his flock, floats in an aquamarine-tinted formaldehyde solution; its hooves hover above the ground, frozen in lively gambol. A key early work, Hirst created four versions of Away from the Flock, with this work being the sole bisected example. The sheep has become an important symbol for Hirst: first realised in 1994 for the group exhibition curated by Hirst, 'Some Went Mad, Some Ran Away', at the Serpentine Gallery, London, Hirst created the seminal work Away from the Flock, now housed in the collection of Tate and National Galleries of Scotland.
Peter Doig, The Architect's Home in the Ravine, signed, titled and dated '"THE ARCHITECTS HOME IN THE RAVINE" PETER DOIG 1991' (on the reverse), oil on canvas, 78⅞ x 98¾in. (200 x 250cm.). Painted in 1991. Estimate: £4,000,000-6,000,000. Photo: Christie's Images Ltd 2013