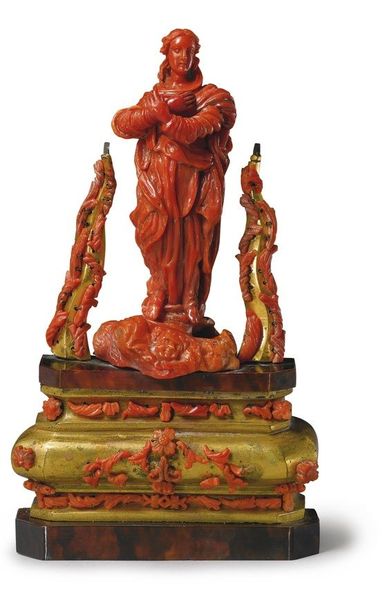 An Italian coral, tortoiseshell, and gilt bronze group, 18th century, Trapani.
6 3/4 in.; 17.1 cm. Estimation: 6,000 - 8,000 USD
NOTE DE CATALOGUE
The city of Trapani on the northwest coast of Sicily developed as a principal Mediterranean commercial port due to its geographic location and natural resources. Red coral was found in abundance off of the coast and the city became a center for the production of coral works of art in the 17th and 18th centuries. By 1628, a guild of coral workers, the Arte dei Corallari, was established in Trapani and they worked closely with goldsmiths and other craftsmen to create intricate decorative and ecclesiastical objects.
According to ancient mythology, red coral was stained by the blood of the severed head of Medusa, and later had associations with the blood of Christ, both traditions assigning apotropaic qualities to the material.
Sotheby's. Important Old Master Paintings and Sculpture. New York | 31 janv. 2013 www.sothebys.com