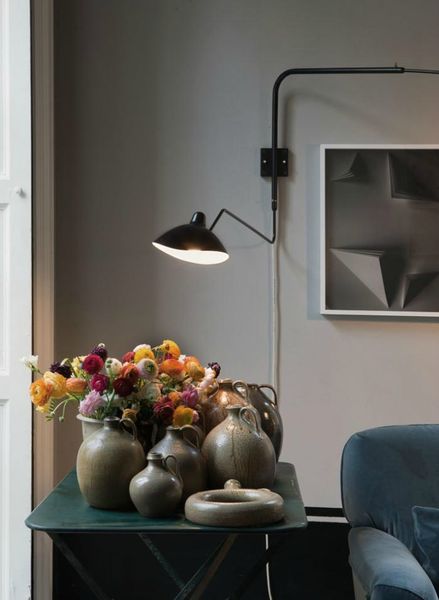 In the living room, ceramic jugs and vases flaunt a cheerful cluster of ranunculus.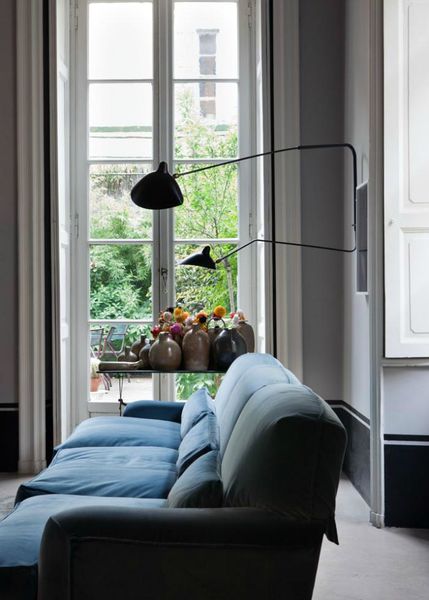 On the wall is a Rotating Sconce by French designer Serge Mouille; designed in the 1950s, the lights are still manufactured in France.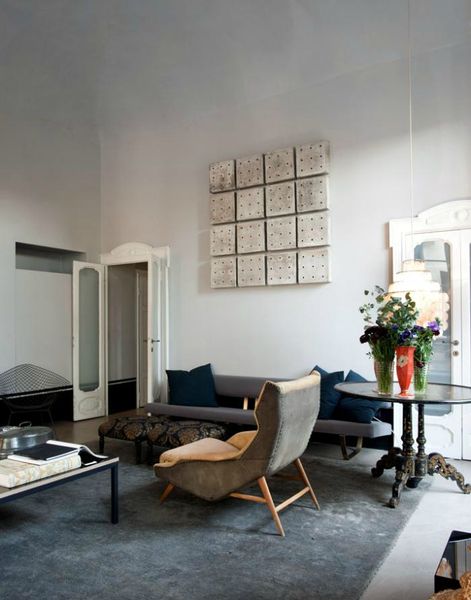 Among the apartment's many furnishings from the 1940s and 1950s is a Diamond Chair by Harry Bertoia (in the back corner). On the coffee table lies The World of Ornament by David Batterham, published by Taschen.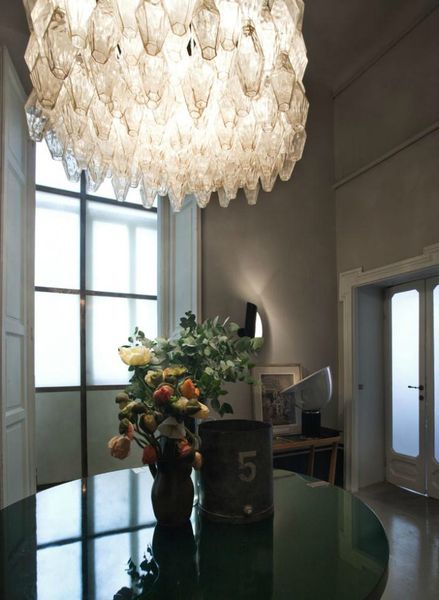 A glass chandelier, evocative of a honeycomb, hangs in the foyer.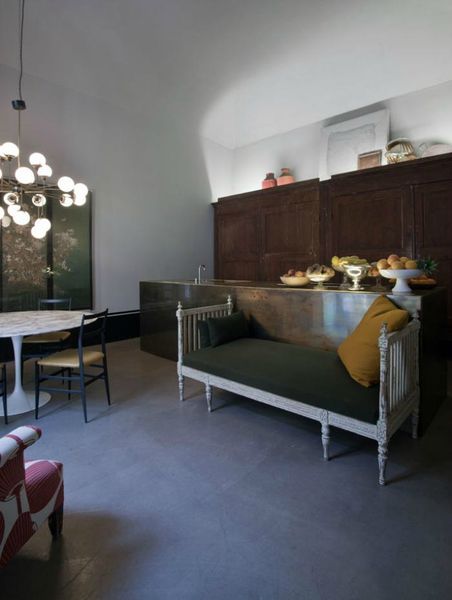 An elegant juxtaposition of styles in the kitchen includes a distressed cupboard wall unit installed with modern uplighting to highlight the artwork sitting atop it.
A perfect pairing of old and new: paint is falling away from the settee and radiator, but the velvet cushions and concrete floor look brand new.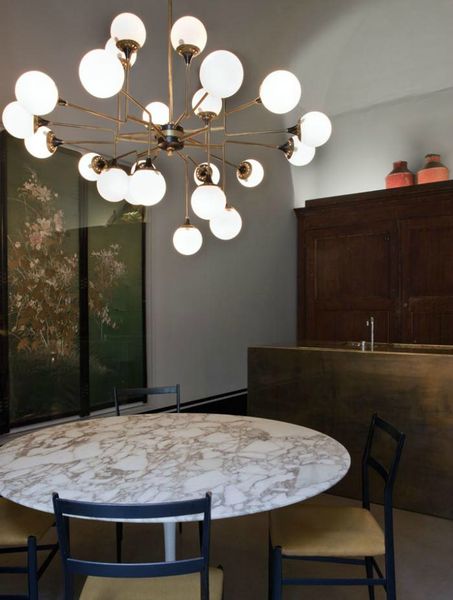 Another modern insertion: a marble Tulip Table by Eero Saarinen.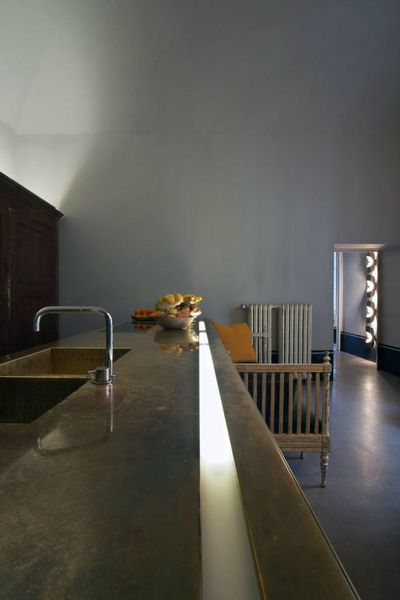 A kitchen island clad in oxidized metal is lit from within via fluorescent strip.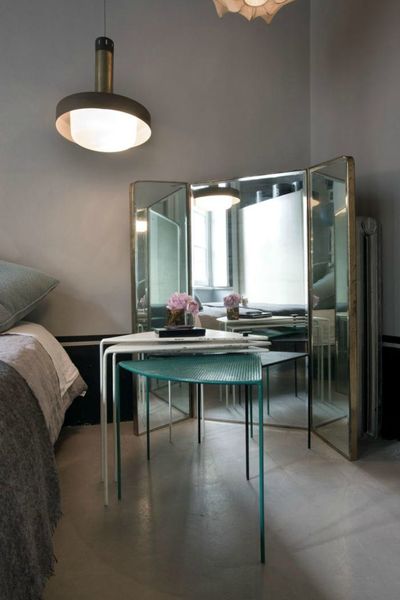 An antique trifold mirror turns a corner of the bedroom into a dressing room (and hides an aging radiator).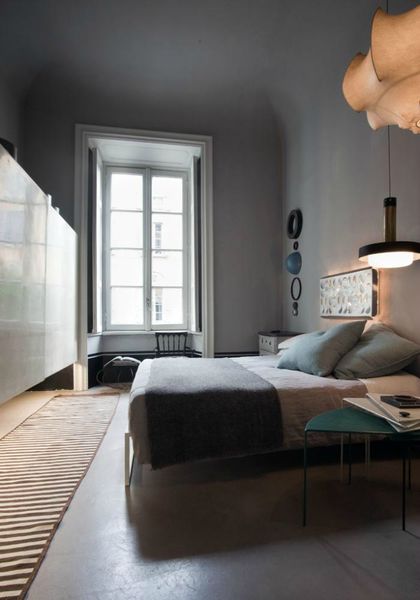 The calming bedroom repeats a small handful of colors: mainly blue, ivory, brown, and brass.
An antique framed textile hangs over a pair of dressers.
More of the same palette in a vintage bedroom fan.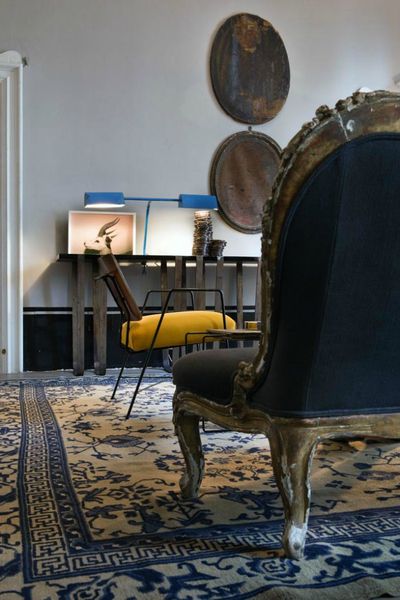 In the blue-velvet sitting room, note a modern detail used throughout the home: two bands of inky black paint to mimic decorative baseboards.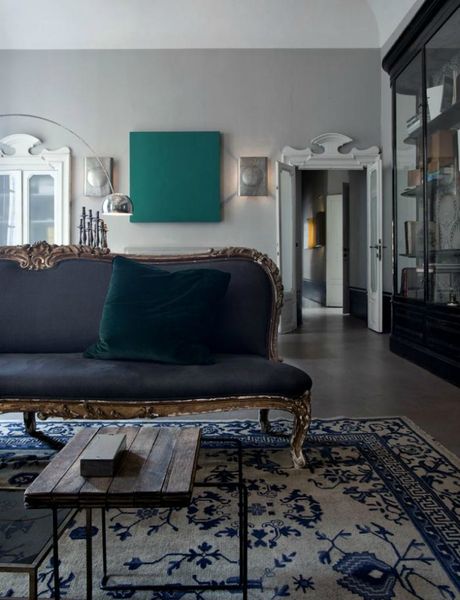 The sitting room walls' ethereal gray paint stops sharply at the ceiling, emphasizing its dramatic height. Note another modern design icon, Castiglioni's Arco Floor Lamp, at left.
Photography by Emanuele Zamponi. (source: http://remodelista.com/)