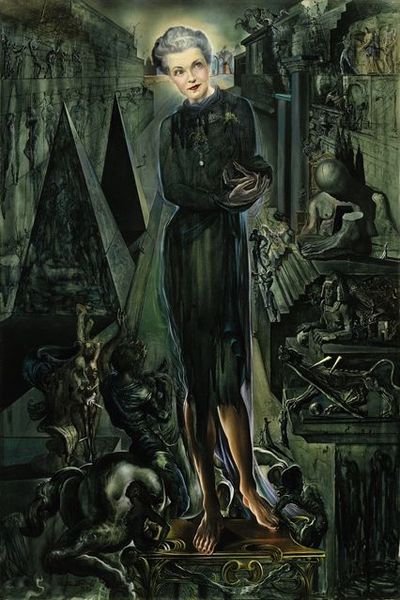 Salvador Dali, Portrait of Mrs Harrison Williams, 1943. Photo: Sotheby's.
LONDON.- On 5 February 2013, Sotheby's London will offer for sale one of Salvador Dalí's most accomplished portraits: Portrait of Mrs Harrison Williams, commissioned directly from the artist and painted by him in 1943. Estimated at £1.5-2 million, the painting -offered for the first time at auction - will highlight Sotheby's stand-alone sale of Surrealist Art, to be held alongside the company's Impressionist & Modern Art Evening Sale in London. The work depicts Countess Mona Bismarck (1897-1983), who was at the time of the portrait married to Harrison Williams, reputed to be one of the wealthiest men in America. After their marriage in 1926 she swiftly became known as one of the most glamorous and beautiful women of her day; becoming the first American to be 'the best-dressed woman in the world' by the luminaries of fashion.
Helena Newman, Chairman of Sotheby's Impressionist & Modern Art Department Europe, said: " Of all the portraits Dalí painted, few are as striking as this: the dazzling manner in which the sitter is represented amid an accumulation of Surrealist motifs defines it as the perfect encapsulation of the work he produced at the zenith of his career. The fruits of Dalí's prodigious subconscious are here represented with pristine detail. This exceptional work comes to sale at time when demand for Surrealist works of great quality is at an all-time high: in February 2011 Sotheby's London sold Dalí's Portrait de Paul Éluard for a record sum of £13.5m ($21.7m)
That was swiftly followed by another great price for Dalí-$16.3m for Printemps né crophilique at Sotheby's New York in May 2012. We anticipate that this exceptional painting, which has never before appeared on the market, will be greeted with much enthusiasm by collectors."
Eddie McDonnell, Executive Director of the Mona Bismarck American Center for art & culture, comments, "The Mona Bismarck American Center for art & culture is embarking on an exciting new chapter in its 25-year history, to expand programming and enhance the visitor experience. The proceeds from the sale of this exceptional Dalí portrait will enable an important first step in this development, which involves a further transformation of the premises from a former residence to a modern and functional cultural hub."
Dalí's dazzling depiction of the legendary Mona Bismarck is filled with classical allusions and Surrealist symbolism making it one of the most ambitious pictures he had produced by this point in his career. The painting was executed just three years after Dalí arrived in New York City, having fled Paris with his wife Gala in 1940. After his arrival, he was swiftly assimilated into the group of European Surrealists that had coalesced there at the outbreak of World War II. Together with them, he mingled with many of New York's social luminaries, receiving from them prestigious commissions for works such as this, and the portrait of Helena Rubinstein sold at Sotheby's New York for $2.65m in May 2011.
It was during the early 1940s that Dalí was championing his paranoiac-critical method – a method different from the Automatism used by many of his fellow Surrealists. While they relied on unreflecting responses to stimuli and chance occurrences, Dalí's approach was to consciously manipulate the imagery and subjects derived from self-induced hallucinations. These fantastical apparitions often took the form of recurring motifs in his work such as the bowed head seen towards the right of Mrs. Williams.
Alongside Dalí 's new intellectual aspirations of the early 1940s, he was simultaneously discovering a new way of painting, "claiming to have discovered for the first time in his life the real way to paint: in other words, with over-and underpainting. For him, this is infinitely more subtle in its tonalities than the pictures painted before." (Robert Descharnes & Gilles Néret, Salvador Dalí, 1904-1989, Cologne, 1994)
It is this discovery of the finer techniques of painting that gives the Portrait of Mrs Harrison Williams its striking luminosity and the precision of a Renaissance masterpiece.
The process of overpainting may also have played an unexpected, additional role in the creation of this striking portrait: oral legend has it that Dalí first painted his subject nude, only clothing her when his original image met with her disapproval. He then clothed her in rags – something of an irony for a woman whose fashion sense was such a significant aspect of her public persona.
Reflecting on the portrait and his great friend Mona Bismarck, Hubert de Givenchy said: "This very beautiful painting by Dali, an imaginative portrait of Countess Bismarck 'in rags', is particularly interesting, given that the Countess was passionate about clothes and wore them with remarkable elegance. Her great passions were fashion and gardens. Her great beauty and perfect elegance inspired couturiers of her time such as Mainboucher and Balenciaga, as well as Cole Porter –the wonderful composer who paid homage to her in many of his songs. Mona Bismarck graced her time with her immense refinement, life style and enormous generosity. I myself was very privileged not only to know her well but also to dress her over many years. For me it was a true delight."
Countess Mona Bismarck
Mona Bismarck was undeniably one of the world's most beautiful and richest women and a doyenne of Café society. Described by Diana Vreeland as "An extraordinary beauty who all her life surrounded herself with gaiety, vitality and mirth . . everything that was hers was out of the ordinary," for many years she ranked as one of the world's best-dressed women – although she insisted that she only wore what was comfortable. She was praised for her beauty by Cecil Beaton, who took numerous photographs of her. In one of Beaton's diary accounts, he describes his first meeting with her in December 1929 when she was in her third marriage: She "is fascinatingly beautiful, like a rock-crystal goddess with acquamarine eyes". She divided her time among a villa in Capri, built on the ruins of a palace belonging to the Emperor Tiberius, a town house in Paris and on Fifth Avenue in Manhattan,a 20-room beach house in Palm Beach and a 60 acre estate in Bayville called Oak Point, where she entertained such notables as the Duke and Duchess of Windsor.
Born Mona Strader in 1899 in Louisville, she was the daughter of a Kentucky horse farm overseer. Her dramatic rise to fortune arrived when she married the third of her five husbands, Harrison Williams, the utilities magnate. Mona's second husband, James Irving Bush, had been considered "the handsomest man in America", and, continuing her pattern of marrying superlative men, Williams was widely considered the wealthiest; by this marriage she gained great wealth, magnificent houses and unsurpassed jewels, and yet she remained unaffected. When Williams died in 1953 he left her an inheritance of $90 million which became the main source of her wealth.
After Harrison Williams's death Mona married, in 1955, Albrecht Eduard Heinrich Karl, Graf von Bismarck-Schönhausen, a friend of twenty years, and the grandson of Germany's Iron Chancellor. Bismarck's aestheticism and charm found a perfect partner in Mona. She then took on a new social position in European society and began to spend more time in Capri where Harrison Williams had bought her a ravishing hillside property facing the Bay of Naples.
In her later years, Countess Bismarck divided her time between Capri and Paris, where she passed away at her home on July 10, 1983.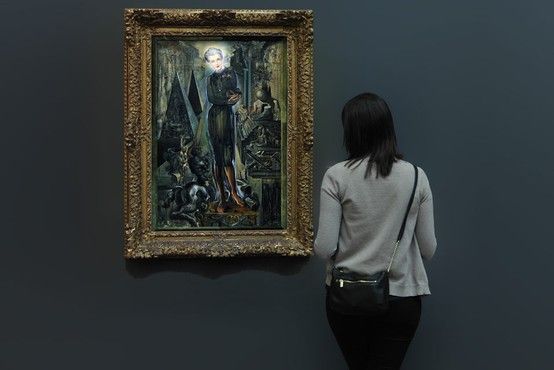 A visitor views a painting entitled Portrait of Mrs Harrison Williams by Spanish artist Salvador Dali at Sothebys auction house in central London. Due to form part of the Surrealist Art Evening Sale on February 5, it is expected to fetch between 1.5-2 million GBP (1.8-2.4 million EUR - 2-3 million USD). AFP PHOTO / CARL COURT.