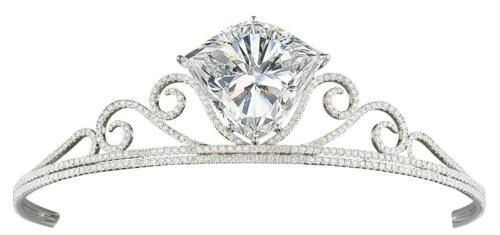 Magnificent Diamond Tiara. Photo Christie's Image Ltd 2008
Centering upon a modified shield-shaped diamond weighing 101.27 carats, to the brilliant-cut diamond extending scrolls, mounted in 18k white gold, inner diametre 11.0 cm - Price Realized: HK$48,487,500 ($6,241,311)

Accompanied by report no. 10468562 dated 8 January 2008 from the Gemological Institute of America stating that the 101.27 carat diamond is F colour, VVS1 clarity, with excellent polish and excellent symmetry

THE GREAT WHITE

Millions of years ago, deep within the earth, diamonds were forged under turbulent conditions of extreme temperature and pressure. Carried to the surface by violent volcanic eruptions, these resilient ancient crystals represent the hardest substance known in the universe. Composed solely of carbon atoms that come from the stars in the galaxy, diamonds can be found throughout the world. Most diamonds, however, are found only in tiny sizes that weigh less than a carat. Large diamonds are extremely rare. But from time to time, a special stone emerges. One that is incomparable in beauty, with dazzling light that seems to dance to a rhythm of its own. A diamond with a sublime display of fire and ice. A rare rock of light, and most importantly, matchless in size. Such is the diamond being offered in Hong Kong, over 100.00 carats of prismatic perfection.

Carved from a daunting 460-carat rough, this gigantic gem weighs a staggering 101.27 carats, and may be the final classic diamond find of this millennium. Discovered at the Premier Mine, by far the largest diamond pipe in South Africa and as far as is known, the most ancient in the world, the mine is the same priceless storehouse which yielded the Cullinan diamond, the largest diamond rough ever found. The 460-carat mother rock of the present 101.27-carat diamond is unique and spectacular but the true size of this exceptional diamond rough only becomes apparent when compared side by side with an average yield. Smaller stones, although representing a fabulous fortune, only usually range between 2.00 to 20.00 carats. The great size of this diamond is therefore extremely rare, and is offered with naming rights granted to the lucky bidder. This magnificent gemstone is accompanied by a Diamond Grading Report from the Gemmological Institute of America (GIA), the most exacting certificate on a diamond anywhere in the world. The F-colour stone received the highest standard for polish and symmetry, both rated Excellent. Internally flawless and due to surface graining that is imperceptible to the human eye, this diamond of 92 facets is rated VVS1 for clarity.

From rough to polished form, the evolution of the 101.27-carat diamond entailed a combination of knowledge, expertise and pure determination. Indeed, the creation of this large diamond points towards lofty human ambitions. It reveals the human foresight that discerned its potential, the human touch that unveiled its beauty, and the human passion that brought it to life. The immensity of the rock, together with the beauty of its proportions, are visually captivating and demonstrate an architectural feat: an ingenious manipulation of both mass and light. Its physical prowess is, altogether, an end result of a masterful partnership between the art of man and the art of nature. It is these intangible qualities that add to the allure and magic of the 101.27-carat diamond, making it truly magnificent.
Christie's. Jewels: The Hong Kong Sale. 28 May 2008. Hong Kong