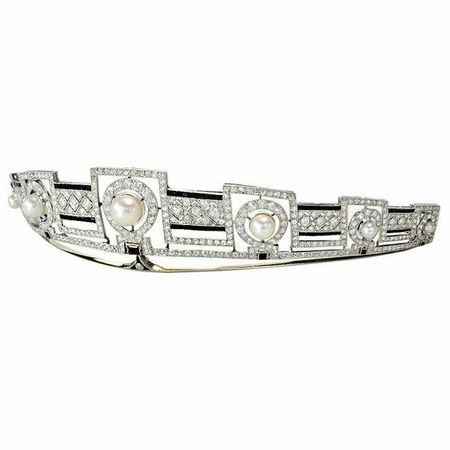 Diamond & Pearl Platinum Tiara. Circa 1915 and is possibly English in origin. Photo courtesy The Three Graces
A tiara is a type of head ornament worn as a mark of nobility or royalty on formal or state occasions. The diadem, similar to the tiara was worn by both men and women whereas the tiara was and remains the exclusive domain of women. Although in use since antiquity, there was an upsurge in the production of these très elegant headdresses at the turn of the 20th century. In fact, with the 1902 crowning of King Edward II and King George V in 1911 smaller tiaras, such as the one pictured were in vogue. That penultimate fashionista Queen Alexandra certainly abetted the trend by wearing such headpieces to garden parties and dinners. In addition, brides soon adopted the practice.
Dazzling in person, this bandeau style tiara is made to be worn on the back of the head yet is of such a scale that it can be worn more on the forehead. Superior platinum work with superb mille grain detail provides the perfect setting for the wondrous combination of diamonds, natural pearls and onyx.
Set in a Greek key pattern, four hundred and eighty (480) old European and single cut diamonds with a total estimated weight of 7.8 carats (color range H-K; VS1-SI1 clarity) embellish and create impeccable frames for seven (7) luscious natural pearls (untested but assumed natural due to age and examination) ranging in size from 3.35 mm to more than 8 mm in diameter. Rectangular cut onyx, ninety-five (95) gems in all provides contrasting visual interest against the whiteness of the diamonds and the pearls. To secure the tiara to the head, a length of ribbon or ribbon over elastic is engaged through the loops on the back of the silver head band.
Please refer to "Tiaras" by Diana Scarisbrick for somewhat similar examples with the use of a Greek key pattern. The piece is accompanied by a blue velvet tiara box, possibly original with a cream silk interior embossed "Skinner Silversmith and Diamond Merchant, Orchard Street, London. W. in gold letters with the surmounted image of a crown.
Measurements: 5.2 inches (13.3 cm) at widest by 1-3/16 inches (3.1 cm) at the highest including silver headband and 15/16 of an inch (2.4 cm) without. The sides are 5/8 of an inch (1.5 cm) in height including headband and 1/2 inch (1.3 cm) without. Weight of 40.9 grams (26.3 dwt).
Note: Diamonds have not been removed from their mounts to preserve the integrity of the setting. All diamond weights have been approximated by measurement and formula and may vary from actual weights. Grading has been done in situ and also may vary if stones are removed.
Historical Notes: Skinner and Co., silversmiths and diamond merchants have been in business since 1880 and have been awarded the Royal Warrant. The Company was first invited to supply jewelry to the Royal Family in the latter years of Queen Victoria's reign.
The Three Graces. Austin & Houston, TX, 77006 - 877-449-0090