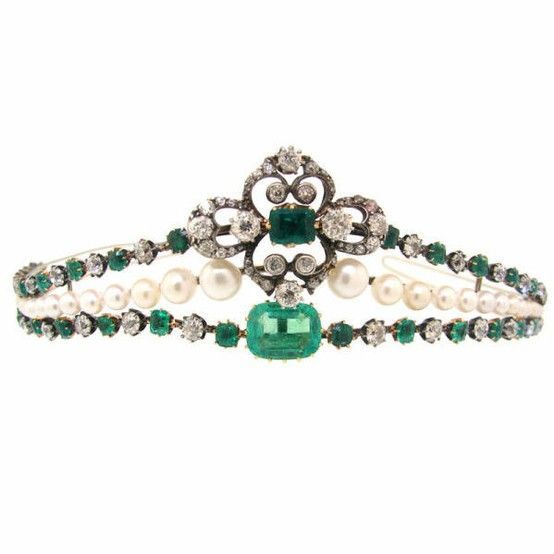 Victorian Diamond, Emerald, Pearl, Silver & Gold Tiara. Photo courtesy Nadine Krakov Collection
Stunning tiara created in Europe in the 1910's. It is made of gold and silver and tastefully set with emeralds, diamonds and natural pearls. Emeralds are natural, no treatment, no color enhancement.
The tiara is 14 1/4" long (8 1/4" long in the jeweled part) and 1 3/8" high in its highest part in the center. 18k yellow gold; 18k white gold; silver; approx. 5.0 cts mixed emerald & cushion cut emerald, origin Russia; 12.3 mm x 10.0 mm; approx. 1 ct emerald cut emerald, origin Colombia (REAL COLOR IS LIGHTER THEN ON THE PICTURE, REAL COLOR IS RICH and DEEP COLOR of a FINE QUALITY COLOMBIAN EMERALD) ; approx. 4.50 cts total weight of all additional emeralds; approx. 7.80 cts total weight of diamonds (Old European cut and cushion cut);39 natural white pearls graduating from 6.8 mm down to 2.9 mm.
Nadine Krakov Collection. 191 S. Beverly Drive, Beverly Hills, CA, 90212 - 310 860 9991