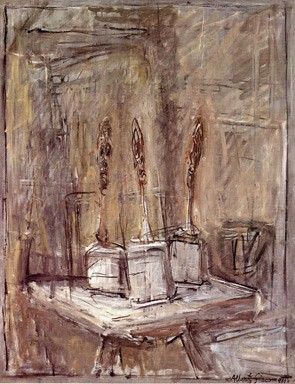 Alberto Giacometti, Trois têtes de plâtre (Drei Köpfe aus Gips), um 1950. Öl auf Leinwand, 73 x 59,5 cm. Kunsthaus Zürich, Alberto Giacometti-Stiftung, Zürich © Succession Alberto Giacometti (Fondation Alberto et Annette Giacometti, Paris +ADAGP, Paris), 2012. Photo: Kunsthaus Zürich.
HAMBURG.- The Hamburger Kunsthalle is offering a new perspective on the art of Alberto Giacometti (1901–1966), revealing why this leading 20th-century sculptor's work is still regarded as groundbreaking. For the first time, this display starts out from Giacometti's early Surrealist works, which are not well known in Germany, and examines how they informed his celebrated post-war oeuvre. These unique pieces from the 1930s – fragile sculptures made of wood and marble – were given a horizontal orientation as the artist used the tabletop-sized 'playing fields' to develop his concept of 'sculpture as place', which continues to influence the art of the present day. The exhibition traces the evolution of this idea from Giacometti's well-known multi-figure groupings of the post-war period with their characteristically elongated forms through to the spectacular, larger-than-life sculptures he conceived in 1960 for the plaza of the Chase Manhattan Bank in New York. Both in his late work and in the current display, these outstanding figures – some of which are almost three metres high – represent the culmination of Giacometti's desire to create an ideal design for the space between art and life. The project for the Chase Manhattan Plaza is presented here in its entirety, including both the models and the monumental versions of the world-famous sculptures Walking Man II (1959–60), Tall Woman II (1960) and Large Head (1960). The presentation of this group of works transforms the floor of the Gallery of Contemporary Art into a playing surface and effectively conveys the central theme of the exhibition, as the display becomes a staged 'playing field' for visitors to explore.
This new, thematic survey shows for the first time how closely the sculpture and its base – the presented work and its mode of presentation – were linked in Giacometti's Surrealist 'gameboard sculptures', and how this connection came to define his whole oeuvre. A key aspect of these works is the relative positioning of the individual elements with their mysterious allusions to eroticism, death and memory. Largely unknown drawings from private collections reveal a further, previously unexplored aspect: Giacometti has drawn tiny human figures on these 'playing fields', demonstrating that the sculptures are intended as models for large-scale projects in public spaces, where the viewer is meant to physically, actively engage with the artwork. The tabletop-sized 'playing fields' are therefore to be regarded as experimental models for spatial realisations executed on a human scale and based on human interaction. In this respect Giacometti anticipated Environment art of the 1960s, in which the surrounding space became an integral element of the artwork.
None of Giacometti's early works or later models were ultimately realised as large-scale sculptures for public sites. He did, however, produce individual elements on a larger scale for his own purposes, surrounding himself with these for decades in his tiny, cramped Paris studio, which "got bigger and bigger over time" (Alberto Giacometti). Having positioned the different pieces on the studio floor as in a kind of memory theatre, he carefully recorded each meaningful spatial arrangement. Featuring numerous paintings, drawings and photographs of the studio from different periods, the exhibition at the Hamburger Kunsthalle provides unprecedented insight into this remarkable site of production and presentation. Giacometti's studio also served as a 'playing field': it became the stage on which the artist presented himself and his creations. For the first time ever, this legendary studio space has been reconstructed in an exhibition, giving visitors the opportunity to experience the cramped conditions in which Giacometti worked and to appreciate the ideational significance of this space for him.
Giacometti. The Playing Fields features more than 200 works: 40 sculptures – including a number of rarely loaned works – are on show alongside around 30 oil paintings and a selection of drawings and photographs from every phase of the artist's career; the exhibits are drawn from international museums and private collections. The presentation highlights the diversity and continued relevance of Giacometti's art, which ranges from blocky substantiality to fragile dematerialisation in terms of its formal language, from a tiny site of artistic production to a place of staged presentation with regard to its notion of space, and from the individual object to the architecturally oriented, larger-than life 'Environment' in its distinctive concept of sculpture.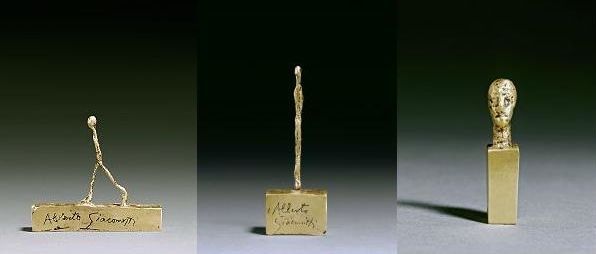 Alberto Giacometti , Groupe de trois figurines – Projet pour Chase Manhattan Plaza (Gruppe von drei kleinen Figuren – Projekt für Chase Manhattan Plaza), 1959, Privatsammlung, Schweiz, Alberto Giacometti-Stiftung, Zürich, Geschenk von James Lord © Succession Alberto Giacometti (Fondation Alberto et Annette Giacometti, Paris + ADAGP, Paris), 2013, Photo: Kunsthaus Zürich
Jacques-André Boiffard (1902-1961), Alberto Giacometti, 1931. Photographie, späterer Abzug, 21 x 29 cm. Sammlung Fotostiftung Schweiz, Winterthur © Jacques-André Boiffard / Sammlung Fotostiftung Schweiz, Winterthur © Alberto Giacometti Estate (Fondation Alberto et Annette Giacometti, Paris) 2012 .