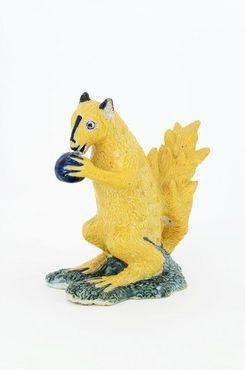 Rare important squirrel from 18c Ivan B Hart Dutch Delft Collection.
AMSTERDAM.- At The European Fine Art Fair (TEFAF) in Maastricht, The Netherlands, March 15 – 24, Robert Aronson of Aronson Antiquairs, will be showing some of the world's most important examples of Dutch Delftware, every object illustrated and discussed in a catalog, the twelfth in the last decade published by the 131-year old Amsterdam firm.
This year's star attraction at the Aronson stand is an important collection of twenty-four pieces of 18th Century Dutch Delftware from the collection of Ivan B. Hart, including what Robert Aronson says, "Is the strongest collection of rare 18th Century Delft Animal Figures to enter the market in many decades." Hart was a Dutch native who founded the Hart Wool Company in Amsterdam in 1929.
Robert Aronson says, "My grandfather knew Ivan B. Hart as a true patron of the arts. While born in Winschoten, the Netherlands, Hart moved his company to Boston in 1938 and soon branched out to Australia and Argentina."
"Art and antiques dealers often maintain a personal relationship with clientele and their families. It is not uncommon for dealers to know several generations and actually become friends over decades. Dealer and client share an emotion, a passion; the love and interest for a specific field or object type – or several. This has been the case between the Hart and Aronson families."
"Ivan B. Hart collected many different types of animal figures," Aronson adds. "Perhaps the most exceptional is the extremely rare and important Polychrome Squirrel squatting on its haunches with a yellow curly coat and tail delineated in iron-red and nibbling a blue fruit held in his forepaws. Seated on a green base molded with grasses, the Squirrel's body is modelled to simulate fur and covered with a yellow glaze. It dates to the first quarter of the 18th century."
Measuring 7.38 inches high, the Delft Squirrel is marked IG 4 in iron-red for the freelance painter Johannes Gaal (died July 1725) who was admitted to the Guild of St. Luke as a plateelschilder (a faience painter) on Nov 22, 1707. Gall was cited in Havard 1909 pp 232-233 as 'having been an artist of genuine talent.' The Squirrel was exhibited at the Rijksmuseum in 1929 and was also once in the collection of Alfred Boreel.
A second Delft masterwork Aronson Antiquairs is showing at TEFAF from the Ivan B. Hart Collection is a pair of Polychrome Stag Tureens on oval bases modelled with foliage in low relief and painted with flowers in blue, yellow and rouge de fer on green grounds. "The covers on these tureens are in the form of a recumbent stag with green and brown body marking and with the head turned to one side. They date to the third quarter of the 18th century and are 5.5 inches high," Aronson says.
"We are pleased to offer an important pair of Polychrome Roosters from the Ivan B. Hart Collection that also have been shown at the Rijksmuseum. These Dutch Delft figures are from the mid-18th century and feature an underglaze of blue, aubergine and rouge de fer plumage, the heads with rouge de fer combs and wattles and the erect tails with well-modelled feathers, all on an asymmetrical green-glazed base, nearly flat, the blue legs with yellow spurs."
"A Pair of superb Duck Tureens in the Ivan B. Hart Collection are rare polychrome examples from the mid-18th century, 7.5 inches long, each in the form of a resting duck, the lower part of the bodies and nests forming bases, the wings, necks and heads forming covers. The plumage is brilliantly painted in aubergine, yellow, green, rouge de fer and underglaze blue; the oval nests modelled to simulate aquatic grasses and painted green and yellow. They carry marks under the bases with the number 1 and the number 2."
Aronson says Ivan B. Hart also formed a wonderful Old Master paintings collection and a collection of Chinese porcelain, which were sold over two decades ago. The Smith College Museum of Art, in Northampton, MA, published the book 'Mr. and Mrs. Ivan B. Hart Collection Archaic Chinese Jades' in 1963 after being bequeathed that collection. But, Hart's daughter-in-law Mrs. Hazel (Cas) Hart says: "his first love was for Delft." His specific interest in Dutch Delftware resulted in a celebrated and rare collection.
Herbert Hart, Ivan's son, chose not to enter his father's textile business. He went into the financial industry and together with his wife Cas moved back to Europe in 1970. Ivan passed away in 1998 and his collection was passed on to Herbert and Cas. They added to the collection and Mrs. Hart says, "Collecting has given us much pleasure."
Also spotlighted at the Aronson stand at TEFAF will be a very rare and complete Delft teapot on stand and a massive Pair of 34 inch high Blue and White Delft Vases and Covers from a private Dutch Collection that were made by the renowned De Metaale Pot factory, circa 1700, and signed by Lambertus van Eenhoorn.
Founded, like many of its counterparts, in the building of a former brewery on the Geer, the De Metaale factory operated under several ownerships until being acquired by Van Eenhoorn in 1691, a seemingly unlikely proprietor. A spendthrift with a serious case of wanderlust, his travels had taken him to Ireland and Scotland and in 1677 to the East Indies. Moody, incorrigibly undisciplined, something of a drunkard and generally badly behaved, Lambertus van Eenhoorn, nevertheless, understood and respected the business of Delftware. Undoubtedly, it was the experience of his travels that encouraged him to expand his export trade, and it was under his management that the factory name gained an important reputation internationally. A large vase of this form and date, similarly decorated with floral and foliate sprigs and sprays interspersed with small clusters of dots, and marked LVE and HKP, (61.5 cm. [24 1/4 in.] in height), is in the Musées royaux d'Art et d'Histoire, Brussels, illustrated by Helbig, Vol. I, p. 57, ill. 30; and by De Jonge 1970, p. 53, ill. 48. A pair of this shape, similarly massive, but unmarked and slightly differently decorated, is illustrated in Aronson 2006, pp. 29-31, no. 22.
Robert Aronson says the excitement of a TEFAF opening day still gives him a moment of pause. "I know I am going to see the most sophisticated and knowledgeable collectors, curators and dealers enjoying the finest artworks on the planet."
"Plus - You never lose the thrill of showing a truly rare or previously unknown object to a true Delft connoisseur," he says. At last year's show in Maastricht, Aronson sold a rare pair of c1735-45 Dutch Delftware ʻPetit Feu' Polychrome and Gilded Royal Portrait Plaques depicting Princess Anne and Prince William IV.
"These plaques were a special wish of the departing director of the Museum Palace Het Loo, Dr. J. ter Molen, and bought in his honor," Aronson says, "He was completely in love with them and I am thrilled that museum patrons acquired them."
"TEFAF offers visitors a unique experience. Besides the amazing connoisseurship you'll see here, there's no fair in the world where as rigorous investigation of each item's quality, condition and authenticity takes place. The dealers demonstrate respect both for their profession as well as their clients by bringing to TEFAF the absolutely best examples on the market today."
Recently Robert Aronson, who is chairman of the Royal Dutch Antique Dealers Association and sits on the Executive Committee of TEFAF, provided sponsorship support to the Gemeentemuseum in The Hague to show a distinguished collection of antique Delft titled "Delftware Wonderware" which is now on view, through mid-2014. He joined Aronson Antiquairs 23 years ago, working closely with his Father, Dave, who was chairman of the TEFAF Executive Committee for a decade before his death in 2007. The Aronson firm was founded by Leon Aronson in 1881 and is long known as the premier dealer in antique Delft.
Robert says that the 17 years he spent working side by side with his Father gave him both his passion for Dutch Delftware and a deep appreciation of the great collectors who became good friends to the Aronson family during those years. Now the younger Aronson has added a modern twist to a business that has served generations of the world's most esteemed connoisseurs and curators. In fact, Robert Aronson is overseeing a truly 21st century business that has embraced technology and e-commerce in ways his forebears could never have imagined.
"I've given Aronson Antiquairs a contemporary outlook that best serves both new collectors and old, using the latest tools, from Facebook and Twitter to You Tube video. Now, in whatever way that is most convenient for them, they can learn about Dutch Delft, examine our unrivaled collections, and come to understand the unique qualities of Delftware -- more easily than at any time in our company's 130 year history."
Aronson Antiquairs numbers among its clients the world's leading connoisseurs as well as major museums including The Wadsworth Museum, the Metropolitan Museum of Art, The British Museum and Holland's own Rijksmuseum.
Aronson says the long and interesting history of Dutch Delftware continues to fascinate beginning collectors and seasoned ones too.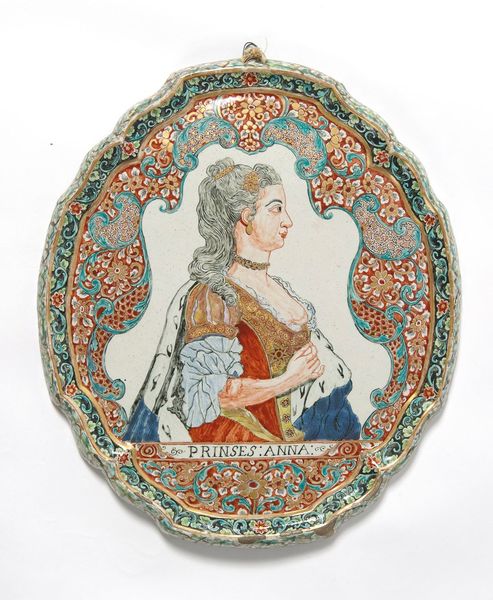 Rare and Important Pair of Royal Portrait Plaques. Delft, circa 1735-45. With a portrait of Princess Anna, spous to Willam IV. Heights: 36 cm.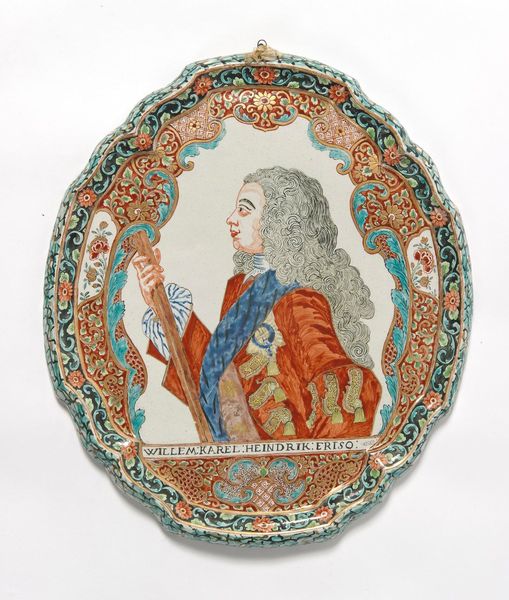 Rare and Important Pair of Royal Portrait Plaques. Delft, circa 1735-45. Portrait of Willem Karel Hendrik Friso (William IV). Heights: 36 cm. Prov. Norwegian private coll.