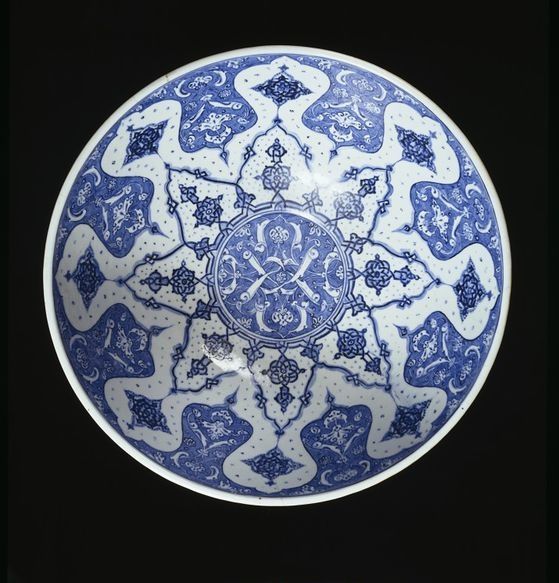 Bowl. Iznik, Turkey, ca. 1510. Fritware, underglaze painted in cobalt blue, glazed. Height: 23.3 cm, Diameter: 43.2 cm. Salting Bequest. Museum number: C.1981-1910 © V&A Images.
Footed bowl, fritware with polychrome underglaze painting, copying a metal prototype with the blue and white colour scheme of Chinese porcelain but with entirely Islamic motifs. The outside is decorated with Chinese clouds and leafy scrolls on a large scale; the interior is organised around a six-pointed knotwork design.
The ceramic industry at Iznik was founded under Ottoman imperial patronage, during a Golden Age of the arts under Sultan Mehmed II (1451-81). The impetus for the Ottoman ceramics industry was the taste for imported Chinese blue-and-white porcelains. Several of the decorative features of this bowl – such as the knots and cloud collars on the interior – demonstrate the influence of Chinese design. This is an early piece, made before the introduction of turquoise to the Iznik palette in the 1520s. Its profile is also different from some other footed bowls, suggesting the shape had not yet been standardised.

Bibliographic References: Lane, Arthur. Later Islamic Pottery. London: Faber and Faber, 1957. 133p., ill. Pages 45, 48, plate 26
Tim Stanley ed., with Mariam Rosser-Owen and Stephen Vernoit, Palace and Mosque: Islamic Art from the Middle East, London, V&A Publications, 2004; pp.102, 135, plate no 117
Atasoy, N., and Raby, J. Iznik: The Pottery of Ottoman Turkey, Istanbul/London, 1989, 93, fig. 95.
Exhibition History: Palace and Mosque: Islamic Art from the Victoria and Albert Museum (The Millennium Galleries, Sheffield 14/01/2006-16/04/2006)
Palace and Mosque: Islamic Art from the Victoria and Albert Museum (Setagaya Art Museum, Tokyo 01/10/2005-04/12/2005)
Palace and Mosque: Islamic Art from the Victoria and Albert Museum (Kimbell Art Museum, Fort Worth, Texas 03/04/2005-04/09/2005)
Palace and Mosque: Islamic Art from the Victoria and Albert Museum (National Gallery of Art, Washington 18/07/2004-06/02/2005)