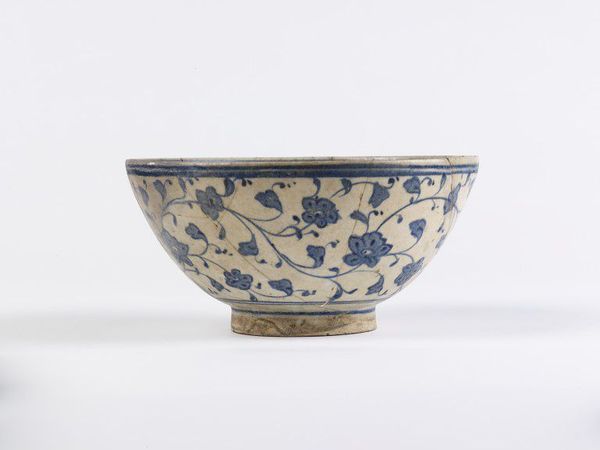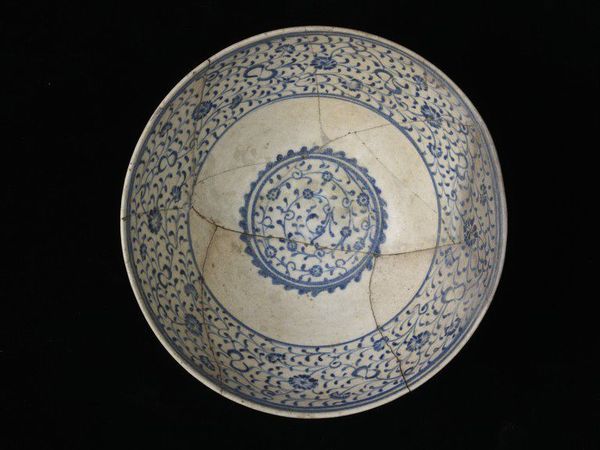 Bowl. Iznik, Turkey, ca. 1530-1540. Fritware, underglaze painted in cobalt blue, glazed. Height: 8.5 cm, Diameter: 18.3 cm. Museum number: 790-1905 © V&A Images.
Bowl of grey fritware, painted in blue and covered with a clear glaze. Painted outside with conventional flowers and foliage branching from a continuous wavy stem. Inside on the bottom are flowers and foliage on a spiral stem in a medallion and round the side is a wide band of closely-set leafy stems with flowers.
Found in excavating the foundations of a new post office at Sirkeci.
Bibliographic References: Atasoy, Nurhan and Raby, Julian. Iznik: The pottery of Ottoman Turkey. London : Alexandria Press, 1989. pp. 108-109, Pl. 134.