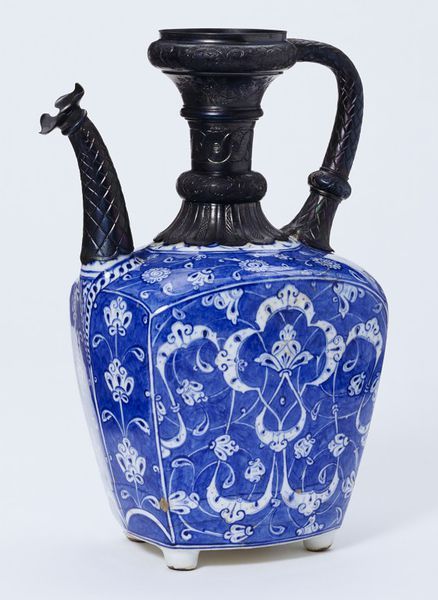 Ewer, Iznik, Turkey, ca. 1520. Fritware, polychrome underglaze painted, glazed; later silver mounts. Height: 22.3 cm, Width: 15.5 cm including spout, Depth: 11 cm. Salting Bequest. Museum number: C.2008-1910 © V&A Images.
Blue and white angular ewer, decorated with arabesques and stylized clouds. Restored in the 19th century with silver mounts.
The scrolling arabesques and stylized cloud bands on this little ewer recall earlier Islamic ornament; but the design has become more open and free, looking forward to the classical Iznik style of hand-painted floral motifs. The metal mounts were added as repairs later, possibly in the nineteenth century.
Bibliographic References: Nurhan Atasoy and Julian Raby, Iznik: The Pottery of Ottoman Turkey (London: Alexandria Press, 1989), fig. 97, p. 97.

The large basins in this case were probably made as sets with equally large ewers, but none of the ewers has survived. This smaller ewer, and that to the right, show what they may have looked like. Their angular shapes were based on metal ewers. Both have been repaired with metal mounts after they were damaged.
Fritware painted under the glaze with metal mounts.