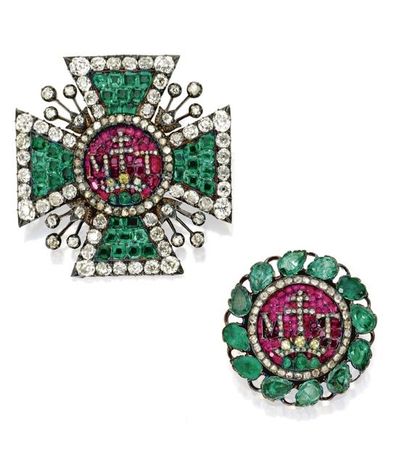 Two emerald, ruby and diamond insignia of the Royal Hungarian Order of St Stephen, late 18th century to early 19th century.Photo Sotheby's
Comprising two brooches set with square-cut and pear-shaped emeralds, cushion-shaped rubies and old mine diamonds, representing the Badge and Central Section taken from a Breast Star, all but the central motif re-set during the later part of the 19th Century. Lot Sold: 36,250 USD

PROVENANCE: The Thurn und Taxis Collection, Sotheby's Geneva, November 17, 1992, lot 273.

NOTE: With original lot tag from the Thurn und Taxis sale.
The order of St. Stephen was founded on May 5, 1764 by Empress Maria Theresa, Queen of Hungary in honor of St. Stephen, the Patron Saint of Hungary. It was awarded in three classes and all recipients were exempt from taxes. For over 500 years throughout Europe, the Thurn und Taxis family name has been synonymous with elegance, status, and grandeur. Their rise to power began with the establishment of an efficient postal network serving the expanding domains of the Holy Roman Empire across continental Europe. Though initially from Northern Italy, they consolidated their power upon their move to Brussels, closer to the seat of the Empire. Beginning in 1517, the hereditary title Imperial Postmaster of the Holy Roman Emperor became a birthright of the von Taxis family, and during the reign of Charles V in the sixteenth century, Johannes Baptista von Taxis furthered their stature by creating a postal service dedicated to the military. The family name was changed to von Thurn und Taxis in 1650 by authorization of Philip IV of Spain and Emperor Ferdinand II. Members of the Thurn und Taxis family became increasingly indispensable to the Emperors, becoming close advisors and eventually gaining the title of Prince of the Holy Roman Empire. Shifting political winds forced the family to move their base to Bavaria and the former abbey of St. Emmeram Castle, situated at the confluence of the Danube and Regen rivers. Their domination of the postal routes throughout Europe continued with the family achieving the height of their wealth and prestige in the mid-18th century. In 1992, following the death of her husband, Johannes, the 11th Prince von Thurn und Taxis, Princess Gloria commissioned Sotheby's to auction in Geneva a number of pieces from the family's regal collection of silver, jewelry, and snuffboxes. The sale represented one of the most impressive collections of aristocratic jewels ever accumulated and fetched $23.2 million. The following 8 lots, originally purchased by one private collector in that sale, allow a second chance to acquire a vibrant piece of European aristocratic history.
Sotheby's. Magnificent Jewels. New York | 09 Dec 2010 www.sothebys.com